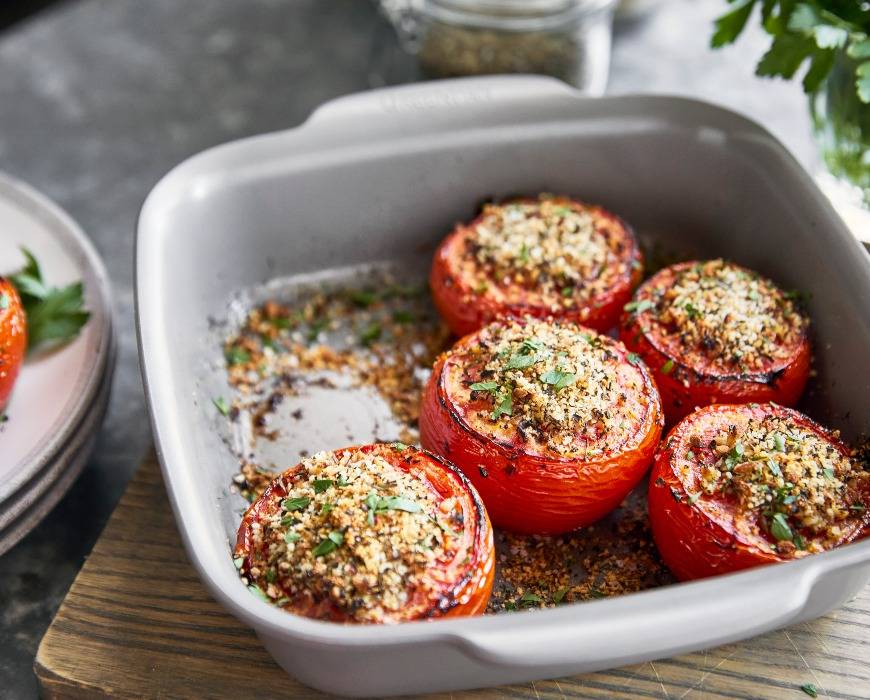 Provence-Style Stuffed Tomatoes
Yields: 6 servings
Time: 15 minutes prep, 50 minutes cooking, 1 hour 5 minutes total
INGREDIENTS:
6 large ripe tomatoes
1 teaspoon salt
3 tablespoons olive oil, divided
2 tablespoons granulated sugar
1/3 cup breadcrumbs, fresh or store-bought
3 garlic cloves, minced
1/2 bunch parsley, stemmed and finely chopped
2 teaspoons Herbs de Provence
1 teaspoon freshly ground black pepper
PREPARATION INSTRUCTIONS:
Prep the tomatoes—Wash and dry tomatoes. Slice about 1/4-inch off the end with the stem. Sprinkle tomatoes generously with salt.
Cook the tomatoes—Heat 2 tablespoons olive oil in a large skillet over medium-low heat. Place the tomatoes cut side down in skillet. Sprinkle with sugar and let cook for about 30 to 35 minutes. You're looking for tomatoes to render their juice and shrink a bit. Every 6 or 7 minutes, scoop up some of the liquid with a spoon and drizzle over tomatoes. When liquid is reduced by about half and tomatoes are tender but not mushy, remove skillet from heat.
Meanwhile, prepare to bake—When tomatoes have been cooking for about 10 minutes, preheat oven to 350°F. In a medium bowl, mix together the breadcrumbs with garlic, parsley, Herbs de Provence, and pepper. 
Stuff the tomatoes—Using tongs, carefully transfer tomatoes to an 8" x 8" baking pan, placing them cut side up. Divide topping evenly between tomatoes and drizzle about 1 tablespoon olive oil over the top.
Bake the tomatoes—Bake in preheated oven until tomatoes have softened and the topping is golden brown, about 15 to 20 minutes. Serve hot.
TIPS:
Short on Time? Skip the confit and use 3 tomatoes cut cross-wise. Remove core, seeds, and juice. Sprinkle generously with salt and pepper and proceed from step 3.
Feeling Cheesy? When tomatoes are almost done, sprinkle 1/2 cup of freshly grated Gruyere or Parmesan over the top and bake for another few minutes.
Featured Product
Premiere Ovenware Ceramic Nonstick 8" x 8" Square Baker
Incredible for sides and serving, this baker goes from oven to table with dependable built-in handles. The one-piece design ensures years of performance, so you can do more in the oven.