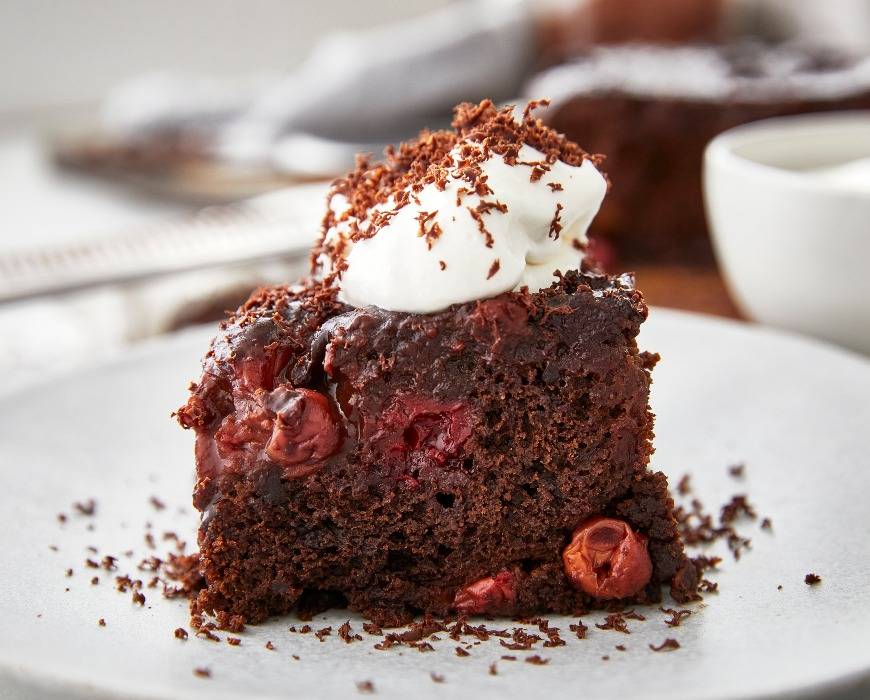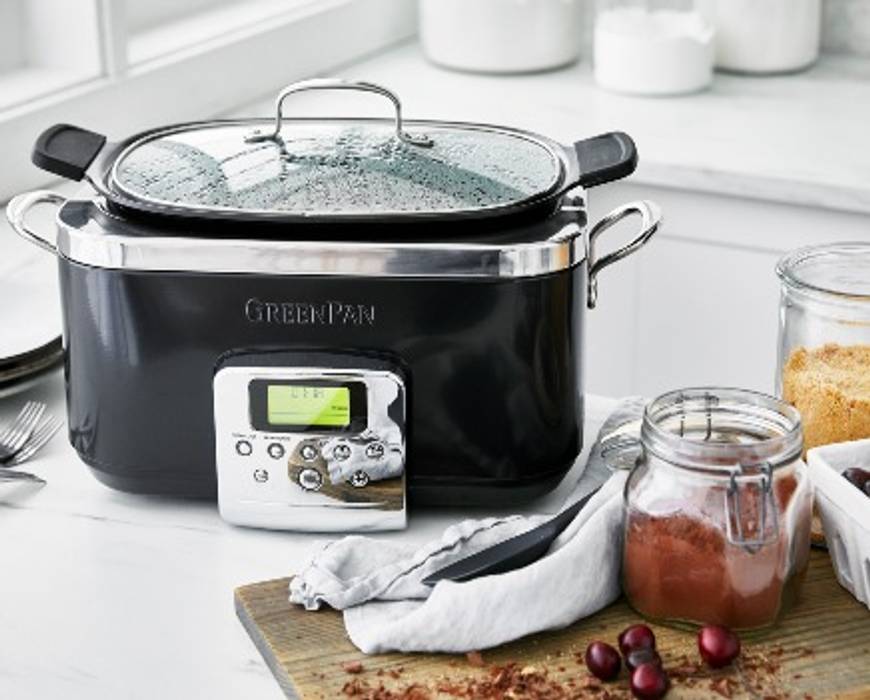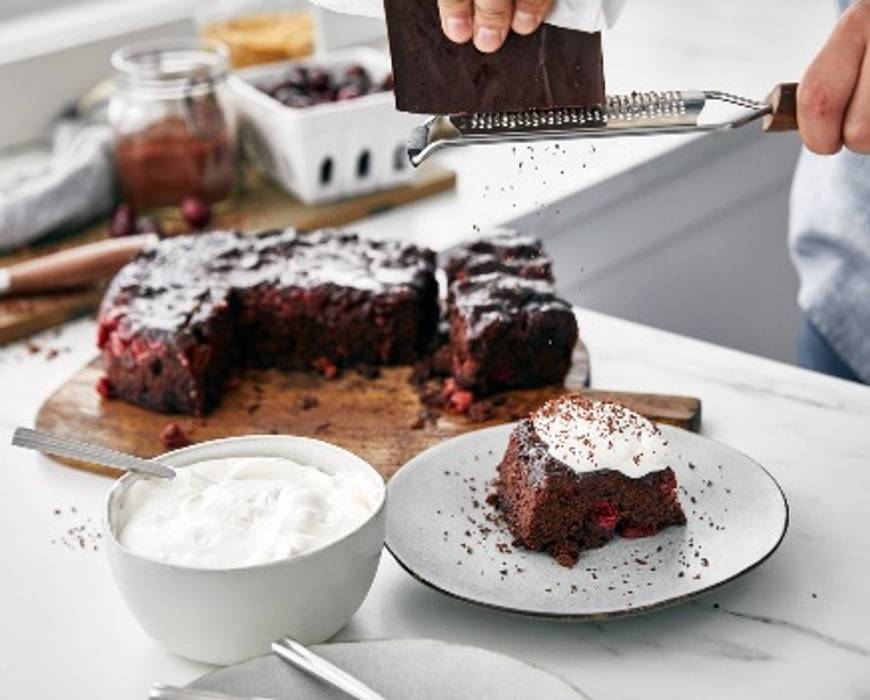 Chocolate Cherry Fudge Cake
Yields: 10 servings
Time: 30 minutes prep, 3 hours cooking
INGREDIENTS:
10 tablespoons unsalted butter, plus more for prepping insert, softened
2/3 cup granulated sugar
1/3 cup light brown sugar
4 large eggs
2 3/4 cup all-purpose flour 
3/4 cup cocoa powder
1 tablespoon plus 1 teaspoon baking powder 
1/2 teaspoon kosher salt 
5 ounces semisweet or bittersweet chocolate, finely chopped
3/4 cup whole milk
1 cup fresh or frozen (thawed and drained) cherries, pitted
Whipped cream or vanilla ice cream, for serving
Freshly grated or shaved chocolate, for serving
For the sauce:
1 1/2 cups light brown sugar
1/2 cup cocoa powder
1 teaspoon vanilla extract
1/4 teaspoon kosher salt
1 1/2 cups boiling water
PREPARATION INSTRUCTIONS:
Lightly grease the insert of the Slow Cooker with butter.  


In the bowl of a stand mixer with paddle attachment (or mixing bowl using a hand mixer) cream together the butter and both sugars on medium high speed until the butter has lightened in color in texture, about 4 to 5 minutes, stopping to scrape the sides and bottom of the bowl as needed. Mix in one egg at a time, ensuring the first is fully emulsified into the butter and sugar mix before adding the next.  


In a large mixing bowl whisk together the flour, cocoa powder, baking powder, and salt until evenly combined. Add the dry ingredients and the chopped chocolate to the mixer and mix on medium low speed until fully incorporated. Add the milk and mix until combined. If needed, add more milk, 1 tablespoon at a time until the consistency is thin enough to fall off a wooden spoon easily in large mounds. Gently fold in the cherries, taking care not to over mix to ensure a tender cake.  


Select the High Temperature Slow Cook Mode on the Slow cooker and set the timer for 3 hours. Transfer the batter to the slow cooker, using a silicone spatula or wooden spoon to level and smooth the top.  


In a medium heatproof bowl whisk together the sauce ingredients until smooth, with no lumps of cocoa or brown sugar, then very gently pour over the top of the batter (being careful as the pan may be hot). Cover and cook for 3 hours, or until the cake is firm to the touch and pulling away from the sides of the slow cooker slightly. Serve warm with whipped cream or vanilla ice cream and a bit of shaved chocolate.  
TIPS:
Cherry pie filling works great in this cake too, but since it's far more sweet than fresh or frozen cherries we recommend taking 1/4 cup of brown sugar out of the sauce! 
If you'd like, add some extra flavor to this delicious cherry and chocolate cake by adding a couple tablespoons of kirsch into the sauce, or about half that into whipped cream for serving!
Featured Product
Elite 6-Quart Slow Cooker | Black
With our advanced slow cooker, you can sear meat and veggies in the pot, then go low and slow to finish the job. Take your time while cooking, then clean up quickly with Thermolon™ Volt, a healthy, PFAS-free ceramic nonstick...