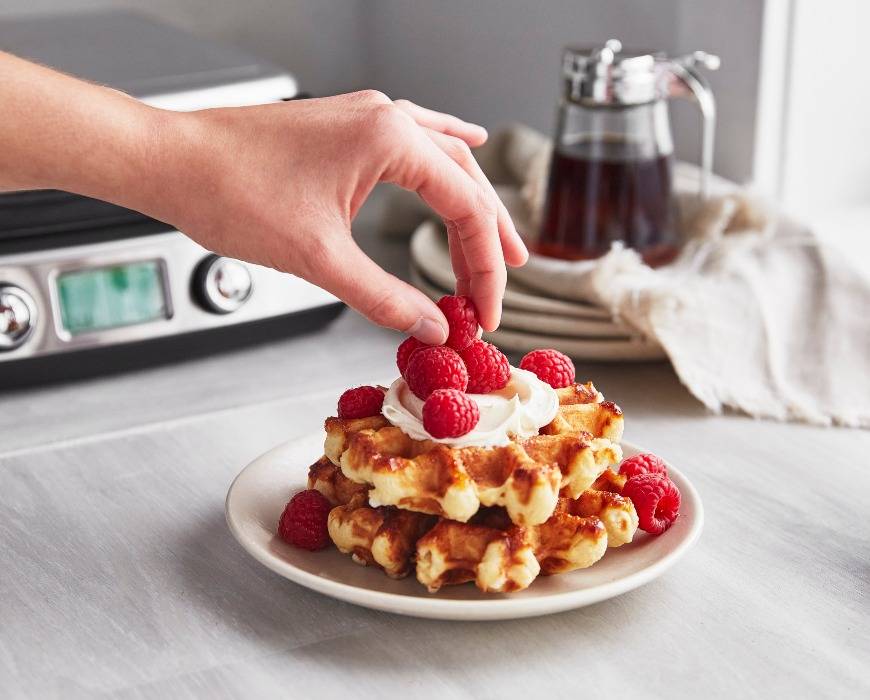 Yields: about 16 waffles
Time: 20 minutes prep, 2 hours 45 minutes proof and cook time 
INGREDIENTS:
1/3 cup warm water, (95 F to 105 F)

 

2 tablespoons light brown sugar

 

2 teaspoons active dry yeast

 

2 1/4 cups all-purpose flour

 

1 teaspoon kosher salt

 

16 tablespoons unsalted butter, melted, plus more for brushing

 

2 teaspoons pure vanilla extract

 

3 large eggs, beaten 

 

1 cup Belgian pearl sugar 

 

Confectioners' sugar, for serving

 
PREPARATION INSTRUCTIONS:
In a small mixing bowl, stir to combine the water, brown sugar and yeast.  Set it aside for 5 minutes, or until the yeast is activated with small bubbles and a frothy surface. 



In the bowl of a stand mixer fit with a paddle attachment, or in a large mixing bowl with a spatula, gently stir together the flour and salt.  Add the yeast mixture to the flour, taking care to scrape all the yeast from the bowl, along with the melted butter and vanilla. Mix on medium speed until just combined. Mix in the eggs, a third at a time, waiting until each addition is fully incorporated before adding the next. Cover the bowl with a kitchen towel or plastic wrap and set aside to proof for about 2 hours, or until roughly doubled in size.  


Uncover the batter and very gently fold in the pearl sugar until evenly distributed. Cover the bowl once more and allow the batter to rest for 15 to 20 minutes before making the waffles.
 

Place the Belgian Waffle plates on the Premiere 4-Square Waffle Maker and preheat on the Belgian Waffle setting, set for #4 darkness and #2 texture (or adjust these to your liking). Once the waffle maker is preheated, gently stir the batter to deflate it slightly, then spoon 2 tablespoons onto the center of each square of the waffle plate. Close the lid and cook until the timer is finished. The cooked waffles should be a dark golden brown color with bits of crisp and caramelized pearl sugar.  Repeat with the remaining batter until all the waffles are made, wiping the plates clean with a paper towel as needed. Serve the waffles warm with a bit of confectioners' sugar dusted on top. (The waffles can be kept warm in a 200 F oven on a baking tray as needed). 
TIPS:
This recipe also makes great mini waffles!  Use about 1 tablespoon of batter instead, and reduce the cook time slightly to keep them from over cooking.   
While it's not needed to remove the waffles, feel free to use a bit of extra melted butter to brush on the waffle plates, giving the waffles extra browning and flavor. 
Featured Product
Premiere Ceramic Nonstick 4-Square Waffle Maker | Stainless Steel
This waffle maker features two sets of plates so you can master classic waffles or thicker Belgian-style waffles. And whether you like yours light and fluffy or dark and crunchy, our waffle maker puts the power in your hands.