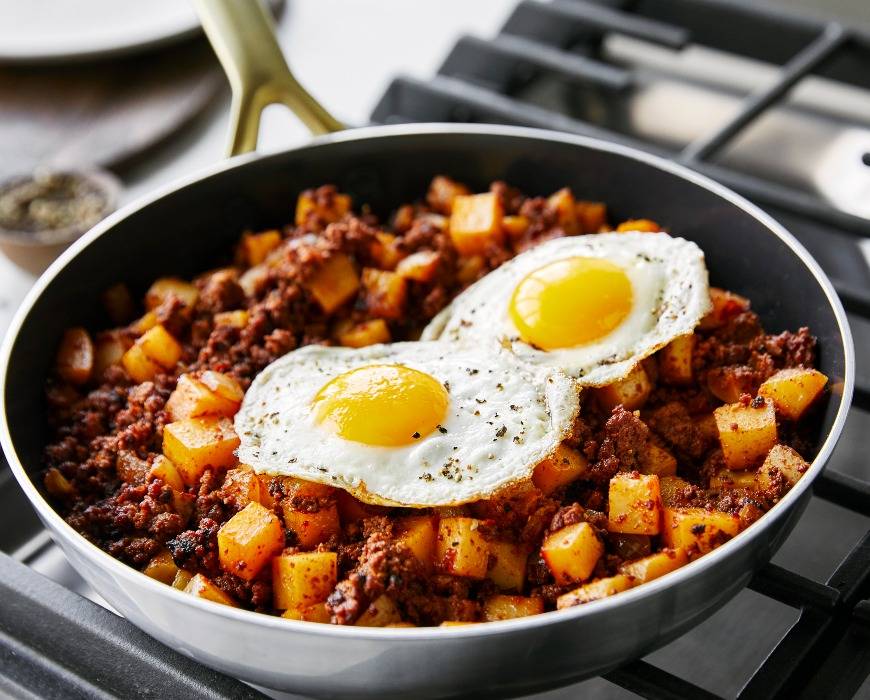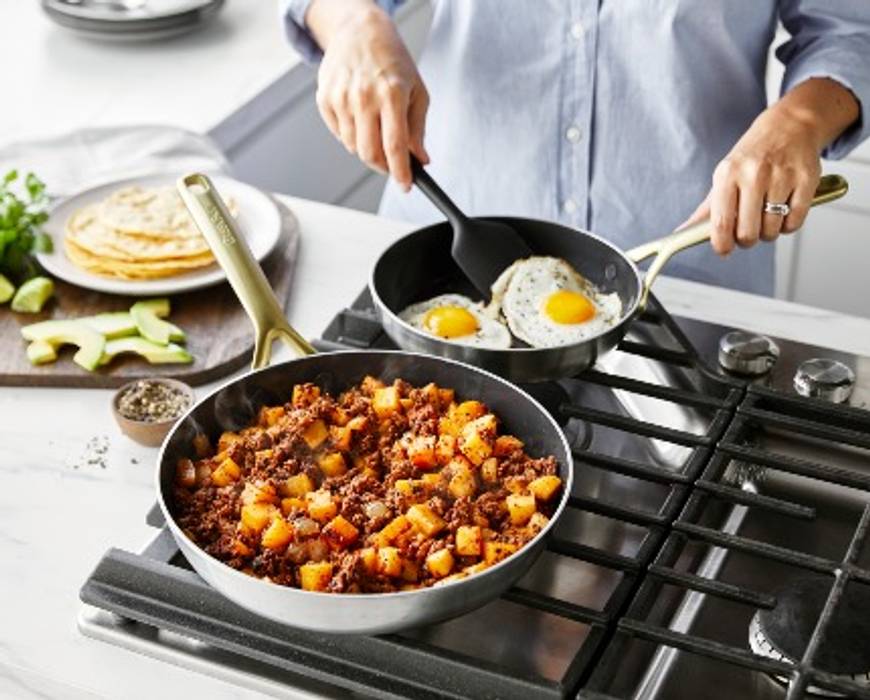 Chorizo Potato Hash with Fried Egg
Yields: 4 servings
Time: 15 minutes prep, 20 minutes cooking
INSTRUCTIONS:
3 tablespoons extra virgin olive oil, divided
1 pound Yukon gold potatoes, washed and cut into 1/4" dice
1 teaspoon kosher salt, more to taste
1/2 teaspoon freshly ground black pepper, more to taste
1 small yellow onion, peeled and cut into 1/4" dice
12 ounces Mexican chorizo, casings removed if needed
2 cloves garlic, peeled and finely minced  
2 tablespoons finely chopped cilantro stems
2 teaspoons freshly grated lime zest
1 teaspoon fresh lime juice, more to taste
4 large eggs
1/4 cup Mexican crema
Handful freshly picked cilantro leaves, for garnish
PREPARATION INSTRUCTIONS:
Place a 12" GP5 Stainless Steel Frypan on the stovetop over medium high heat and pour in 2 tablespoons of olive oil. Allow the oil to come to temperature and then add in the potatoes, salt and pepper.  Cook, stirring and tossing occasionally, until the potatoes are well seared, starting to crisp and are cooked at least half way through, about 5 to 6 minutes. 
Add in the onion and cook, stirring occasionally, an additional 3 to 4 minutes until the onions are softened and slightly seared with golden brown color around their edges. Transfer the potatoes and onions to a large bowl and reserve.
Place the same frypan back on the stovetop over medium high heat and add the chorizo, taking care to break it into very small bite size pieces once in the pan. Cook the chorizo for 2 to 3 minutes without stirring to ensure it gets a deep golden brown and crispy sear.  Add the garlic and continue cooking another few minutes, stirring occasionally, until the chorizo is crispy and well browned all over and the garlic is aromatic. 
Reduce the heat to medium and return the potatoes and garlic to the pan along with the cilantro stems. Cook, stirring occasionally, until the potatoes are cooked through, about 5 to 7 minutes.  Once the potatoes are fully cooked, if desired, increase the heat for a minute or two to sear and crisp the potatoes a bit more. 
Stir in the lime zest and juice and taste. Adjust as desired with more salt, pepper and lime.  Reduce the heat to low and keep the hash warm while cooking the eggs. 
Place a 10" GP5 Stainless Steel Frypan on the stovetop over medium high heat and pour in the remaining tablespoon of olive oil. Once the oil is up to temperature, crack 4 eggs into the skillet, season with a bit of salt and pepper, and cook as desired (we like sunny side up for this recipe!). 
Divide the chorizo and potato hash evenly among four plates. Drizzle with Mexican crema and top with an egg each.  Garnish with a bit of the cilantro leaves and serve warm immediately. 
TIPS:
For breakfast in a hurry, feel free to cook the chorizo in one pan while searing the potatoes in another, then simply add the chorizo (and the beautiful chorizo oil) to the potatoes.  You could even cook the eggs in the same skillet that was used for the chorizo! 
If you can't find Mexican chorizo for this dish, you could use mild Italian sausage and add 1 tablespoon of chili powder, 1 tablespoon paprika, 1 teaspoon dried oregano, and a pinch of ground cinnamon – even adding a bit more spice as desired.   
Featured Product
GP5 Stainless Steel 8" and 10" Frypan Set | Champagne Handles
Crafted from 5-ply stainless steel and finished with our groundbreaking Infinite8 ceramic nonstick coating, this set is the perfect way to double down on remarkable performance.