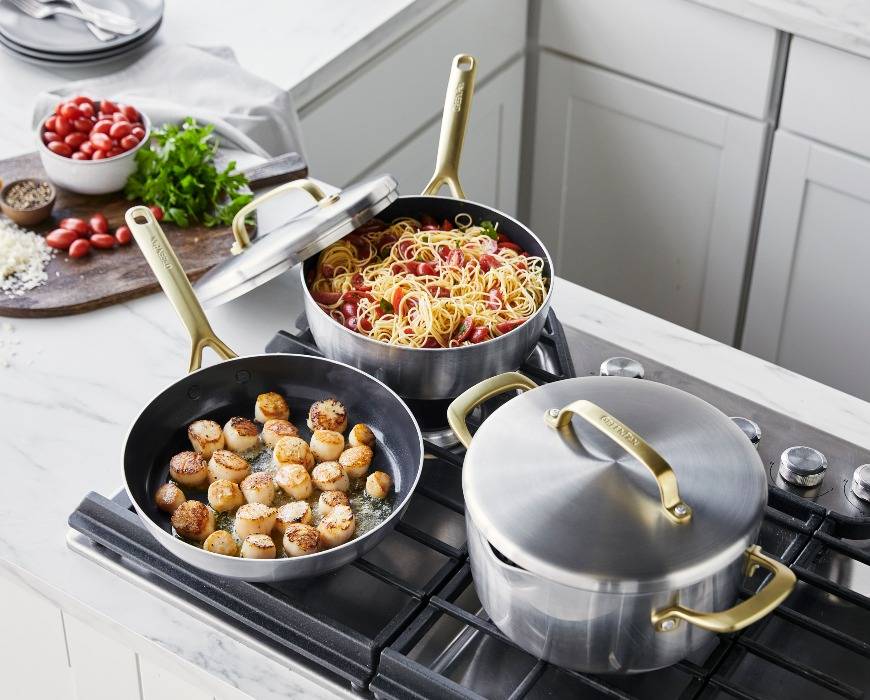 Scallops with Bucatini, Grape Tomatoes & Basil
Yields: 4 servings
Time: 15 minutes prep, 15 minutes cooking, 30 minutes total
INGREDIENTS:
1 pound large scallops
Salt and pepper to taste
8 ounces bucatini pasta
2 tablespoons olive oil
1 tablespoon butter
2 garlic cloves, minced
1 pint grape or cherry tomatoes, halved
Fresh chopped basil
PREPARATION INSTRUCTIONS:
Prep the scallops—Remove side muscle, if needed. Rinse scallops and pat dry. Rest for 15 minutes on paper towels. When dry, sprinkle with salt and pepper on both sides.
Boil the pasta—Bring a large pot of well-salted water to boil over high heat. Add bucatini and boil until almost al dente—1 to 2 minutes less than package directions. Reserve 1/2 cup pasta water, then drain pasta, and set aside.
Meanwhile, sear the scallops—Heat oil in a large skillet over high heat until very hot, but not smoking. Add scallops in a single layer, making sure not to crowd them. Sear undisturbed for 1 1/2 to 2 minutes or until scallops are lightly browned on the underside. Flip scallops with metal tongs or spatula and reduce heat to medium.
Baste the scallops—Add butter to skillet. Use a spoon to baste scallops with melted butter for a minute or so. Remove scallops from pan and set aside.
Cook the tomatoes—Add garlic to skillet along with grape tomatoes. Toss to coat with oil/butter in pan and cook over medium heat just until tomatoes begin to soften and release juices—about 3 minutes.
Assemble the pasta—Add drained pasta to sauce, along with about 1/2 cup of pasta water. Toss to coat pasta evenly, then bring to a simmer and cook until water has reduced and pasta is al dente—a couple minutes more. Add scallops to the pot with pasta and sprinkle with fresh chopped basil. Divide pasta into individual bowls and serve hot.
TIPS:
Forgot to Thaw Scallops Overnight? Here's a shortcut—place them in an airtight plastic bag and immerse bag in cold water for about half an hour.
Minimize Moisture––Dry scallops before cooking to help ensure beautiful browning—and avoid crowding the skillet, or they'll steam instead of sear.