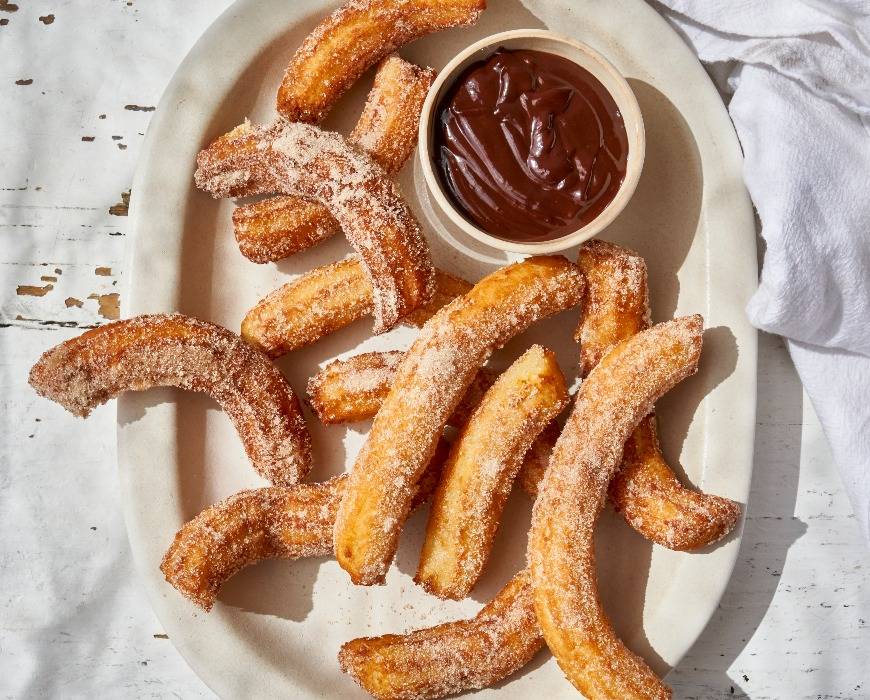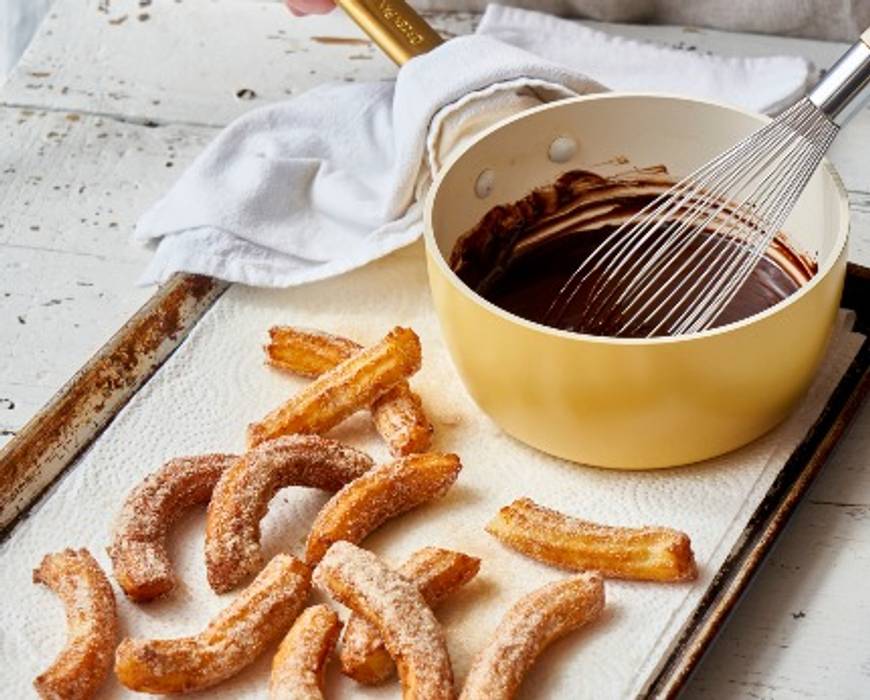 Churros with Chocolate Ganache
Yields: 4 servings
Time: 20 minutes prep, 20 minutes cooking, 40 minutes total
INGREDIENTS:
For the churros
1/2 cup water
1/2 cup whole milk
8 tablespoons unsalted butter
1 teaspoon granulated sugar
1/4 teaspoon salt
1 cup all-purpose flour
2 large eggs, straight from the fridge
Canola or other neutral oil for frying
For the chocolate dipping sauce
3/4 cup chopped dark chocolate or chocolate chips
3/4 cup heavy cream
1 teaspoon ground cinnamon
1/4 teaspoon salt
For coating
1/2 cup granulated sugar
1 teaspoon cinnamon
PREPARATION INSTRUCTIONS:
Start the churro dough—Add water, milk, butter, sugar, and salt to a medium saucepan over medium heat. Cook, stirring frequently, until mixture boils. Remove from heat.
Add the flour—Immediately add flour (all at once) and stir vigorously with a wooden spoon until all the flour is throughly mixed in. Return to medium heat and continue stirring until dough comes together in a ball leaving a thin film on the bottom of pan. This should take about 2 minutes.
Finish the dough—Transfer to a large bowl and beat with an electric mixer on medium speed until mixture cools slightly, about 2 minutes. Add eggs one at a time, beating until each one incorporates before adding the next. Continue beating until dough becomes smooth.
Prepare to fry—Add vegetable oil to a large pot until it's about 2 inches deep. Place over medium heat until it reaches 375° F. In a shallow bowl or baking dish, mix together granulated sugar and cinnamon for rolling.
Fry the churros—Transfer dough to a pastry bag fitted with a large open star tip. Hold bag a few inches above the oil and carefully pipe 4- to 6-inch long ropes of dough, cutting with scissors. Work in batches, about 4-5 churros at a time. Fry until golden on the underside, about 1 1/2 minutes. Flip and continue frying for another minute or so. Remove churros with tongs or a slotted spoon, roll in cinnamon sugar mixture, and transfer to a cooling rack. Repeat with remaining dough, making sure that oil temperature returns to 375°F after each batch.
Meanwhile, make the sauce—Place chocolate in a medium bowl. Bring cream to a simmer in a small saucepan over medium heat. Pour hot cream over chocolate and let sit till chocolate melts, about 2 minutes. Add cinnamon and salt and whisk till everything's combined. Transfer to serving bowl.
Serve and enjoy—Transfer warm churros to a bowl or plate, add a side of chocolate dipping sauce and dig in!
TIPS:
Piping Tip—Don't keep pastry bags on hand? Just snip one corner off a large plastic zip-top bag, fill with dough, and pipe away. Churros won't look as fancy, but they'll still taste spectacular.
Sticky Situation—Transfer churros to a paper towel-lined plate and dab excess oil, if you must, but then roll them in the cinnamon sugar ASAP or it won't stick. Nothing sadder than a naked churro.
Featured Product
Reserve Ceramic Nonstick 10-Piece Cookware Set | Sunrise with Gold-Tone Handles
World-class performance meets eye-catching contrast in GreenPan Reserve. But it's more than good looks: the duoforged hard anodized construction makes this set extra tough. This set makes it simple to find your style at home.