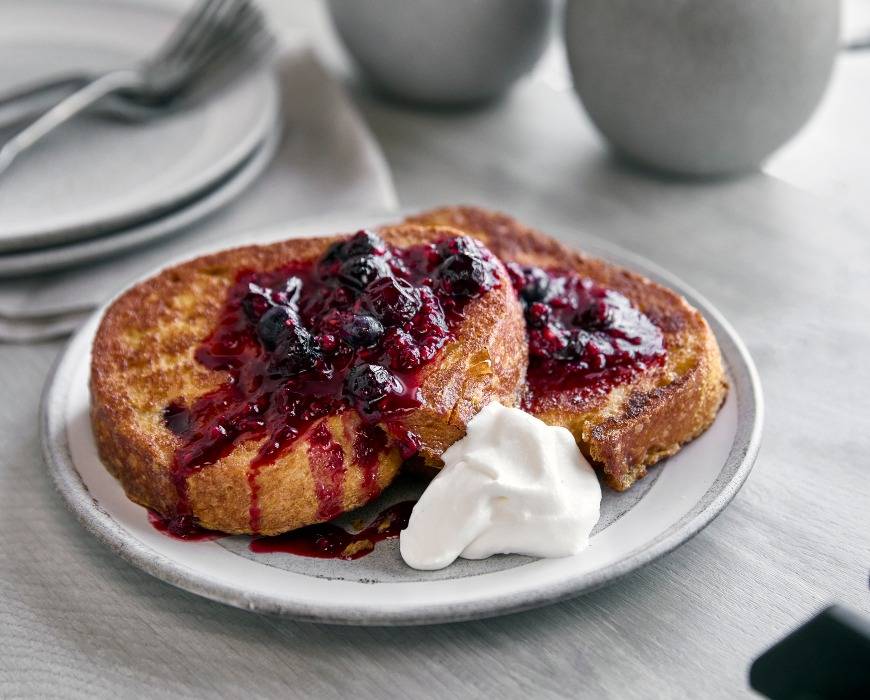 Cinnamon Sugar French Toast
Yields: 6 servings
Time: 20 minutes prep, 20 minutes cooking, 40 minutes total
INGREDIENTS:
6 large eggs
1 1/2 cups milk
1 tablespoon vanilla extract
1/4 teaspoon ground nutmeg
Pinch of salt
1 loaf brioche or challah bread, cut into 3/4-inch slices
1/4 cup granulated sugar
2 teaspoons ground cinnamon
Butter, for cooking
PREPARATION INSTRUCTIONS:
Make the custard—Whisk together the eggs, milk, vanilla, nutmeg, and salt in a shallow bowl or baking dish.
Prepare to cook—In a small bowl, mix together sugar and cinnamon. Melt about a tablespoon butter in a large skillet over medium heat until bubbly. Tilt pan to distribute butter evenly.
Meanwhile, prep the toast—Dunk a couple of slices of bread in the custard mixture, turning until they're evenly saturated. This should only take about 5 seconds per side—otherwise the bread may start to fall apart.
Cook the toast—Gently shake off excess custard and transfer bread slices to skillet. Repeat this process until skillet is full. Cook for a couple of minutes—just until the underside is starting to turn golden brown. Add a bit more butter to the skillet, swirling to coat, and flip slices. Cook on the other side for 2 or 3 minutes, then sprinkle tops of bread with cinnamon sugar mixture. Flip and continue cooking until sugar is caramelized—another 2 to 3 minutes. Repeat with remaining bread slices and cinnamon sugar. Serve fresh from the skillet, if possible, with the crunchy cinnamon side up.
TIPS:
Berry Delicious—Take French toast over the top with a dollop of our warm berry compote. It comes together in just minutes, using any combo of berries—fresh or frozen. Yum!
Keep it Toasty! Want to serve everyone at once? Place cooked French toast on a baking sheet in a 200°F oven so it stays warm. Reheat any leftovers (ha!) in a 350°F oven till crisp.
Featured Product
Performance Pro Ceramic Nonstick 10" Frypan
Made for just about everything, this versatile 10" frypan features our healthy ceramic nonstick coating so you can start searing steaks, sautéing veggies, and delivering family classics with (healthy) ease.