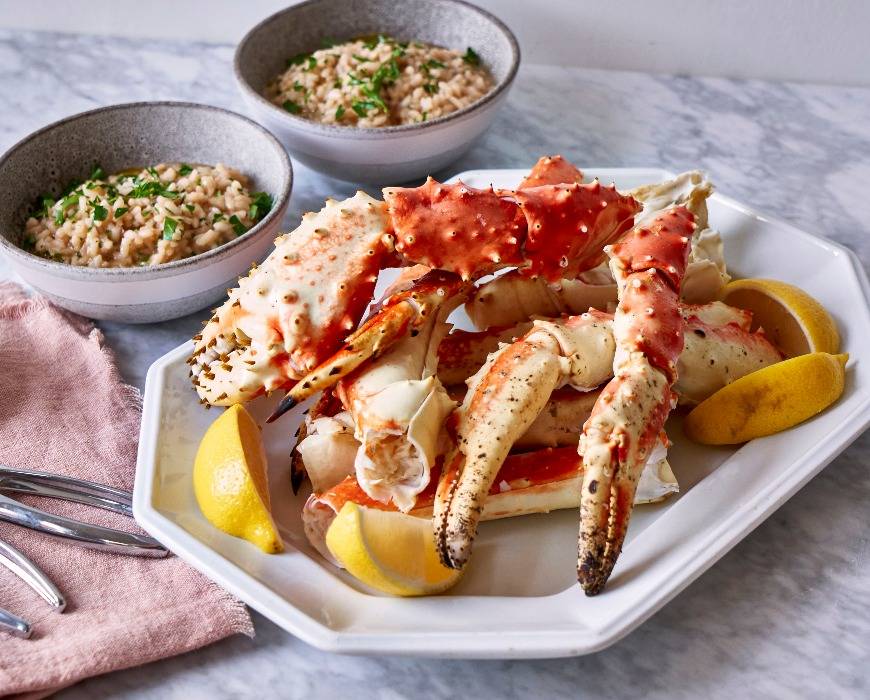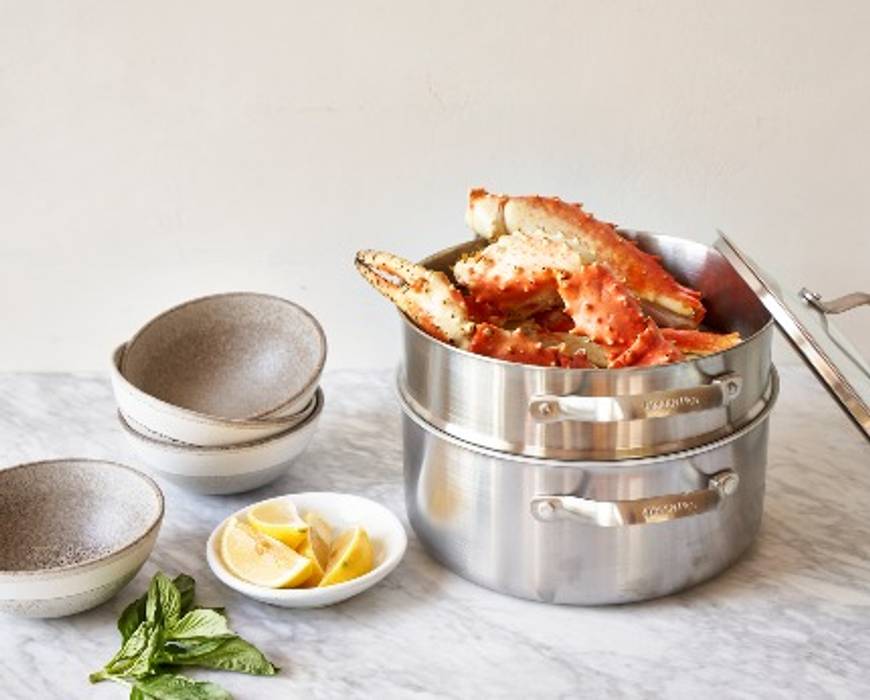 Colossal Crab Legs with Garlic-Herb Butter and Creamy Risotto
Yields: 4 servings
Time: 15 minutes prep, 30 minutes cook, 45 minutes total
INGREDIENTS:
For the risotto
4 cups seafood or chicken stock
1 tablespoon olive oil
3 tablespoons butter, divided
1 medium shallot, diced
1 1/2 cups Arborio rice
1/2 cup dry white wine
1 tablespoon chopped fresh parsley
Salt and freshly ground black pepper to taste
For the crab legs
6 pounds Alaskan King Crab Co. Colossal Red King Crab Legs, thawed
1 1/2 sticks salted butter
4 cloves garlic, minced
2 tablespoons fresh chopped herbs—parsley, basil, tarragon, or a mix
Lemon wedges, for serving
PREPARATION INSTRUCTIONS:
Prep the crab legs—Use kitchen shears to detach knuckles from crab legs (hold the leg with a towel to avoid being poked by spines). Cut legs into smaller segments that will fit inside a stock pot, then cut a length-wise slit into the shell of each pice of crab (slice through the light-colored part of the shell, as it's more pliable). Place knuckles and leg segments in the refrigerator until ready to cook.
Simmer the stock—In a saucepan over medium heat, bring stock to a simmer. Reduce heat to low to keep stock hot as you make risotto.
Start the risotto—Add olive oil and 1 tablespoon butter to a sauté pan over medium heat. When butter has melted, add shallot and sauté until translucent, about 2 to 3 minutes. Add rice to pan and stir briskly to evenly coat grains with oil and butter. Sauté for a minute or two, till rice smells nutty but hasn't yet browned.
Cook the risotto—Add wine to pan and stir until liquid is absorbed. Add a ladle of hot stock to pan and stir to combine. Cook, stirring occasionally, until liquid is fully absorbed. Add another ladle of stock and repeat the process. Continue adding stock, one ladle at a time until rice is creamy and grains are slightly firm, but not crunchy. This will take about 20 minutes. If you run out of stock before reaching desired consistency, continue cooking using hot water.
Finish the risotto—Remove pan from heat and stir in the remaining 2 tablespoons butter along with the parsley until evenly combined. Season with salt and freshly ground black pepper to taste.
Steam the crab legs—When the risotto has been cooking for about 15 minutes, add an inch or two of water to a stock pot fitted with a steamer basket and bring to a boil over medium heat. Add crab legs and knuckles to pot and cover. Steam for 4 to 5 minutes or until heated through.
Meanwhile, make the butter sauce—Melt 2 tablespoons butter in a saucepan over medium heat. When butter sizzles, sauté garlic for a minute or two. Add remaining butter and heat until melted. Remove from heat and stir in chopped herbs.
Serve and enjoy—Divide risotto between four individual plates. Remove crab legs from pot with tongs and transfer to serving platter. Divide butter sauce between individual ramekins or small bowls. Serve with lemon wedges for squeezing over crab meat, if desired.
TIPS:
DIY Steamer— Use a metal colander that fits inside your stockpot. Just be sure the water level is below the bottom of colander to avoid boiling the crab legs.
Chill Out—Thawed crab legs will cook more evenly than frozen. Place them in the fridge overnight or quickly thaw them in a colander under cold running water.
Featured Product
Venice Pro Ceramic Nonstick 10-Piece Cookware Set
Built for high performance, this bestselling collection features tri-ply stainless steel bodies with our Evershine™ finish to keep them looking new long after they're not. This high-powered collection is a bestseller for a reason.