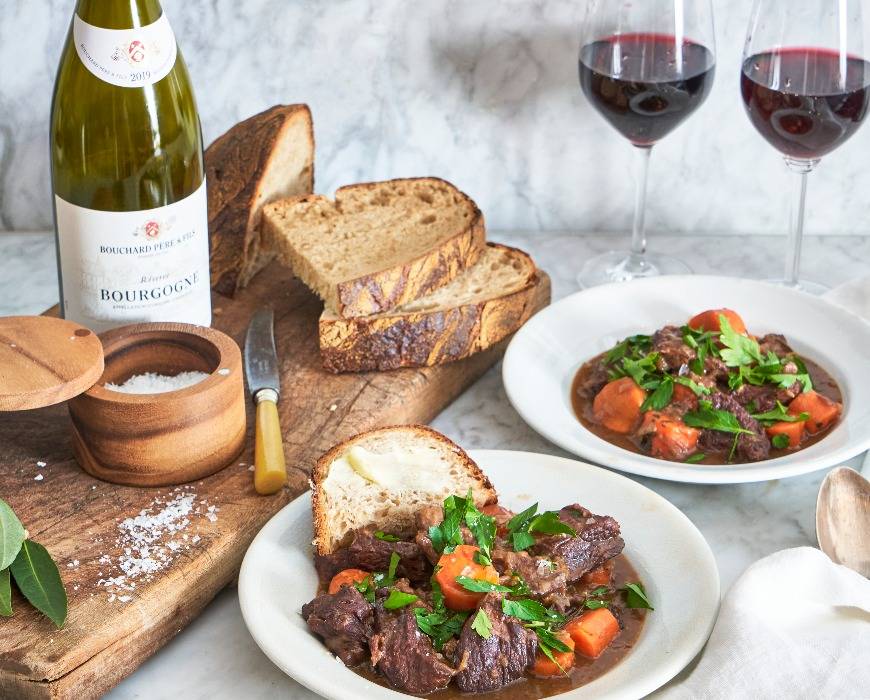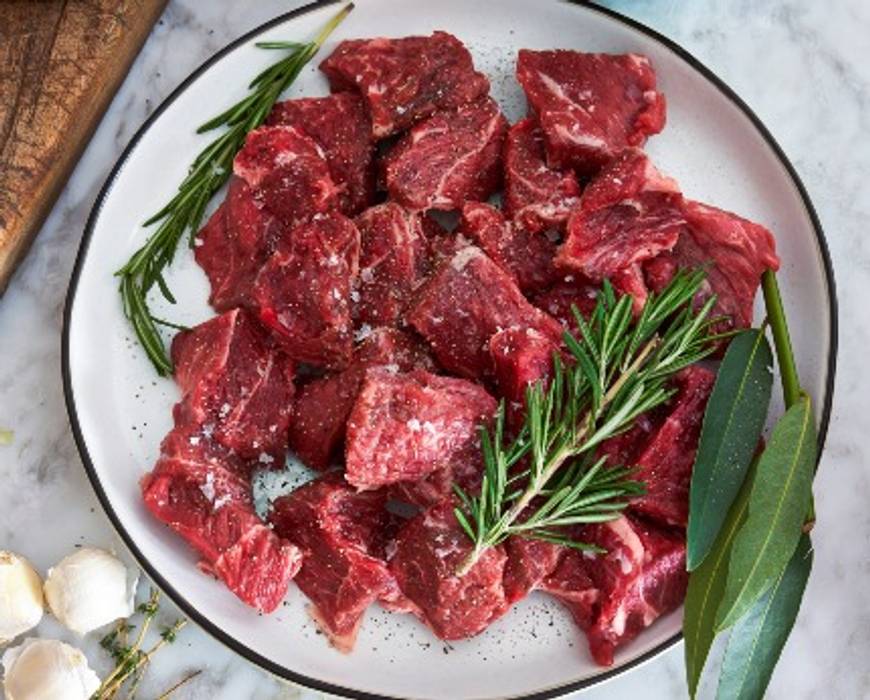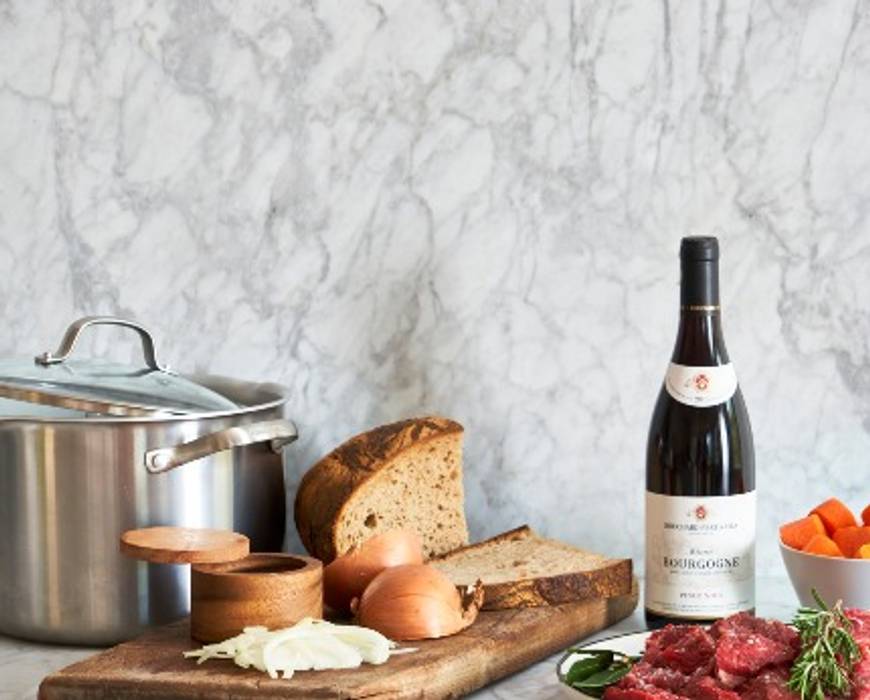 Yields: ~6 servings
Time: 15 minutes prep, 2 hours 45 minutes cooking, 3 hours total
INGREDIENTS:
2 pounds beef chuck roast, cut into 1 1/2-inch pieces
Salt and freshly ground black pepper
1/4 cup olive oil
4 onions, sliced thin
1 tablespoon all-purpose flour
1 cup Burgundy, Merlot, or pinot noir
2 cups low-sodium beef stock
6 medium carrots, cut into 1-inch pieces
2 to 3 cloves garlic
A few sprigs each of fresh parsley, thyme, and rosemary
1 bay leaf
Chopped parsley, for garnish
Crusty bread, for serving
PREPARATION INSTRUCTIONS:
Prep the beef—Pat beef dry with paper towels and season generously with salt and freshly ground black pepper.
Prepare to cook—Add oil to a stockpot and place over high heat until shimmering—almost smoking, but don't let it go that far.
Brown the beef—Working in batches, add beef pieces to oil, being sure not to overcrowd the pot. This way, you'll actually brown the beef, not render it a sad shade of gray. Yes, it's tempting to save time and put all the meat in at once, but trust the process. Cook the beef pieces for about 3 minutes, then flip and continue cooking till all sides are evenly browned. Remove from pot, set aside, and continue with the rest of the beef.
Sauté the onions—Once all beef is browned and removed from pot, lower heat to medium-high and add the onions. Sauté, stirring every now and then, until onions soften and begin to brown. Sprinkle flour over the onions and continue cooking, stirring occasionally, for another 5 minutes or so.
Add the wine—Pour in the red wine and stir with a wooden spoon, being sure to incorporate the browned bits from the bottom of pot. Bring to a boil.
Mix the stew—Place browned beef back in the pot along with the carrots and garlic. Add 2 cups beef stock along with enough water to completely cover the meat—roughly a ratio of 2 parts meat to 3 parts liquid. Stir to combine and bring to a boil. Tie parsley, thyme, rosemary and bay leaf into a bouquet with kitchen twine and add to pot.
Cook the stew—Once stew has boiled, reduce heat to low and continue cooking. Give it a good stir every 15 to 20 minutes, being sure to scrape the bottom of the pot so that the stew doesn't scorch. If foam or oil collects on top, skim it off with a ladle or large spoon. Simmer stew until meat breaks apart when prodded with a fork. This should take about 2 hours.
Garnish and serve—When stew is done, fish out the herb bouquet and discard. Ladle stew into individual bowls, sprinkle with chopped parsley, and serve with your favorite crusty bread.
TIPS:
Wine Selection—Don't have a classic Burgundy on hand? No need to splurge on a special bottle. Just go with any red wine you'd enjoy drinking (because you'll have plenty leftover!).
Fresh Herb Substitute—In a small bowl, stir together 1/4 cup dried parsley, 2 tablespoons dried thyme, and 2 tablespoons dried rosemary. Bundle herb mix in a double layer of cheesecloth with 1 bay leaf and tie securely with kitchen twine.
Featured Product
Venice Pro Ceramic Nonstick 10-Piece Cookware Set
Built for high performance, this bestselling collection features tri-ply stainless steel bodies with our Evershine™ finish to keep them looking new long after they're not. This high-powered collection is a bestseller for a reason.