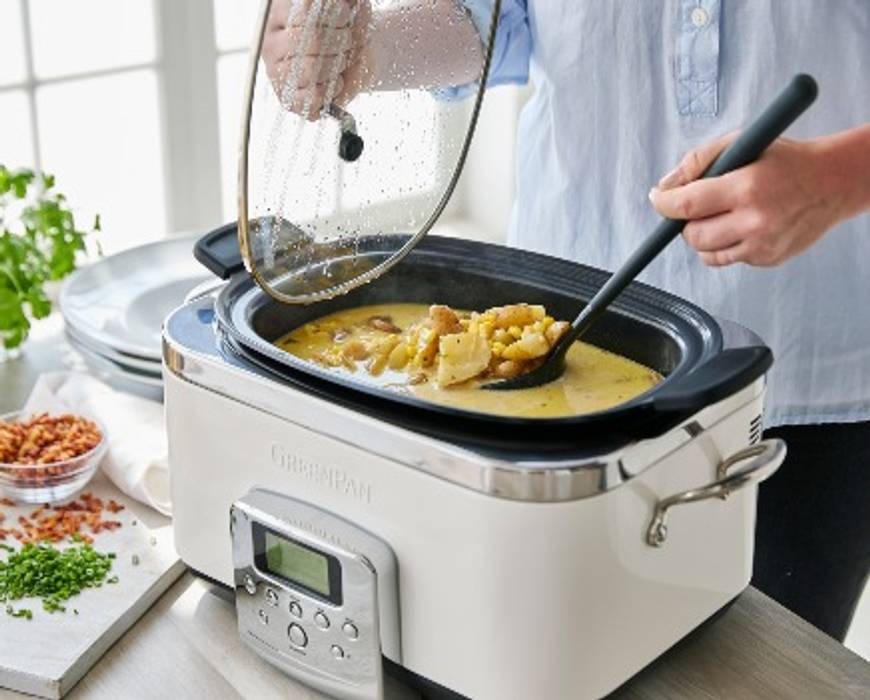 Yields: 6 to 8 servings
Time: 20 minutes prep, 5 hours cooking
INGREDIENTS:
6 thick-cut bacon slices
6 ears of fresh corn, kernels removed, cobs reserved and cut into thirds
4 cups low sodium chicken stock 
1 1/2 pounds fingerling potatoes, cut in 1" pieces 
1 small yellow onion, peeled, cut in 1/4" dice
4 scallions, thinly sliced, whites and green parts separated
4 fresh thyme sprigs, destemmed, finely chopped 
3 garlic cloves, peeled, minced 
2 teaspoons kosher salt
1 teaspoon freshly ground black pepper
2 tablespoons fresh parsley, destemmed, finely chopped 
1 tablespoon fresh lemon juice
1 cup heavy cream
3 tablespoons fresh chives, finely chopped
PREPARATION INSTRUCTIONS:
Select the Brown/sauté mode on the Slow Cooker, set the temperature to 350°F and the timer to 20 minutes. Place the bacon in the slow cooker and sear until well browned on both sides and very crispy. Transfer to a paper towel lined plate and reserve in the refrigerator along with the corn kernels and scallion tops.  


Select the Low Temperature Slow Cook Mode on the Slow cooker and set the timer for 5 hours.  Combine the cobs, chicken stock, potatoes, onion, scallion bottoms, thyme, garlic, salt and pepper in the slow cooker and stir to combine. Cover and cook 4 hours, or until the potatoes are tender and cooked through.    


Remove the cobs from the slow cooker and discard.  Allow the bacon to warm on the counter at room temperature, and add the corn kernels, scallion tops, parsley and lemon juice to the chowder, stirring to combine. Cook 5 to 10 minutes until the corn is warmed through. Stir in the heavy cream until well combined. If the chowder is a bit too thick, add a bit of water or stock to thin. Taste and adjust as desired with lemon, salt and pepper. Serve warm immediately, garnished with crumbled bacon and chives as desired.  
TIPS:
A bit of heat is great in this chowder!  Add in 1 minced jalapeno or up to a teaspoon and a half of crushed red pepper as desired! 
For an extra kick of summer freshness, try adding a bit of fresh basil or dill to the chowder as garnish! 
Featured Product
Elite 6-Quart Slow Cooker | Cloud Cream
With our advanced slow cooker, you can sear meat and veggies in the pot, then go low and slow to finish the job. Take your time while cooking, then clean up quickly with Thermolon™ Volt, a healthy, PFAS-free ceramic nonstick...