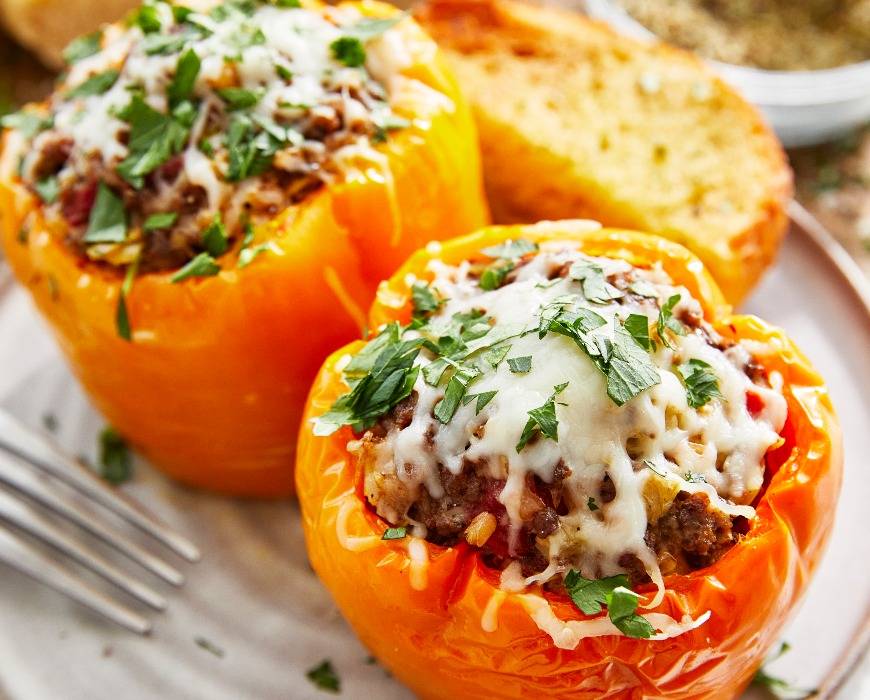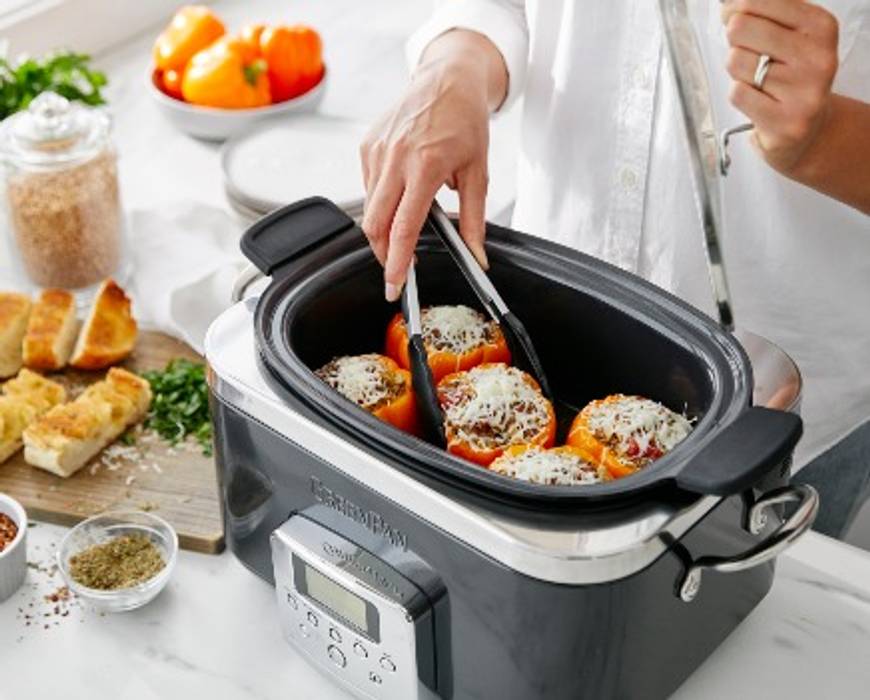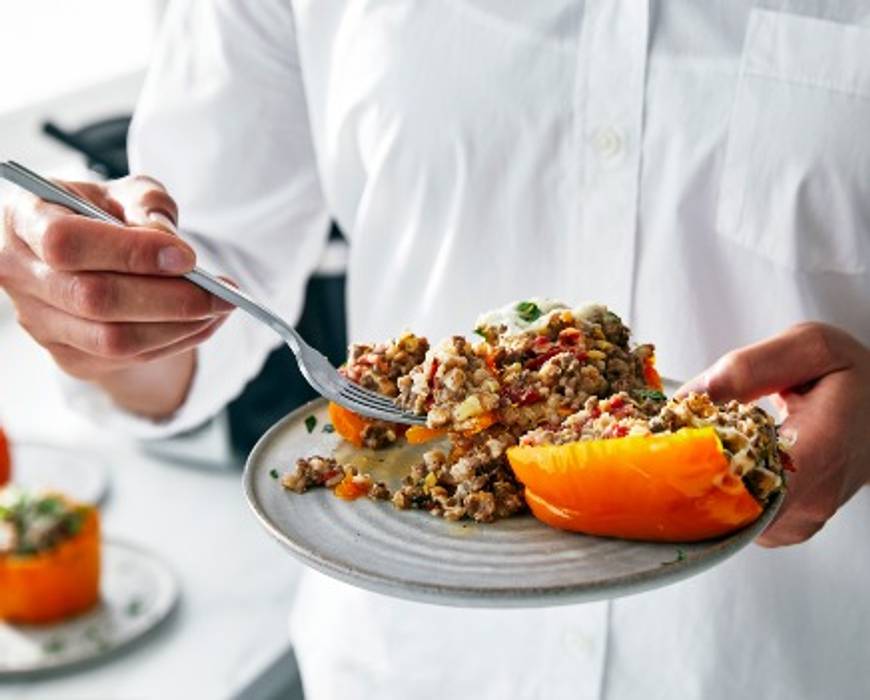 Yields: 5 servings
Time: 20 minutes prep, 3 hours 30 minutes cooking
INGREDIENTS:
5 red or orange bell peppers, tops, core and seeds removed
1 tablespoon extra-virgin olive oil
1 pound ground beef, 80/20
3 cloves garlic, peeled and minced
1/2 teaspoon dried oregano
1/2 teaspoon dried basil
1/2 teaspoon dried thyme
1/4 teaspoon crushed red pepper flakes, more to taste
1 teaspoon kosher salt, more to taste 
1/2 teaspoon freshly ground black pepper, more to taste
1 (14.5-ounce) can fire-roasted diced tomatoes
1 1/2 cups cooked farro 
1/2 cup marinated artichoke hearts, drained and roughly chopped
1 1/2 cups shredded mozzarella cheese, fresh preferred
1/2 cup parmesan, freshly grated
1/2 cup low-sodium chicken stock
1/4 cup fresh parsley, destemmed and finely chopped, for serving
PREPARATION INSTRUCTIONS:
Select the Brown/sauté mode on the Premiere Slow Cooker, set the temperature to 350°F and the timer to 15 minutes.  Pour the oil into the slow cooker and allow it to come to temperature. Add the ground beef to the slow cooker and break it into very small pieces using a wooden spoon or silicone spatula. Cook, stirring occasionally, until well browned all over. Add in the garlic, oregano, basil, thyme, red pepper flakes, salt and pepper and cook until aromatic, another 2 to 3 minutes. Transfer the beef to a large mixing bowl and set aside. Select the High Temperature Slow Cook Mode on the Slow cooker and set the timer for 3 hours.  


To the mixing bowl with the beef add the tomatoes, farro, artichoke hearts mozzarella and half of the parmesan cheese. Stir to combine and taste, adjusting with red pepper flakes, salt and pepper as desired. (If you'd like, finely chop the removed red or orange tops of the bell peppers and stir into the mixture). If needed, trim a small amount of the bottom of any of the bell peppers so they will stand up nicely then spoon the filling into the prepared bell peppers, making sure it's as evenly divided as possible and packing it tightly. Sprinkle the remaining parmesan cheese on the top of each.  


Pour the chicken stock into the slow cooker then place in the stuff peppers, evenly spacing them as best as possible. Cover and cook for 3 hours, or until the peppers are just softened and cooked through. If desired, add a bit more mozzarella to the top of each pepper, cover and cook until melted. Serve the peppers warm garnished with a bit of parsley on top.  
TIPS:
These stuffed peppers would be equally delicious made with ground turkey.  Simply add another half a can of tomatoes to the stuffing to ensure they stay moist and delicious!  
If farro isn't your favorite, feel free to substitute with cooked brown rice or even quinoa! 
Featured Product
Elite 6-Quart Slow Cooker | Black
With our advanced slow cooker, you can sear meat and veggies in the pot, then go low and slow to finish the job. Take your time while cooking, then clean up quickly with Thermolon™ Volt, a healthy, PFAS-free ceramic nonstick...