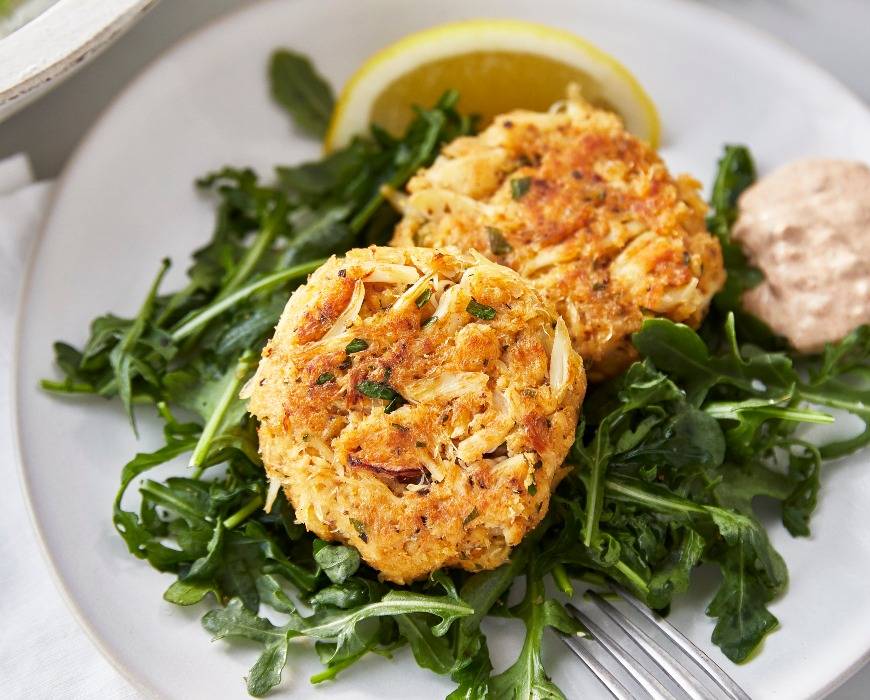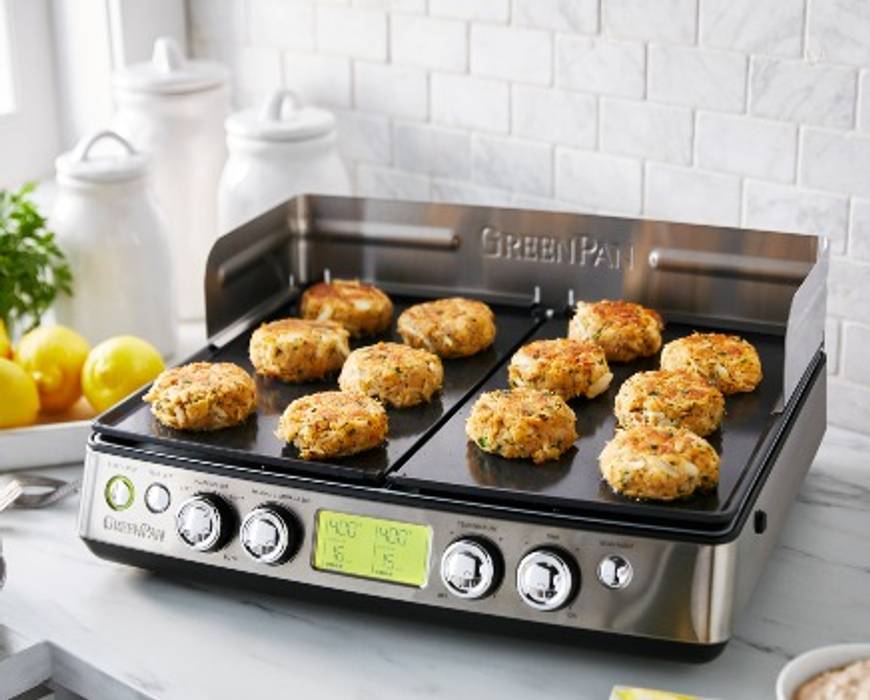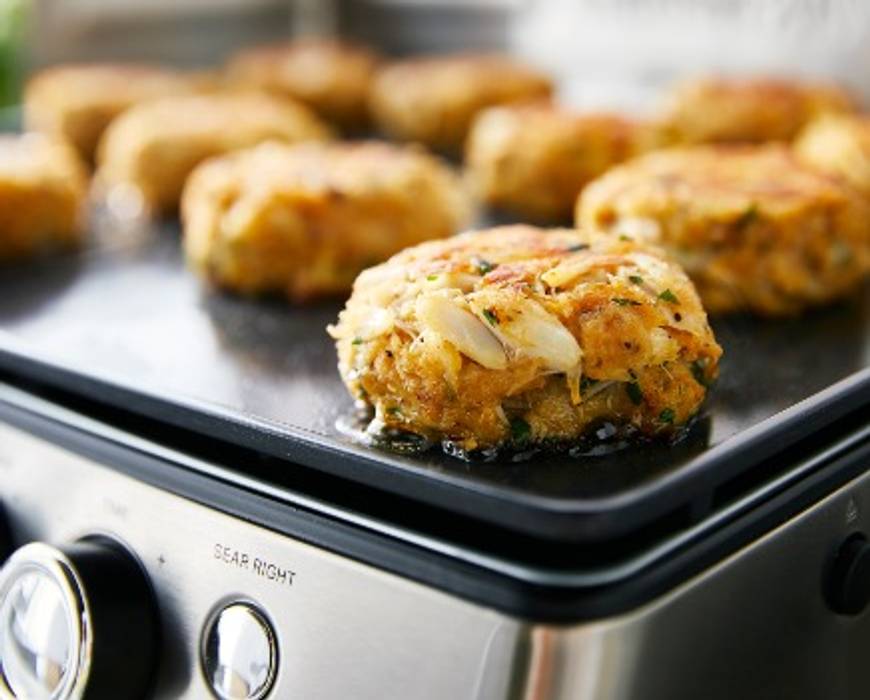 Crab Cakes with Remoulade Sauce and Lemon Arugula Salad
Yields: 6 large or 12 mini crab cakes
Time: 20 minutes prep, 1 hour chilling, 10 minutes cooking, 1 hour 30 minutes total
INGREDIENTS:
For the crab cakes:
2 large eggs
2 tablespoons mayonnaise
2 teaspoons chopped fresh parsley
1 1/2 teaspoons Dijon mustard
1 teaspoon Old Bay seasoning
1 teaspoon Worcestershire sauce
1/4 teaspoon salt
1 pound cooked lump crab meat
1/2 cup Panko bread crumbs (or crumbled saltines)
Melted ghee or olive oil for grilling
For the remoulade sauce:
1 cup mayonnaise
2 tablespoons Dijon mustard
2 tablespoons dill relish (or pickle juice in a pinch)
2 teaspoons Cajun seasoning
1 teaspoon horseradish
1 teaspoon minced garlic
1/2 teaspoon smoked paprika
2 to 3 teaspoons fresh lemon juice
Salt and freshly ground black pepper to taste
For the salad:
4 cups fresh arugula
Juice of 1 lemon
2 tablespoons olive oil
Sea salt and freshly ground black pepper to taste
PREPARATION INSTRUCTIONS:
Prep the crab cakes—In a large bowl, add eggs, mayonnaise, parsley, Dijon mustard, Old Bay seasoning, Worcestershire, and salt and mix until everything's incorporated. Add in crab meat and Panko and gently fold into the egg mixture until it just comes together. Use a silicone spatula and a soft touch here—you want it to hold together, but try not to shred the crab meat.
Shape the crab cakes—Form crab mix into 6 large patties or 12 mini patties and refrigerate for 1 hour (or at least 30 minutes!). This gives the crab cakes time to firm up so they won't fall apart on the griddle and make everybody sad.
Make the remoulade sauce—In a small bowl, whisk together the mayo, mustard, dill relish, Cajun seasoning, horseradish, garlic, and smoked paprika. Add a couple teaspoons lemon juice, along with salt and pepper. Whisk, taste, and add more lemon juice or seasoning, if needed. Cover and refrigerate till ready to use.
Prepare to cook—Fit the Premiere XL Smoke-less Grill & Griddle with two griddle plates and preheat to 400°F.
Griddle the crab cakes—Brush griddle plates with melted ghee or olive oil and heat till shimmering. Place cakes on griddle and cook until beautifully golden—about 3 to 5 minutes per side.
Meanwhile, prep the salad—While crab cakes cook, add arugula to a large bowl along with lemon juice, olive oil, and about 1/2 teaspoon each of salt and pepper. Toss to coat leaves evenly. Set aside.
Assemble and serve—Divide salad between individual plates and top with warm crab cakes. Add a dollop of remoulade on the side and serve with lemon wedges.
TIPS:
Make Ahead—Get a jump on prep for your spring soirée by shaping crab cakes and making remoulade the day before and leaving them to chill in the fridge.
Healthy Swap—Cut down on fat and calories by trading the traditional mayo in remoulade sauce for plain Greek yogurt.