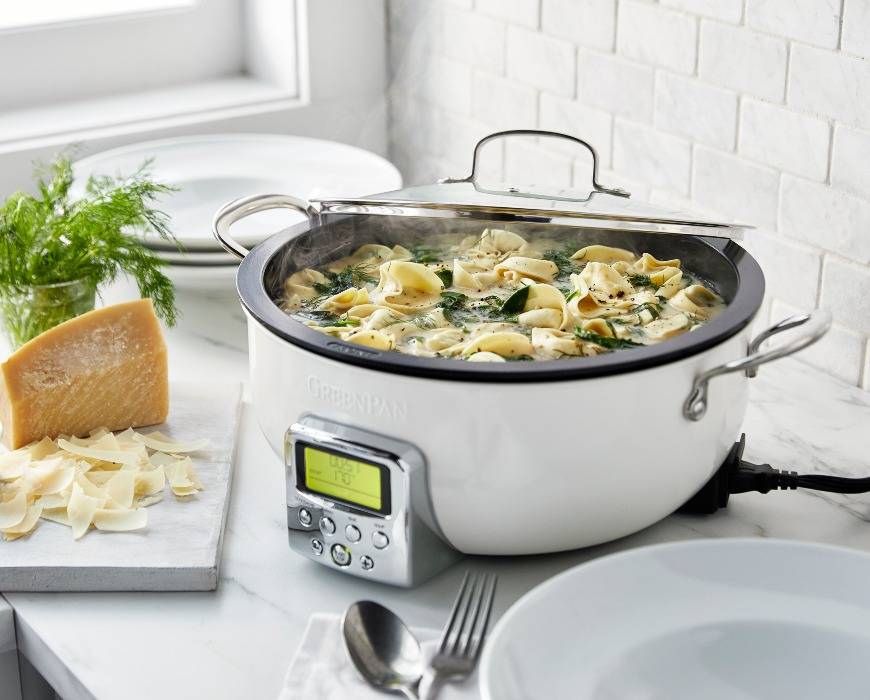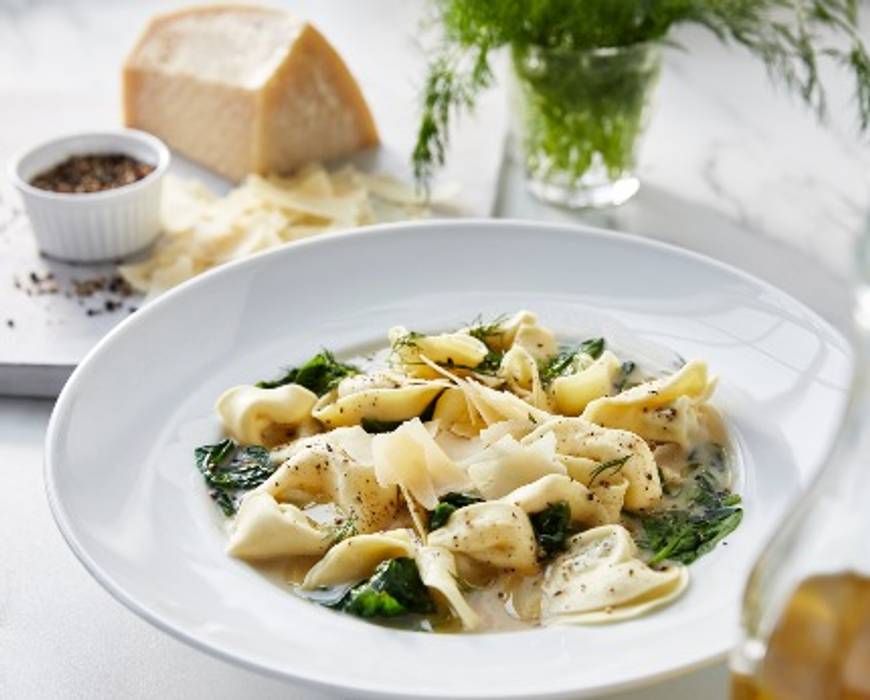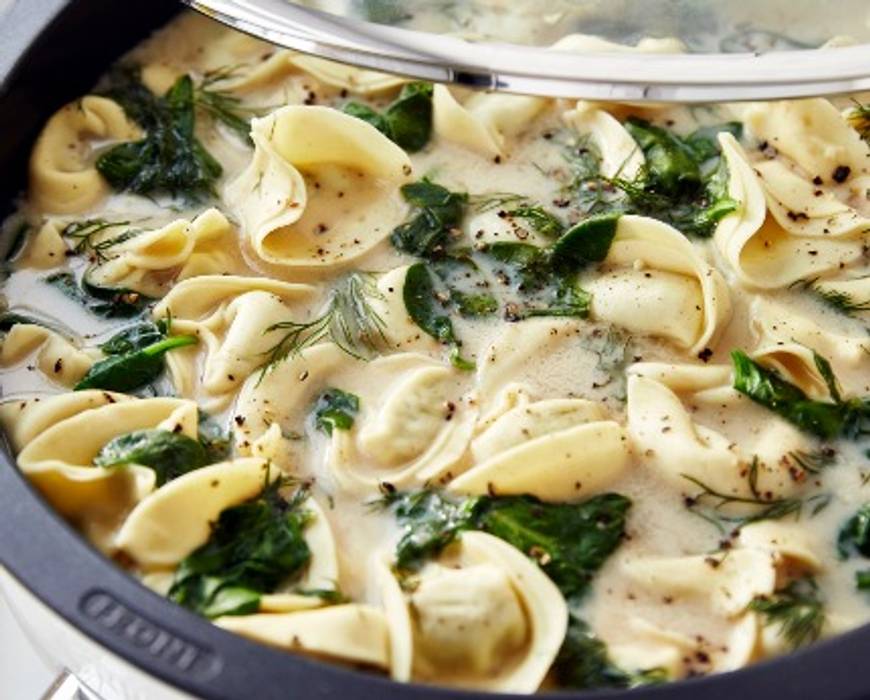 Lemon Tortellini with Spinach and Dill
Yields: 4 servings
Time: 20 minutes prep, 25 minutes cooking, 45 minutes total
INGREDIENTS:
4 cups low-sodium vegetable or chicken stock
4 large eggs, room temperature
1/4 cup lemon juice (from 1 to 2 lemons)
1 teaspoon freshly ground back pepper
Salt to taste
16 ounces cheese tortellini
10 ounces baby spinach (2 bags or clamshells)
1/2 cup chopped fresh dill
Extra-virgin olive oil, for serving
Freshly grated Parmesan, for serving
Dill sprigs, for serving
PREPARATION INSTRUCTIONS:
Start the broth—Select the Soup mode on your Essential Smart Skillet, set the temperature to 200°F and the timer for 25 minutes. Add 4 cups vegetable or chicken stock and bring to a simmer (raise or lower temperature if needed to maintain a simmer).
Temper the eggs—Add eggs to a medium bowl along with lemon juice and pepper. Whisk vigorously to combine. While whisking, slowly drizzle about 1 cup of the warm stock into the bowl with eggs.
Make the broth—Slowly pour the egg mixture into the stock, whisking constantly. Continue cooking, whisking often, until the broth begins to thicken, about 5 to 7 minutes. Watch the temperature—you don't want the broth to boil. Taste broth and season with salt and freshly ground black pepper as needed.
Cook the tortellini—Add tortellini to broth and cook till heated through (it should float when done)—about 5 minutes for fresh or up to 10 for frozen.
Add the greens—Turn off your Essential Smart Skillet. Stir in spinach and dill till just combined.
Garnish and serve—Scoop soup into individual bowls. Drizzle with a touch of your favorite olive oil and sprinkle with freshly grated Parmesan. Top it off with a few dill sprigs and enjoy!
TIPS:
Make it Meatier—Try tossing in a cup or so of your favorite cooked protein along with the tortellini. We like shredded rotisserie chicken, cubed ham, or chopped bacon, but you do you.
Pick Your Pasta—Our spring soup works great with all kinds of pasta, from frozen spinach or chicken ravioli to fresh linguine or fettuccine. You can even use dried pasta—just boil to al dente, then drain and add at the end.
Featured Product
Elite 6-Quart Essential Smart Skillet | Cloud Cream
Whether you're searing a steak, perfecting a complex stew, or simply making rice, this family-sized 6-quart skillet gives you room for any meal. The high sides eliminate splatter and make it easy to toss your ingredients without worry.