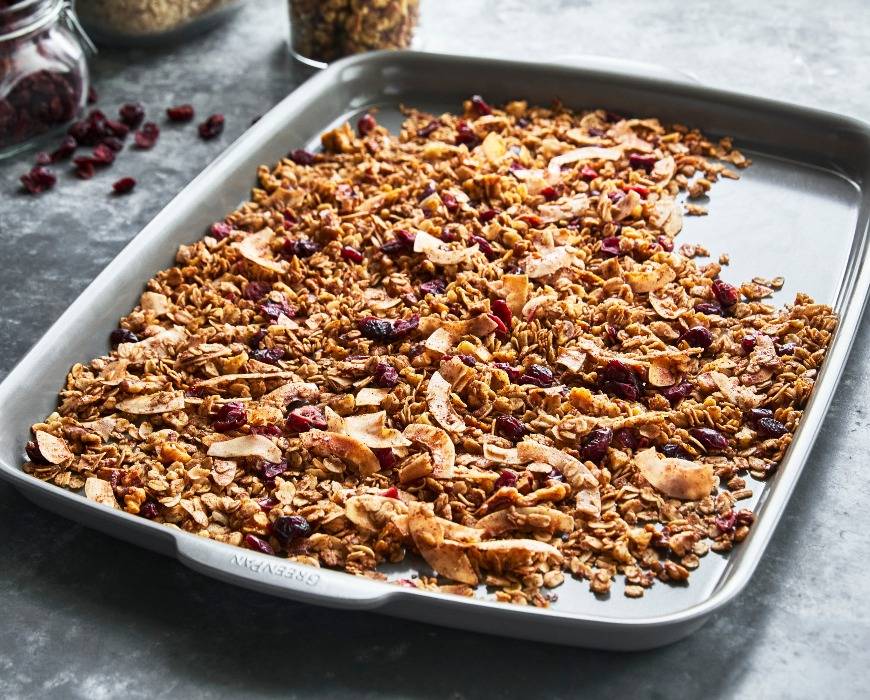 Yields: 4 to 6 servings
Time: 10 minutes prep, 30 minutes cooking, 40 minutes total
INGREDIENTS:
2 cups rolled oats
1/2 cup chopped pecans
1/2 cup unsweetened shredded coconut
1/4 cup brown sugar
2 teaspoons cinnamon
1/2 teaspoon sea salt
1/4 cup maple syrup
2 tablespoons melted coconut oil or vegetable oil
2 tablespoons almond butter
1/2 cup dried cranberries
PREPARATION INSTRUCTIONS:
Prepare to bake—Preheat oven to 300°F.
Mix the granola—In a medium bowl, stir together oats, pecans, coconut, brown sugar, cinnamon, and salt. Add maple syrup, coconut oil, and almond butter and stir to combine evenly.
Bake the granola—Spread granola on a baking sheet and bake for 30 minutes, stirring every 10 minutes or so to ensure an even, golden brown color.
Finish the granola—Remove from oven and sprinkle with cranberries. Let cool for 15 minutes (it will get crispier as it cools) before serving or storing in an airtight container.
TIPS:
Mix & Match: Customize our homemade granola to suit your taste—trade pecans for walnuts, cranberries for raisins or dried cherries, and skip the shredded coconut if you're not a fan.
Granola, Beyond Yogurt—Our granola makes a sweet and crunchy addition to everything from baked apples and muffins to pancake batter, oatmeal, and even green salads.
Featured Product
Premiere Ovenware Ceramic Nonstick 18" x 13" Half Sheet Pan
A true workhorse, this pan is one of the most versatile pieces of cookware you can own. The solid, one-piece design eliminates food traps and the spacious surface makes it perfect for family meals.