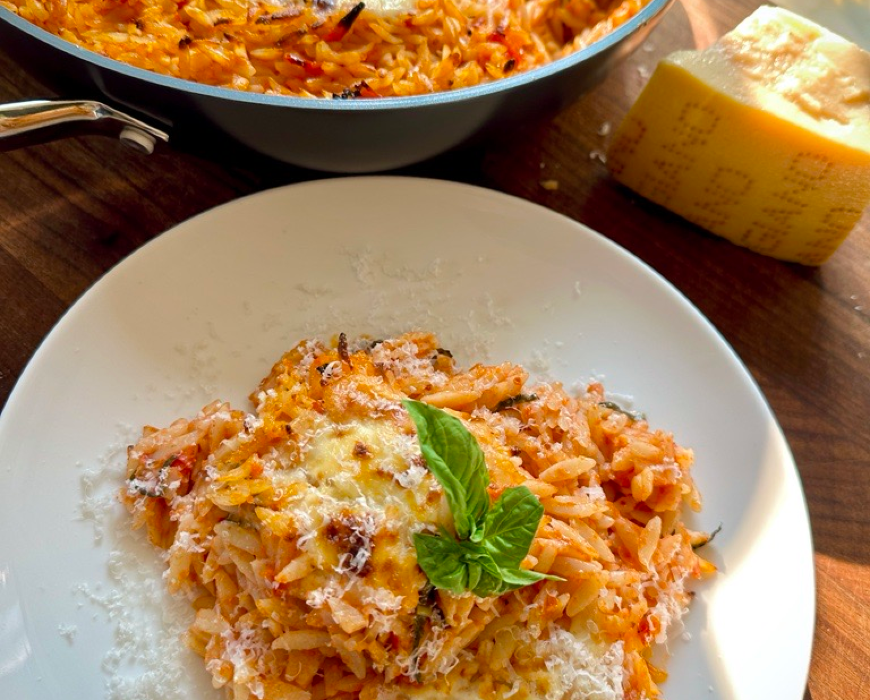 Yields: 6 servings 
Time: 15 minutes prep, 30 minutes cooking   
INGREDIENTS: 
12 ounces orzo 

 

3 tablespoons extra-virgin olive oil 

 

1 medium shallot, minced 

 

2 garlic cloves, minced 

 

2 tablespoons tomato paste 

 

1/2 teaspoon dried oregano

 

1/4 teaspoon crushed red pepper flakes 

 

3 medium tomatoes, cut in 1/4" dice 

 

14-ounce can low sodium crushed tomatoes

 

1 teaspoon red wine vinegar

 

1/2 teaspoon kosher salt 

 

1/4 teaspoon freshly ground black pepper 

 

3/4 cup heavy cream 

 

3 tablespoons fresh basil leaves, thinly sliced, plus more for garnish

 

4 ounces mascarpone 

 

1/4 cup freshly grated parmesan, plus more for garnish 

 
PREPARATION INSTRUCTIONS: 
Place a GreenPan Valencia Pro 11" Everyday Pan filled ¾ of the way with water on the stovetop over medium-high heat and bring to a boil.  Season the water with a few generous pinches of salt and stir in the orzo.  Cook for 8 to 10 minutes, stirring occasionally, until the orzo is fully cooked through but still firm to the bite.  Drain the orzo, reserving 1 cup of the pasta water.  Rinse the orzo with cold water until it reaches room temperature and transfer the orzo to a mixing bowl.  To keep the orzo from sticking together stir in a tablespoon (or a bit more) of olive oil.  
Lightly clean the Everyday Pan and return it to the stovetop over medium-low heat.  Pour in the olive oil and allow it to come to temperature for a minute.  Add the shallot, garlic, tomato paste, oregano, and pepper flakes and cook, stirring regularly, for 3 to 4 minutes or until the tomato paste is a darker shade of red and very aromatic.  Stir in the diced tomatoes and cook for 3 to 4 minutes until they begin to soften, then stir in the crushed tomatoes, vinegar, salt and pepper.  Increase the heat to medium, or high enough to reach a light simmer, and allow the sauce to cook for 4 to 5 minutes until it has reduced by about a quarter.  
Stir in the heavy cream and 1/2 cup of the reserved pasta water until fully incorporated.  Continue simmering the sauce, stirring occasionally, for another 2 to 3 minutes.  Turn off the heat and stir in the basil.  Taste and adjust with salt, pepper, pepper flakes, and vinegar as desired.  Transfer the cooked orzo to the pan and stir to combine.  If the sauce seems a bit thick, add more of the reserved pasta water to reach the desired consistency.  Taste one final time and adjust to taste as needed.  
Turn on an oven broiler on low (or an oven at 450 F).  Smooth the orzo into one even layer in the pan and top with a layer of parmesan cheese, followed by small dollops of mascarpone, evenly dispersed.  Place the pan under the broiler and cook until the parmesan has melted and started to form a crust and the mascarpone is starting to brown and bubble slightly, about 4 minutes if using the broiler and a bit longer if using the oven.  
Serve the orzo warm immediately, topped with a bit more grated parmesan and fresh basil, along with a drizzle of olive oil to finish if desired. 
TIPS: 
If beautiful fresh tomatoes aren't available, replace them with a 14-ounce can of diced tomatoes to make the sauce in no time.  Or if you're a fan, we also love this sauce made with diced red peppers in place of diced tomatoes as well!  
For a fun and hearty take on this recipe, we really enjoy making this dish with farro!  Follow the package instructions to cook the farro to your desired doneness, then simply replace it in the recipe for the orzo.    
Featured Product
Valencia Pro Ceramic Nonstick 11" Everyday Pan with Lid
Crafted from hard anodized aluminum for maximum strength and scratch resistance, this 11" everyday pan is your go-to for one-pan meals, searing steaks, or sautéing veggies. The two side handles make stovetop-to-oven transfers effortless.