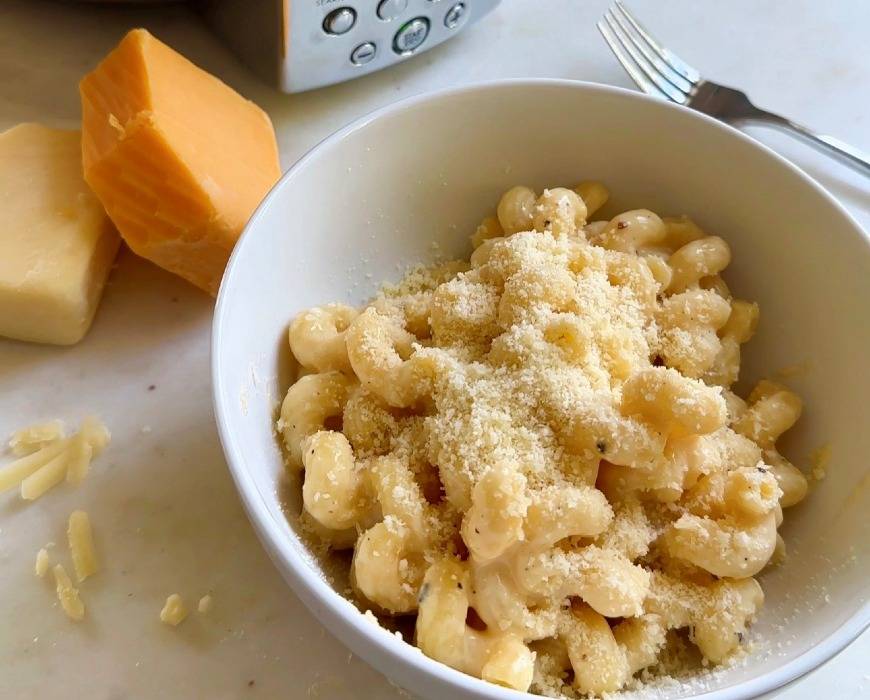 Yields: 6 servings  
Time: 10 minutes prep, 20 minutes cooking   
INGREDIENTS:
4 cups water

 

3 cups whole milk

 

1-pound uncooked pasta (such as cavatappi or macaroni)

 

1 teaspoon kosher salt

 

1 teaspoon onion powder

 

1/2 teaspoon garlic powder

 

6 ounces extra sharp white cheddar, freshly grated

 

6 ounces sharp yellow cheddar, freshly grated (or mild yellow cheddar if preferred)

 

½ cup grated parmesan cheese, more for garnish 

 

1 teaspoon freshly ground black pepper

 
PREPARATION INSTRUCTIONS:
Select the Sauce Mode on the Essential Smart Skillet and set the temperature to 400 F. Pour the water and milk into the skillet and bring to a boil. Mix in the pasta, salt, onion powder, and garlic powder using a silicone spatula.  

 
Cook the pasta, stirring regularly, for 10 to 15 minutes depending on the size and shape or until the pasta is just cooked and al dente.  The water and milk will reduce in volume as the pasta cooks – if the cooking liquid reduces too far before the pasta is cooked through, add more milk or water to the skillet and continue cooking.  When the pasta is fully cooked, there should be about 1 cup of liquid left in the skillet – if there is more, remove and reserve.  
Turn off the skillet and stir in all three cheeses as well as the black pepper. Continue stirring until all the cheese has gently melted.  If desired, stir in any reserved cooking liquid or fresh milk to reach the desired consistency.  Taste and adjust with salt and black pepper.

 
Serve warm immediately and garnish with a bit more parmesan cheese.  
TIPS:
This recipe is equally as great on the stovetop made in a GreenPan Stockpot!  Reduce the amount of milk and water by a cup each to start as the stockpot is more narrow – you can always add more liquid as it's cooking if needed.   
Freshly grated cheese is better for the creamiest mac and cheese!  Often, pre-shredded cheese will have additives to keep it fresh and clump free in the package – but this also keeps it from melting as smoothly.  For the smoothest mac and cheese, shred the cheese yourself if possible! 
Featured Product
Elite 6-Quart Essential Smart Skillet | Premiere Stainless Steel
Whether you're searing a steak, perfecting a complex stew, or simply making rice, this family-sized 6-quart skillet gives you room for any meal. The high sides eliminate splatter and make it easy to toss your ingredients without worry.