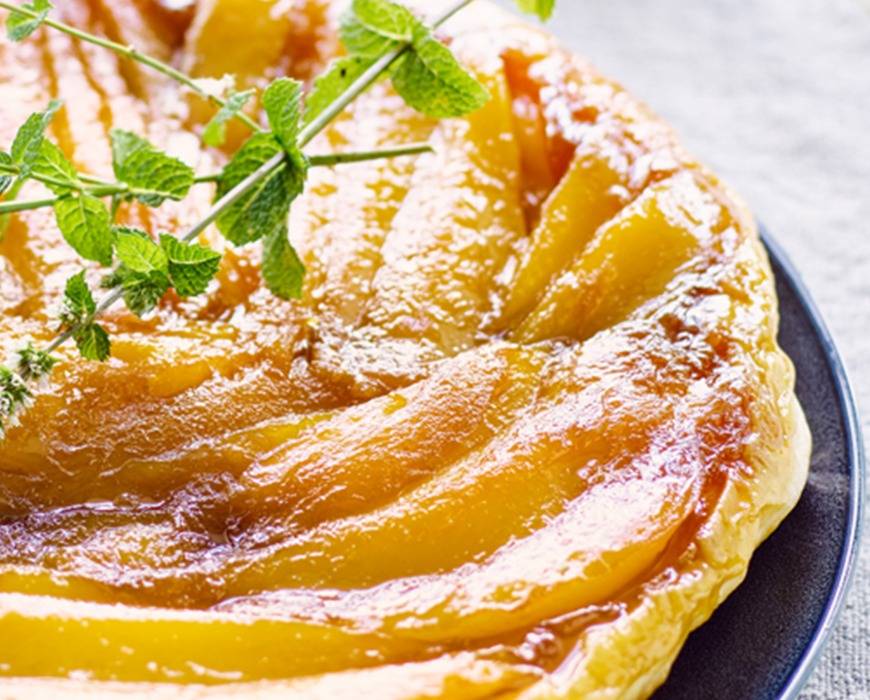 Deep Dish Caramel Apple Galette
Yields: 6 servings
Time: 25 minutes prep, 1 hour refrigeration, 35 minutes baking, 2 hours total
Ingredients
For the crust
1 1/2 cups (6.75 ounces) unbleached all-purpose flour
1/2 teaspoon granulated sugar
1/4 teaspoon kosher salt
9 tablespoons (4.5 ounces) cold, unsalted butter, cut into 1/2-inch pieces
4 to 5 tablespoons ice water
For the filling
6 large, firm apples, cored and cut into 1/8-inch thick slices
8 tablespoons (4 ounces) unsalted butter
1 teaspoon ground cinnamon
1/2 teaspoon ground nutmeg
1 teaspoon salt
3 tablespoons course raw sugar
1 egg, beaten
For the garnish
Preparation
Make the crust—In a large bowl, whisk together the flour, sugar, and salt. Add butter and work it in with a pastry cutter or your fingertips until it looks like coarse meal with a few pea-sized pieces. Create a well in the center and sprinkle in 4 tablespoons ice-cold water (hold the ice). Work water into the flour with your fingertips until the dough holds together in a ball. If dough seems too dry, sprinkle in the rest of the water, a teaspoon at a time, until it comes together. Form dough into round disc, cover with plastic wrap, and refrigerate for at least an hour.
Prepare to bake—After dough has rested, preheat oven to 350 degrees F.
Prep the apples—Melt 8 tablespoons of butter in a high-sided skillet over medium heat. Stir in cinnamon, nutmeg, salt, and 2 tablespoons sugar. Add sliced apples and toss until evenly coated.
Prep the crust—Using a clean, high-sided skillet as a guide, roll out crust until it overhangs skillet by about two inches. Place crust in skillet.
Assemble and bake—Arrange apple slices on top of crust by overlapping them into a spiral shape. Pour remaining butter mixture over the top. Fold crust inward, leaving apples uncovered in center of pan. Brush exposed crust with egg wash and sprinkle remaining sugar over the entire tart. Bake in preheated oven until juices are bubbly and crust is nicely browned, about 35 minutes.
Serve and enjoy— Allow the gallette to cool for about 10 to 15 minutes (if you can wait that long) before serving warm slices garnished with a side of whipped cream and sprig of fresh mint.
Featured Product
Valencia Pro Ceramic Nonstick 11" Frypan
Built for daily demands, this 11" frypan is our goldilocks size—not too big, not too small, and perfect for just about any meal. Plus, it's crafted from hard anodized aluminum for maximum strength and scratch resistance.