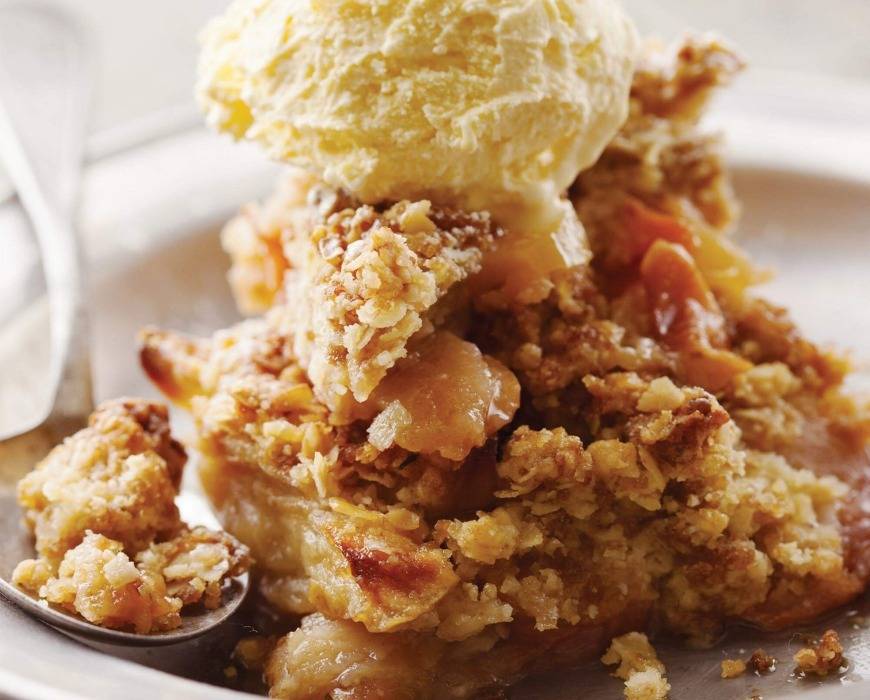 For the apples
7 apples, cored and chopped but not peeled
1/4 cup honey
1 teaspoon vanilla extract
1 teaspoon ground cinnamon
Pinch of salt
For the crumble
1 stick butter, melted
1 1/2 cups quick oats
1/2 cup whole wheat flour
1/2 cup brown sugar
1/2 cup honey
2/3 cup pecans or walnuts, chopped and toasted
Pinch of salt
Prepare to bake—Preheat oven to 350 degrees F.
Prep the apples—Add apples to a medium skillet along with 1/4 cup honey, vanilla, cinnamon, and salt. Toss to coat apples evenly. 
Mix the crumble—In a medium bowl, add butter, oats, flour, brown sugar, honey, nuts, and a generous pinch of salt. Stir or mix with hands until everything's incorporated.
Assemble and bake—Sprinkle crumble evenly over apples. Bake in preheated oven until juices are bubbling and crumble is beautifully browned, about 50 minutes.
Apple Picking
For this crumble, choose firm-fleshed apples that won't fall apart when baked. Try Granny Smith, Honeycrisp, or Braeburn—or combo of all three. Skip a time-consuming step and leave the peels on—they're packed with nutrients.
Make it Easier
Our GreenPan Ceramic Nonstick Frypans effortlessly release sticky apple crumble, and the extra nonstick coating makes cleanup incredibly quick and simple.
Featured Product
Valencia Pro Ceramic Nonstick 11" Frypan
Built for daily demands, this 11" frypan is our goldilocks size—not too big, not too small, and perfect for just about any meal. Plus, it's crafted from hard anodized aluminum for maximum strength and scratch resistance.