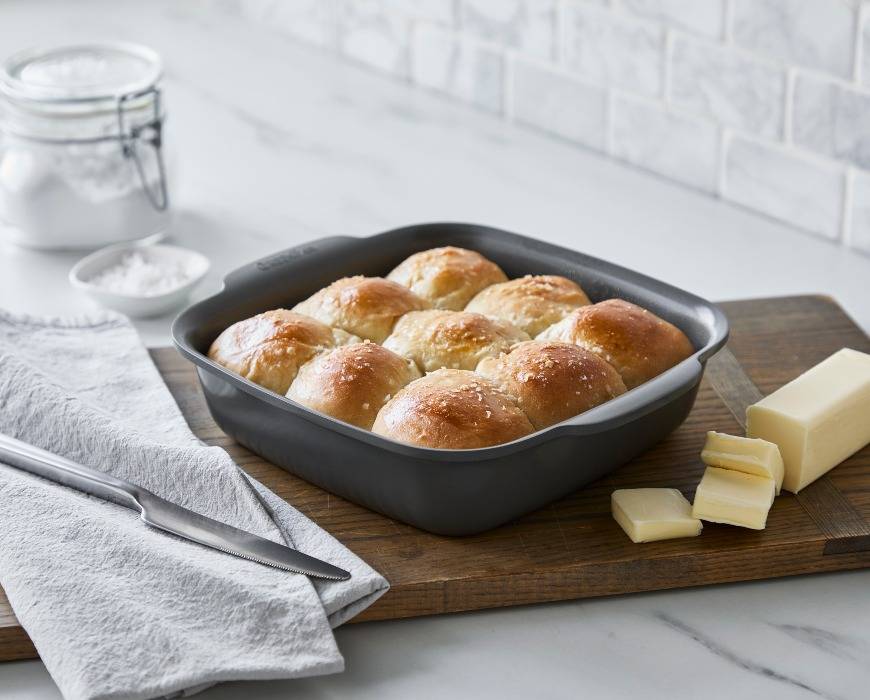 Yields: 16 rolls
Time: 15 minutes prep, 2 hours rising, 15 minutes baking, 2 hours 30 minutes total
INGREDIENTS:
1 cup whole milk, warmed to around 110°F (2% milk will do in a pinch)
1 packet instant yeast (2 1/4 teaspoons)
2 tablespoons granulated sugar, divided
1 large egg, room temperature
1/4 cup unsalted butter, cut into 4 pieces and softened to room temperature
1 teaspoon salt
3 cups all-purpose flour (bread flour also works)
1 to 2 tablespoons melted butter, for brushing
Flaky salt
PREPARATION INSTRUCTIONS:
Proof the yeast—In the bowl of your stand mixer, whisk together milk, yeast, and 1 tablespoon of sugar. Let sit for about 5 minutes till mixture starts to bubble.
Mix the dough— Add remaining sugar, egg, butter, salt and 1 cup flour, and beat at low speed with dough hook for about 30 seconds. Scrape down sides of bowl, if needed, then pour in remaining flour and beat on medium till dough starts to come together and pull away from sides of bowl. After 2 to 3 minutes, if the dough still seems impossibly sticky, add 1 tablespoon of flour. Beat and repeat till dough is pliable and slightly sticky to touch.
Knead the dough—Continue beating dough on medium till it begins to pull away from sides of bowl—another 3 minutes or so.
Proof the dough—Detach bowl from mixer, cover with kitchen towel or plastic wrap, and place it in a warm location to rise. Leave until doubled in size, about 2 hours.
Prep the pans—Butter bottom and sides of 2 nonstick, 9-inch square baking pans (or a 9 x 13-inch baking pan) and set aside.
Shape the rolls—Punch down the dough to show it who's boss (and release excess air). Then transfer to countertop and divide into 16 equal pieces. Some will inevitably be bigger or smaller than others. Such is life. Don't stress about it. Roll each piece into a smooth ball and place in the baking pans.
Proof the rolls—Cover pans with towels or plastic wrap and let them have a nice rest till they're looking proud and puffy, about 1 hour.
Prep the oven—Move oven rack to a low position and preheat oven to 350°F.
Bake the rolls—Bake rolls in preheated oven until beautifully brown on top, about 20 to 25 minutes. Remove from oven and brush melted butter on top. Serve piping hot.
Store the rolls—If you have leftovers (ha!), place rolls in an air-tight container and keep at room temperature for 2 to 3 days or in the fridge for up to a week. They also freeze well.
TIPS:
One Less Dish to Wash!
Many recipes say you should transfer dough to an oiled bowl to proof, but we think that's busy work. Just leave it in the mixing bowl to rise.
Browning too Quickly?
Cover rolls loosely with a layer of aluminum foil to ensure they're cooked through and the tops don't burn.
Featured Product
Premiere Ovenware Ceramic Nonstick 8" x 8" Square Baker
Incredible for sides and serving, this baker goes from oven to table with dependable built-in handles. The one-piece design ensures years of performance, so you can do more in the oven.