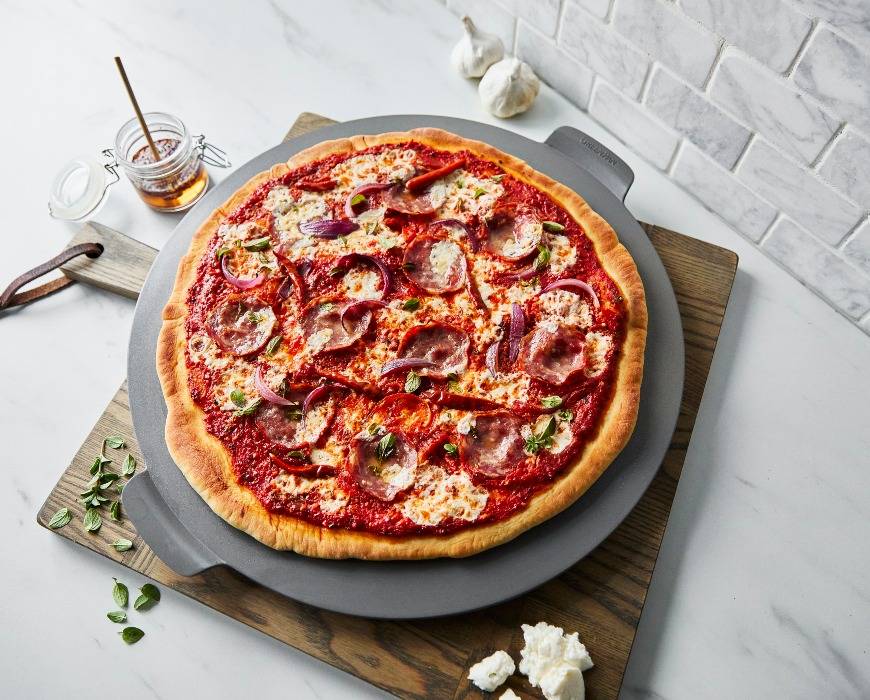 Spicy Soppressata Pizza with Honey
Yields: one 15-inch pizza
Time: 20 minutes prep, 1 hour 15 minutes rising, 10 minutes cooking, 1 hour 45 minutes total
INGREDIENTS:
For the dough
2 cups bread flour, plus extra on hand
2 teaspoons granulated sugar
1 teaspoon salt
1 envelope instant yeast (2 1/4 teaspoons)
1 cup warm water (105 to 115 degrees)
2 tablespoons olive oil
For the toppings
1/4 to 1/2 cup pizza sauce (homemade or store bought)
1 1/2 ounces soppressata salami, thinly sliced
2 ounces fresh mozzarella, torn into pieces
About 10 jarred Calibrian chiles, finely chopped (seeds removed, if desired)
Thinly sliced red onion to taste
Fresh oregano leaves, for serving
Honey, for serving
PREPARATION INSTRUCTIONS:
Make the dough—In the bowl of a stand mixer, stir together the flour, sugar, salt, and yeast. Attach bowl to mixer fitted with dough hook. Start mixer on low and pour in warm water and olive oil. Mix for about 1 minute to combine. Increase speed to medium and mix until dough pulls away from sides of bowl and forms a slightly sticky ball, another 2 to 3 minutes. If dough isn't coming together, add extra flour—1 tablespoon at a time—until you have a slightly sticky ball of dough clinging to the hook.


Proof the dough—Remove dough from hook and leave dough in bowl. Cover bowl and set in warm place to rise till doubled in size—1 hour, more or less, depending on how warm the place is.


Prepare to bake—Place rack in center of oven and preheat to 500°.


Rest the dough—Press dough down to release air bubbles, then transfer to a floured work surface and shape into a ball. Cover loosely with plastic wrap and let it rest for 15 minutes.


Shape the dough—Place the ball of dough in the middle of your nonstick baking sheet and gently stretch to form a 15-inch circle (or smaller if you prefer a thicker crust). Unless you've been tossing pies at a pizzeria all your life, your dough will look a little rustic. No worries—that's how they'll know it's homemade.


Assemble the pizza—Spread pizza sauce almost to the edges of crust. Use more or less as you prefer. Cover evenly with sopressata slices, torn mozzarella, chopped chiles, onion slices, and fresh oregano leaves.


Bake the pizza—Place pizza pan on center rack and bake until crust has beautifully browned and cheese is bubbly, about 8 to 10 minutes. Resist the urge to cut pizza immediately! Your job will be easier and the slices will look better if you let it cool for a couple of minutes before slicing.
TIPS:
DIY Proofing Box
Place your bowl of dough inside the oven and turn the light on. The gentle heat and enclosed environment will make it easy for dough to rise in a cold kitchen.
Honey + Spice = Everything Nice
Create a spicy honey drizzle by adding 10 finely chopped Calabrian chiles and a pinch of salt to 1/2 cup honey. Stir, cover, and let sit for 24 hours, then drizzle away. Yum!
Featured Product
Premiere Ovenware 16.5" Round Pizza Baker
Turn your kitchen into a gourmet pizzeria with this easy-to-use, 16.5" round pizza baker. With our healthy ceramic nonstick coating and a two-sided handle for safe and simple transferring, it's a must-have for your cooking arsenal.