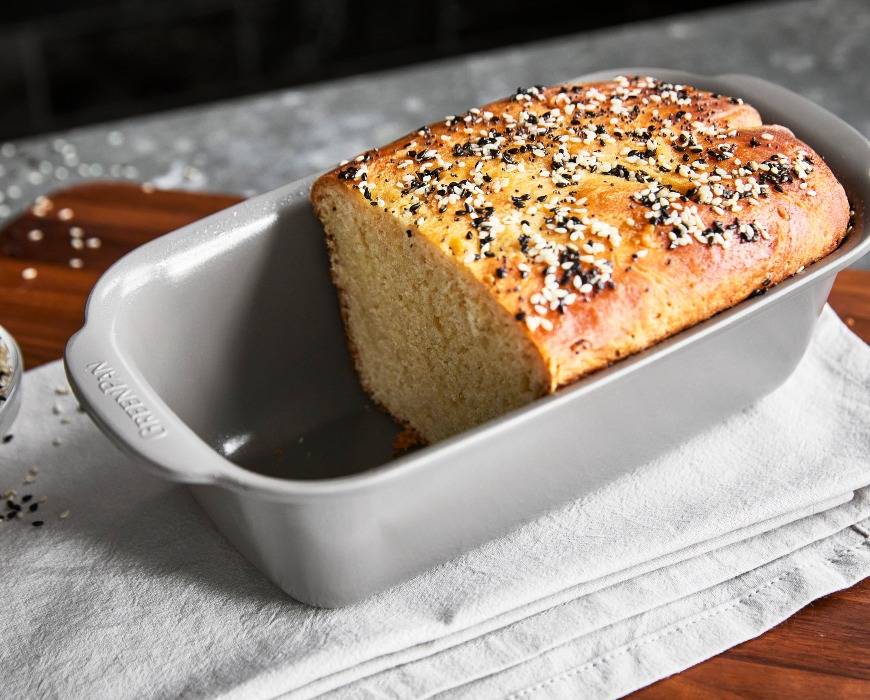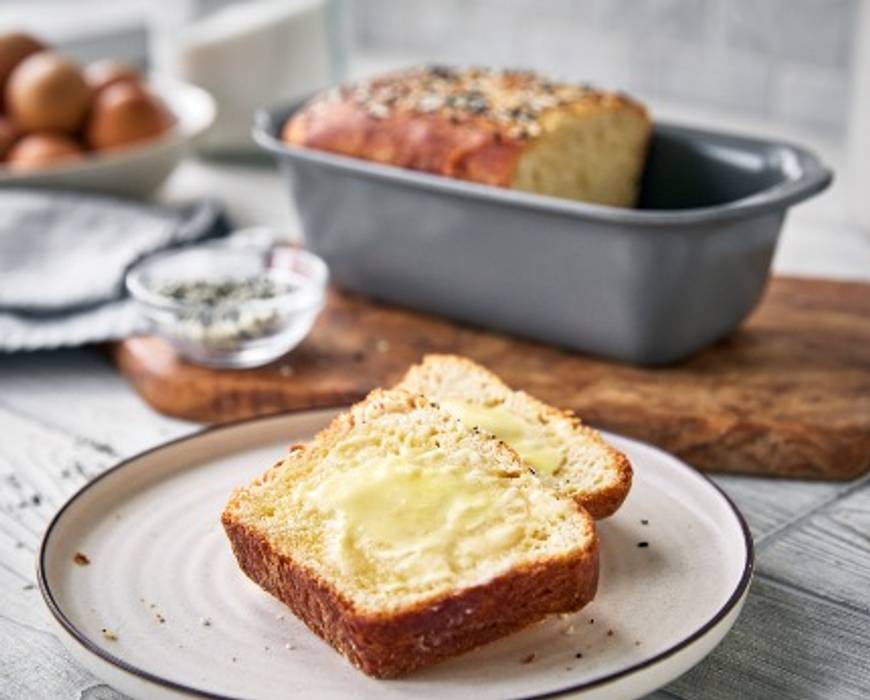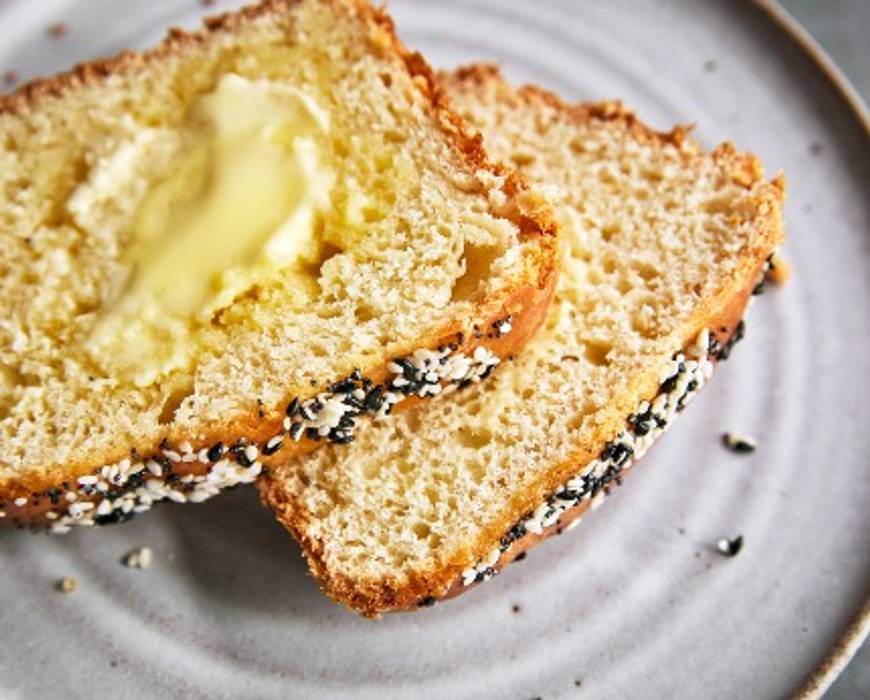 Yields: 2 loaves
Time: 40 minutes prep, 8 hours rising, 35 minutes baking, 9 hours 15 minutes total
INGREDIENTS:
1/3 cup warm water (about 110°F)
1 packet active dry yeast (2 1/4 teaspoons)
2 1/3 cups cake flour or pastry flour
2 cups all-purpose flour
1/2 cup granulated sugar
2 teaspoons kosher salt
6 large eggs
2 sticks unsalted butter, cut into 1-inch pieces and softened
1/4 cup everything bagel seasoning
PREPARATION INSTRUCTIONS:
Prep the yeast—In a small bowl or measuring cup, whisk together the water and yeast. Let rest on countertop until yeast is dissolved, about 10 minutes.
Mix the dry ingredients—Place cake flour, all-purpose flour, sugar, and salt in the bowl of a stand mixer and whisk till evenly combined. Attach bowl to stand mixer and fit with dough hook.
Add the wet ingredients—Turn mixer on low and add eggs one at a time, beating well after each addition. Slowly pour in the yeast mixture and continue beating for about 5 minutes. If needed, stop mixer and scrape down sides of the bowl. Continue mixing on medium speed until you have a smooth, stretchy dough that cleans the sides of the bowl—about 5 minutes more.
Add the butter—Add a few pieces of butter and mix on medium until they're fully incorporated, about a minute. Continue mixing in a few pieces at a time until all butter is incorporated. Scrape down sides of bowl, if needed, and continue kneading on medium until dough forms a smooth, soft ball—about 10 minutes.
Chill the dough—Form dough into a ball and transfer to a lightly greased bowl. Cover and refrigerate the dough overnight or at least 6 hours. This slows fermentation for better flavor and chills butter for easier shaping.
Shape the dough—Turn dough out onto a floured surface and divide in half. Shape into two loaves and place in nonstick loaf pans.
Proof the dough—Let dough sit in a warm place until it's very puffy and rises about 1/2-inch above the tops of loaf pans—about 2 to 3 hours.
Prepare to bake—Preheat oven to 350°F. Sprinkle the everything bagel seasoning evenly over both loaves, then press gently to adhere.
Bake the brioche—Bake in preheated oven till they're golden brown on top—about 30 to 35 minutes. You can check for doneness with a digital thermometer—at least 190°F or up to 205° for a more crusty loaf.
Cool and enjoy—Let brioche rest in pans for a few minutes after removing from oven. Then turn loaves out onto a cooling rack and cool completely.
TIPS:
Browning too Fast? You may want to tent with foil after the first 20 minutes to make sure the middle bakes completely and the topping doesn't burn.
Sweeten the Deal—Skip the everything bagel topping and drizzle with a glaze. Just stir together 1 cup powdered sugar, 1 teaspoon vanilla, a pinch of salt, and 2 or 3 tablespoons cream.
Featured Product
Premiere Ovenware Ceramic Nonstick 1 lb. Loaf Pan
This heavy-duty pan is great for bread, but it's also endlessly adaptable—think meatloaf, smaller ziti, chicken pot pies, and so much more. It's extra tough, endlessly versatile, and easy to use.