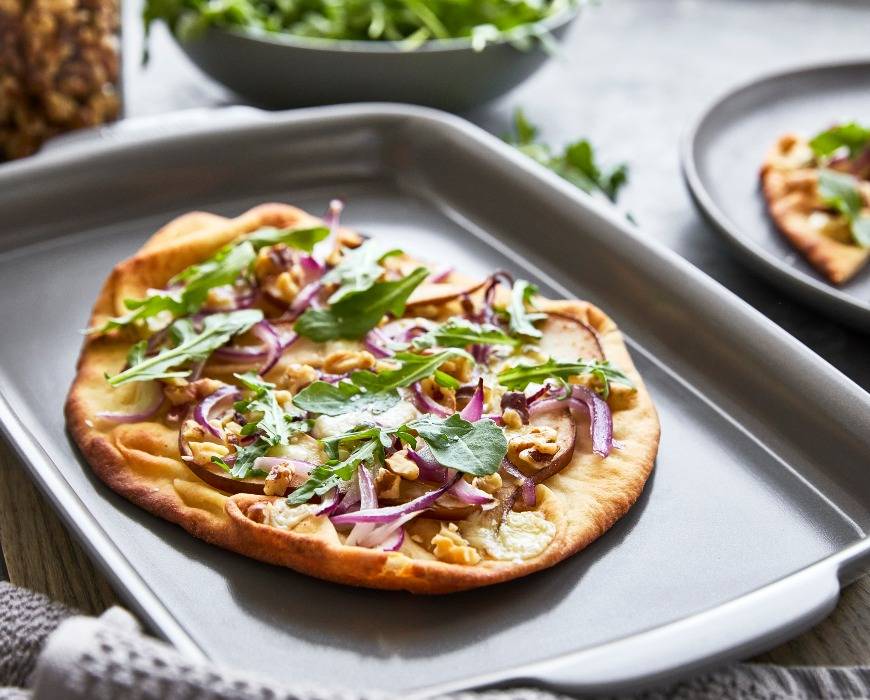 Pear and Walnut Flatbread
Yields: 2 to 4 servings
Time: 10 minutes prep, 20 minutes cooking, 30 minutes total
INGREDIENTS:
For the flatbread
1 ball fresh pizza dough (about 12 ounces)
1 tablespoon olive oil
1 small red onion, sliced
1 medium pear, sliced thin
1/4 cup chopped walnuts
1/4 cup crumbled blue cheese or Feta
Handful of fresh arugula
For the glaze
1 cup balsamic vinegar (plain or flavored)
2 tablespoons honey, optional
PREPARATION INSTRUCTIONS:
Prepare to bake—Preheat oven to 400°F.
Make the glaze—Bring vinegar and honey, if using, to a boil in a small saucepan over medium-high heat. Reduce heat to low and simmer, stirring frequently, until glaze coats the back of a spoon, about 10 to 15 minutes. Remove from heat and set aside 
Meanwhile, prep the flatbread—While glaze simmers, shape pizza dough into an oval on a nonstick baking sheet, brush top of dough with olive oil, and bake until lightly browned, 8 to 10 minutes.
Bake the flatbread—Evenly distribute red onion, pear, walnuts, and blue cheese on top of flatbread and bake for 10 minutes. Remove from oven, sprinkle with arugula, and drizzle with balsamic glaze.
TIPS:
Glazed Over —Our recipe makes plenty of extra glaze, so bottle the leftovers to drizzle on everything from steak, salad, and pasta to fresh fruit and even ice cream. 
How to Ripen Pears—Place them in a paper bag with a ripe banana or apple, which will give off ethylene gas to speed up the ripening process. Getting ripe too fast? Stash pears in the fridge.v