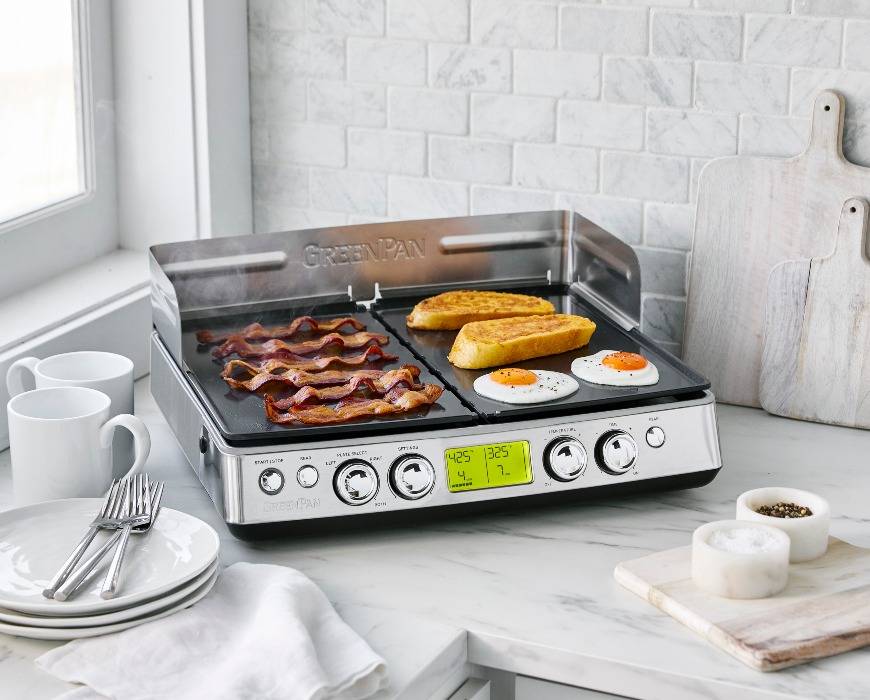 French Toast with Cardamom Brown Sugar Bacon
Yields: 4 servings
Time: 15 minutes prep, 25 minutes cooking 
INGREDIENTS:
For the Cardamom Brown Sugar Bacon:
1/2 pound thick-cut bacon slices (about 8-10 slices)
1/4 cup dark brown sugar 
1 teaspoon ground cardamom 
For the French Toast:
2 whole eggs
2 egg yolks
1 1/2 cups whole milk
1/2 cup heavy cream
1 teaspoon cinnamon
1/2 teaspoon freshly ground nutmeg
1 teaspoon pure vanilla extract
1/4 teaspoon kosher salt 
Eight slices of Challah or Brioche, sliced 3/4 inch thick 
Butter, for cooking
Pure maple syrup, warmed, for serving
PREPARATION INSTRUCTIONS:
Preheat the Premiere XL Smoke-less Grill & Griddle to 300 F on both sides, with two griddle plates.
Evenly divide the bacon slices between the two plates and cook for 5 to 6 minutes per side until they are just starting to brown on the edges, but are still soft and flexible.  Remove the bacon from the griddle and transfer to paper towels to allow it to drain for a few minutes, then lay the bacon onto a large plate or baking sheet in an even layer.  
In a small bowl combine the brown sugar and cardamom and stir to evenly mix.   While the bacon is still warm sprinkle half of the sugar mixture on top and press down on it slightly to make sure it adheres to the bacon.  Flip and repeat with the other side.  
Remove any excess bacon fat from the griddle and return the bacon, dividing evenly between the two plates.  Cook, turning occasionally from one side to the other, until the brown sugar caramelizes and becomes slightly crisp, about 10 minutes in total.  Keep a close on the bacon as you do this step, as the sugar can go from caramelized to burnt quite quickly.  Once the bacon looks dark, well coated and slightly crisp, transfer it to a wire cooling rack while you make the French Toast.  
Increase the temperature of both griddle plates to 350 F and remove any back fat or bits of sugar remaining from cooking the bacon.  
In a medium mixing bowl combine the eggs, egg yolks, milk, cream, cinnamon, nutmeg, vanilla and salt, whisking until completely smooth and no strings of egg whites are left.  
Pour the mixture into a baking dish large enough to hold all 8 pieces of bread.  Place the bread in the egg mixture and allow it to soak for one minute, then flip and let the other side soak for one minute.    
Add 1 tablespoon of butter to each side of the griddle and allow it to melt.  Lift the bread slices out of the baking dish one at a time to allow them to drain of any extra egg mixture and place four slices on each griddle plate.  (Take care not to crowd the slices, or else they won't brown as perfectly as they could.  If the slices of bread are particularly large, cook in two batches.)
Cook for 3 to 4 minutes on the first side, or until each piece is deeply golden brown.  Flip, adding more butter if needed, and cook on the other side another 3 to 4 minutes.  If you are cooking them in two batches, transfer the first batch to the wire rack with the bacon.  Put the wire rack on a rimmed baking sheet and place in a 300 F oven to keep warm.  
Once all the French toast is cooked, serve immediately with the bacon and warmed maple syrup.
TIPS:
If you like the center of your French toast slightly less custardy, don't allow it to soak in the egg mixture.  Instead just give each side a quick dip to coat evenly, and then place straight on the griddle to cook.  
Bread that is a few days old is best for the perfect French toast.  This ensures that it doesn't soak up too much liquid or become too soggy.  If you have very fresh bread, try very lightly toasting the slices before soaking them!