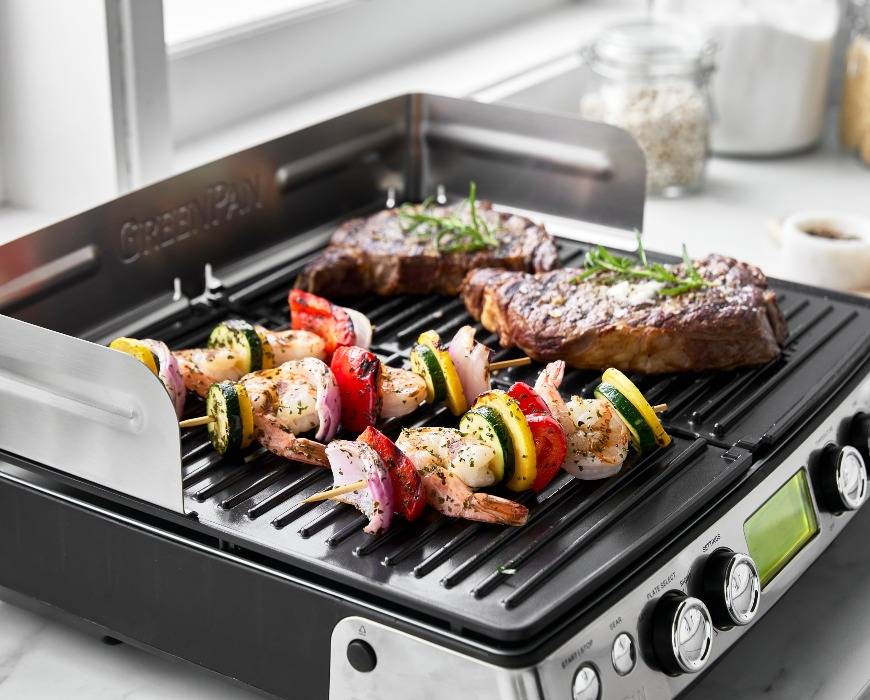 Spanish Shrimp and Vegetable Skewers with Romesco
Yields: 6 servings
Time: 20 minutes prep, 20 minutes cooking, 40 minutes total
INGREDIENTS:
For the Romesco:
1 large red bell pepper, halved, stem, ribs and seeds removed 
4 Roma tomatoes, halved 
1 tablespoon extra virgin olive oil
2 slices of stale white bread, lightly toasted
2 cloves garlic, peeled and roughly chopped
½ cup blanched almonds, toasted
1 teaspoon red pepper flakes, more to taste 
1 teaspoon pimenton dulce 
2 tablespoon sherry vinegar
1/3 cup extra virgin olive oil, more as needed
1 teaspoon kosher salt, more to taste
1/2 teaspoon freshly ground black pepper, more to taste
For the Skewers:
1 small red onion, peeled, halved, and cut into 1" squares 
1 small yellow zucchini, sliced in 1/4" rounds
1 small green zucchini, sliced in 1/4" rounds 
2 red bell pepper, stem, ribs and seeds removed, cut in 1" squares 
1 1/2 pounds large shrimp, shells removed and deveined
1/4 cup extra virgin olive oil
1 tablespoon lemon juice 
1 teaspoon lemon zest 
2 teaspoons fresh oregano, destemmed and finely chopped 
Kosher salt, to taste
Freshly ground pepper
1/4 cup finely chopped fresh parley, stems removed


PREPARATION INSTRUCTIONS:
Preheat the Premiere XL Smoke-less Grill & Griddle to 425 F on both sides, with two grill plates.  
To make the romesco sauce, place the bell pepper and tomatoes in a medium mixing bowl and toss with the olive oil until evenly coated.  Place the bell pepper and tomatoes on the grill and cook, turning occasionally, until well charred on multiple sides and slightly softened, about 6 to 8 minutes. Transfer them all to a bowl and allow them to cool slightly.  Turn off the Premiere XL Smoke-less Grill & Griddle while preparing the rest of the sauce and ingredients.  
To the bowl of a food processor add the bread, garlic, pepper flakes and pimenton.  Pulse until everything is very finely chopped, almost sand like but leaving some small lentil sized pieces, stopping to scrape the sides of the bowl with a silicone spatula as needed.  
Add the cooled bell pepper and tomatoes along with the sherry vinegar.  Process until a paste forms, taking care to leave small pieces of the dry ingredients intact – the sauce should have a bit of texture to it.  Quickly blend in the olive oil, salt and pepper, adding more oil if needed to reach the texture you'd like.  Season to taste with more salt and pepper if desired and set aside. 
Thread the prepared vegetables and the shrimp onto metal or wood skewers, alternating the different vegetables and shrimp so there is a variety of colors and textures.  Place the finished skewers on a rimmed baking sheet or large baking dish.  Again preheat the Premiere XL Smoke-less Grill & Griddle to 425 F on both sides, with two grill plates.  
In a small mixing bowl whisk together the olive oil, lemon juice and zest.  Carefully pour the mixture over the top of the skewers, turning to coat them evenly (you can also use a pastry brush).  Season the skewers as desired with salt and pepper.  
Place the skewers on the grill plates and cook about 4 minutes, until well marked.  Rotate the skewers and cook on the other side until again well marked and the shrimp and vegetables are cooked through, another 3 to four minutes more.  Remove the skewers to a large platter and garnish with the parsley.  Serve warm immediately, with the romesco sauce on the side.  
TIPS:
It's important to not cut the vegetables too large!  If the pieces are too big, especially the onion and bell pepper, they won't be able to cook through without over cooking the shrimp.  If you like your veggies very well done you can cook them for a longer time on their own skewers, then cook all the shrimp at once on their own skewers.  
Feel free to make these as chicken skewers instead of shrimp or mix and match your own veggies to make these vegetarian.  Mushrooms would be great!