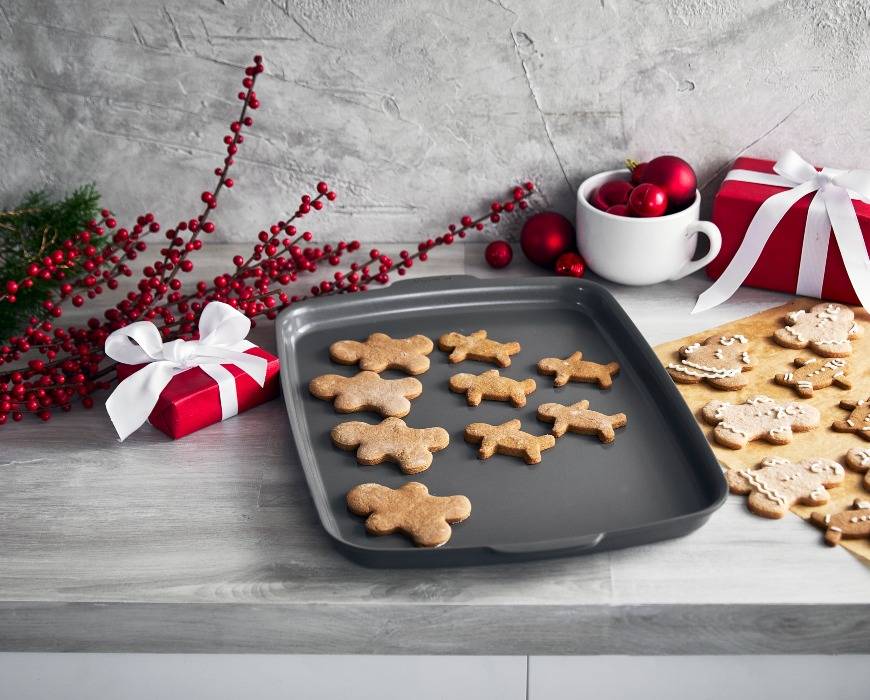 Gingerbread People Cookies
Yields: ~24 large cookies
Time: 15 minutes prep, 3 hours chilling, 10 minutes cooking, 3 hours 25 minutes total
INGREDIENTS:
For the cookies
10 tablespoons unsalted butter, softened
3/4 cup brown sugar
2/3 cup molasses (not blackstrap)
1 large egg, room temperature
1 teaspoon vanilla extract
3 1/2 cups all-purpose flour
1 teaspoon baking soda
1/2 teaspoon salt
1 tablespoon ground ginger
2 teaspoons ground cinnamon
1/2 teaspoon ground nutmeg
1/2 teaspoon ground cloves
For the royal icing
4 cups powdered sugar
2 1/2 tablespoons meringue powder
6 tablespoons water
1 teaspoon vanilla extract
PREPARATION INSTRUCTIONS:
Mix the wet ingredients—Place softened butter in a large bowl and beat with an electric mixer on medium speed until creamy, about a minute. Add in the brown sugar and molasses and continue beating until everything's incorporated and the mixture looks creamy. Add in egg and vanilla, then increase speed to high and beat for 2 minutes.


Mix the dry ingredients—Add flour, baking soda, salt, ginger, cinnamon, nutmeg, and cloves to a medium bowl and whisk till combined.


Mix the dough—Add about 1/3 of the flour mixture to wet ingredients and mix on low speed till combined. Continue adding the rest of the flour in thirds. Scrape down the bowl to be sure all the dry flour bits are incorporated.


Chill the dough—Divide dough in half and wrap each half with cling film. Pat dough down into a disc shape (as you would with pie dough). Place in fridge and allow to chill for about 3 hours.


Prepare to bake—Preheat oven to 350°F.


Roll out dough and shape cookies—Take one of the dough discs out of the fridge, unwrap it, and place on a well-floured work surface. Flour the top of dough and a rolling pin and roll dough to 1/4-inch thickness all over. Dough may crack, but you can press it back together with your fingers. If you keep picking up and rotating dough, it will be easier to work with and cookies won't stick to the work surface. This may seem impossible at first, but keep going and you will get there! Cut dough with gingerbread people cutters and place cookies about 1 inch apart on nonstick baking sheets. Re-roll scraps until you use all the dough. Then repeat with the other dough disc.


Bake the cookies—Once you have one baking sheet filled, transfer it to the preheated oven. Bake small cookies (less than 4 inches) for about 8 or 9 minutes. Bake large cookies (more than 4 inches) for about 10 or 11 minutes. If you prefer crunchier cookies, let them go a couple of minutes longer.


Cool the cookies—Remove cookies from oven and leave them on the baking sheet for about 5 minutes to firm up before transferring to a cooling rack. Allow cookies to cool completely before decorating.


Make the royal icing —Combine sugar, meringue powder, and water in the bowl of a stand mixer fitted with whisk attachment (or use a large bowl with electric hand mixer). Beat on low speed until combined, then add vanilla extract. Gradually increase speed to high and continue beating for about 5 minutes or until icing forms stiff peaks. Divide icing into bowls and tint with gel coloring as desired (a little color goes a long way!). To create thinner icing for flooding cookies, add a teaspoon of water at a time to achieve desired consistency.


Get creative!—Fill piping bags with thick icing to outline or decorate cookies. Then flood cookies with the thinner icing. Allow cookies to dry completely before packaging or transporting.
TIPS:
Get Even!
The key to great cut-out cookies is making sure they're all the same thickness. Rolling pin guide rings make this a no-brainer, and you can easily pick up a set for less than $10.
Go for a Spin
Make sure your gingerbread people bake evenly by rotating the cookie sheet halfway through bake time. If using more than 1 oven rack, switch pans from top to bottom (and vice versa) as well.