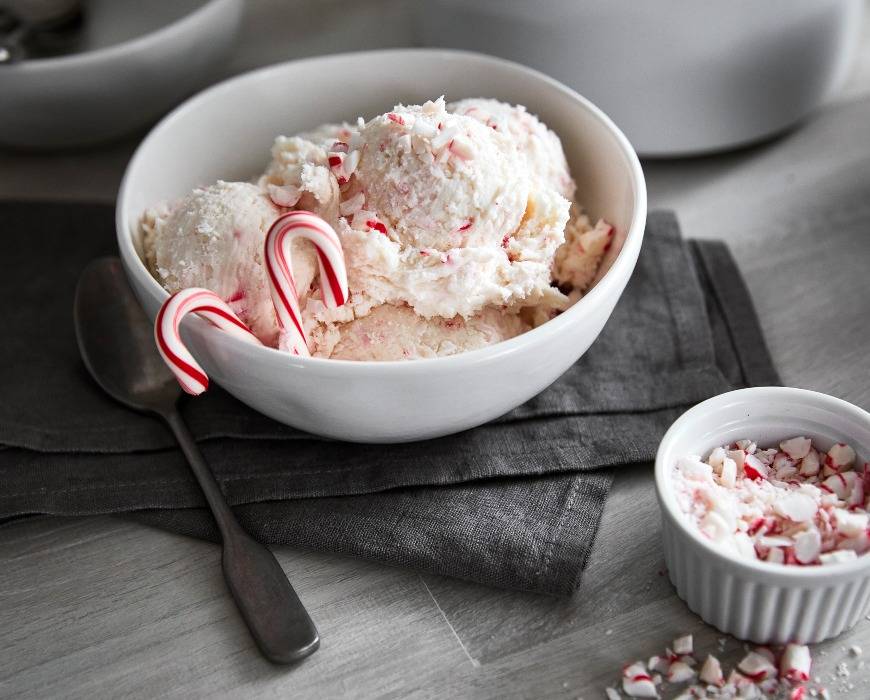 Yields: ~8 servings
Time: 10 minutes prep, 7 hours freezing, 7 hours 10 minutes total
INGREDIENTS:
2 cups heavy whipping cream
1 can sweetened condensed milk (14 ounces)
2 teaspoons vanilla extract
1/4 teaspoon salt
1/2 cup crushed peppermint candy
PREPARATION INSTRUCTIONS:
Prep the pan—Place a metal loaf pan in the freezer for at least an hour.


Whip the cream—Whip cream to stiff peaks with an electric mixer.


Mix the ice cream—In a large bowl, whisk together sweetened condensed milk, vanilla, and salt. Fold half the whipped cream into condensed milk until evenly combined, then fold in the rest.


Freeze the ice cream—Transfer ice cream mix into the chilled loaf pan. Cover pan tightly and place in freezer for 2 hours. Remove from freezer and stir in crushed peppermint candy till it's evenly distributed. Cover pan again and return to freezer to set overnight, or at least 4 more hours.
TIPS:
Pretty in Pink
A pale pink hue adds a festive touch and makes our ice cream even more enticing. Simply add a few drops of pink food coloring when whipping the cream.
Think Everything's Better with Chocolate?
Go ahead and stir in 1/2 cup mini chocolate chips or chopped chocolate along with the crushed candy cane. You won't regret it.
Featured Product
Premiere Ovenware Ceramic Nonstick 1 lb. Loaf Pan
This heavy-duty pan is great for bread, but it's also endlessly adaptable—think meatloaf, smaller ziti, chicken pot pies, and so much more. It's extra tough, endlessly versatile, and easy to use.