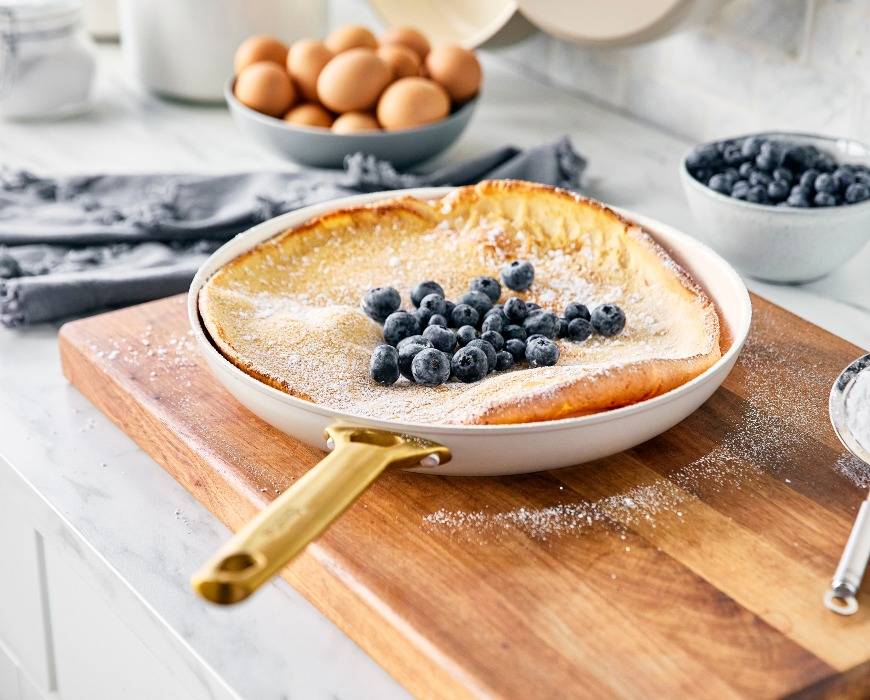 Yields: 4 servings
Time: 5 minutes prep, 20 minutes cooking, 25 minutes total
INGREDIENTS:

2 tablespoons butter
3 eggs
3/4 cup warm milk
3/4 cup all purpose flour
1 tablespoon granulated sugar
2 teaspoons vanilla extract
Pinch of salt
For serving:
Butter
Fresh berries
Powdered sugar

PREPARATION INSTRUCTIONS:
Prepare to bake—Preheat oven to 400 degrees F. Add butter to a large ovenproof skillet and place in oven until butter begins to sizzle.


Meanwhile, mix the batter—In a medium bowl, beat eggs vigorously. Add milk and continue beating for about 1 minute. Add in the flour, sugar, vanilla, and salt and continue beating vigorously to remove all lumps.


Make the pancake—Remove skillet from oven and swirl to coat evenly with butter. Pour batter in hot pan and bake in preheated oven for about 20 minutes—until pancake puffs in the center and is beautifully browned around the edges. Garnish with a pat of butter, fresh berries, and a generous dusting of powdered sugar. Serve warm.

TIPS:

Smooth Operator - To create a silky, smooth batter in seconds, mix ingredients in a blender or food processor. Quickly clean blender by filling halfway with hot water, adding a drop of dish soap, and blending for 10 seconds. A quick rinse and you're done!


For an even dusting of powdered sugar, use a sugar shaker, sifter, or sieve. Even a tea strainer will do in a pinch.
Featured Product
Reserve Ceramic Nonstick 8", 10" and 12" Frypan Set | Taupe with Gold-Tone Handles
Featuring a deep, captivating finish, this frypan trio is more than good looks: the duoforged hard anodized construction makes it extra tough and scratch-resistant. The meal possibilities are endless—flavorful frittatas, seared salmon, and so much more.