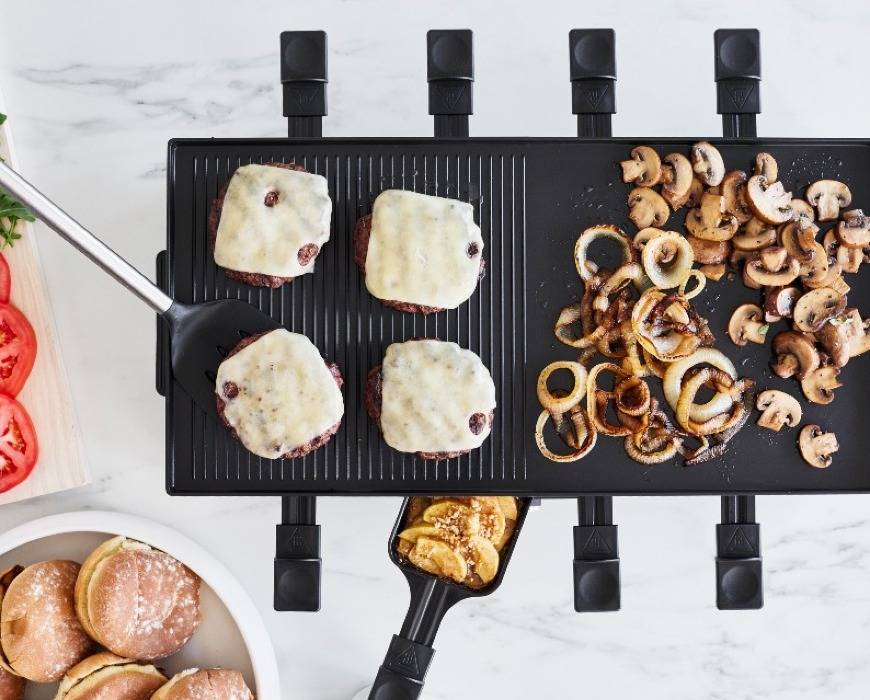 Gourmet Burgers with Caramelized Mushrooms and Onions
Yields: 4 servings
Time: 15 minutes prep, 30 minutes cooking, 45 minutes total
INGREDIENTS:
For the caramelized mushrooms and onions
1 to 2 tablespoons butter
8 ounces button or cremini mushrooms
1 medium white or yellow onion
Salt and freshly ground pepper to taste
For the patties
1 1/2 pounds ground beef (80 to 85% lean)
1 teaspoon kosher salt
1/2 teaspoon freshly ground black pepper
1 teaspoon garlic powder
1 teaspoon onion powder
For the burgers
4 brioche hamburger buns
4 slices cheddar or American cheese
Arugula
Tomato slices
Mayo
PREPARATION INSTRUCTIONS:
Prepare to cook—Fit your Gourmet Grill with the griddle/grill top and preheat to a medium setting.
Make the patties—Place ground beef in a large bowl along with seasonings and mix with hands until evenly combined, Avoid over mixing which can lead to tough burgers. Divide beef into 4 portions and press each into a disc with an indention in the middle.
Toast the buns—Place buns cut side down on griddle/grill top and heat till nicely browned. Transfer to serving dish and set aside.
Caramelize the mushrooms and onions—Melt a tablespoon or two of butter on the griddle side. Add mushrooms and onions and stir to distribute butter. Cook, stirring frequently, until beautifully browned and your kitchen smells amazing, about 15 to 20 minutes. Add salt and freshly ground black pepper and continue cooking for another minute or two. Remove from heat and set aside.
Meanwhile, cook the patties—Increase heat to a medium-high setting. Add patties to grill side and cook for about 4 minutes without disturbing. Flip patties and continue cooking until burger reaches your desired doneness—another 2 to 6 minutes. Top with cheese during the last 2 to 3 minutes of cooking time.
Build the burgers—Spread mayo on one side of each bun. Place patties on buns and top with 1/4 of caramelized mushroom/onion mixture. Add a slice or two of tomato, a handful of arugula, and place top on bun. Enjoy!
TIPS:
Burger Cook Times—Medium-Rare, 6 minutes; Medium, 7 to 8 minutes, Medium-Well, 9 minutes; Well Done, 10 minutes.
Get Even! Why add a dimple to patties? Burgers shrink as they cook, so the indention delivers evenly shaped discs of deliciousness.
Featured Product
Ultimate Gourmet Grill
Ideal for parties, family dinners, entertaining, and everything in between—this gourmet set is the perfect way to bring everyone to the table. This set features a cast aluminum plate with one grill and griddle side that reverses to individual pancake...