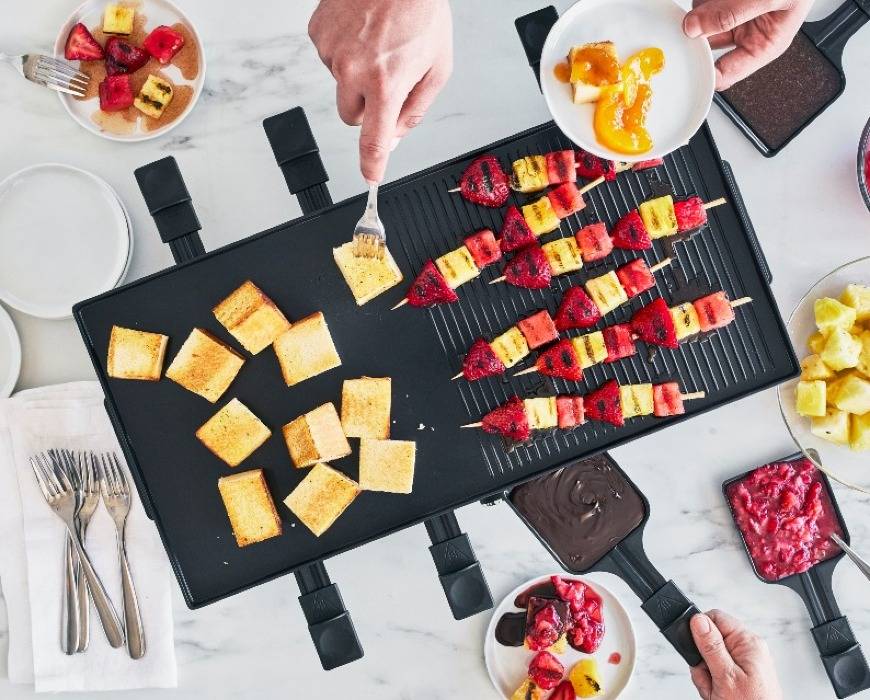 Yields: 6 to 8 servings
Time: 5 minutes prep, 10 minutes cooking, 15 minutes total
INGREDIENTS:
For the skewers
Pineapple chunks
Watermelon chunks
Fresh strawberries, stems removed
Wooden skewers
For the dessert bar
Loaf-style pound cake, cut into cubes or sliced
Fudge sauce
Cherry pie filling
Peach pie filling
PREPARATION INSTRUCTIONS:
Prepare to cook—Fit your Gourmet Grill with the griddle/grill top and preheat to a medium setting.
Make the skewers—Layer six pieces of fruit on each skewer, alternating the strawberry, pineapple, and watermelon. Set aside.
Prep the toppings—Fill 2 pans with cherry pie filling, 2 with peach pie filling, and 4 with fudge sauce (more or less of each depending on preference).
Start cooking!—Invite guests to gather around the grill. Place skewers on grill side, add pound cake to griddle side, and slide pans onto the lower plate. Take turns flipping skewers and pound cake. When they reach your desired doneness and sauces are warmed through, everyone can grab a plate and serve themselves.
TIPS:
Get Creative—Swap watermelon for bananas, cherry pie filling for caramel sauce, or angel food for pound cake. It's all equally delicious!
Scratch That—Use pre-made toppings and cake or go all out and make everything from scratch, if that's how you roll.
Featured Product
Ultimate Gourmet Grill
Ideal for parties, family dinners, entertaining, and everything in between—this gourmet set is the perfect way to bring everyone to the table. This set features a cast aluminum plate with one grill and griddle side that reverses to individual pancake...