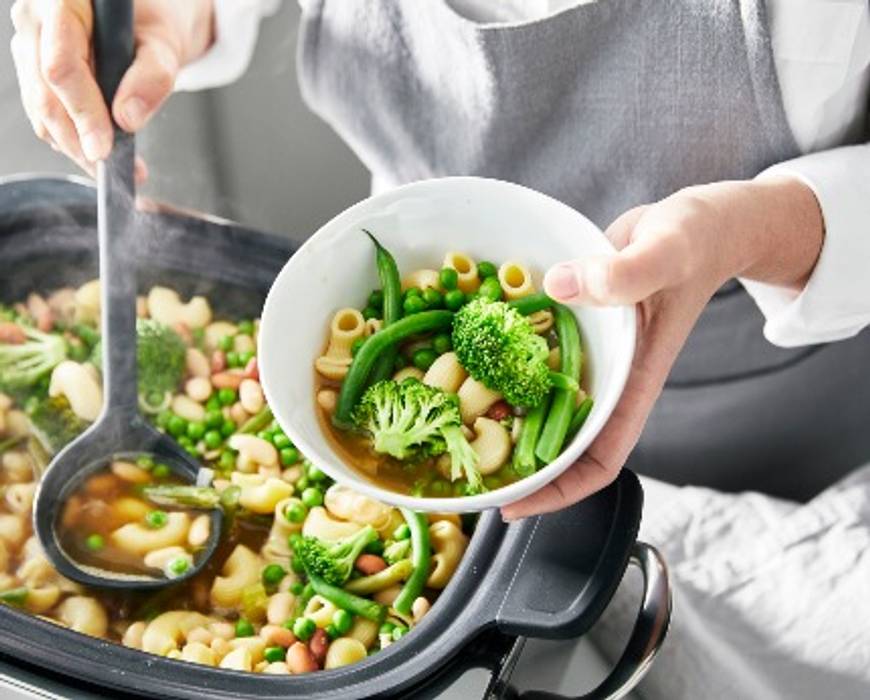 Yields: 6 to 8 servings
Time: 10 minutes prep, 4 hours 30 minutes cooking, 4 hours 40 minutes total
INGREDIENTS:
8 cups low-sodium vegetable broth
5 scallions, thinly sliced
4 cloves garlic, thinly sliced
1 large leek, thinly sliced—white and light green parts only
3 celery stalks, thinly sliced diagonally
2 1/2 teaspoons kosher salt
1/2 teaspoon black pepper
1/4 teaspoon crushed red pepper
1 can cannellini beans (about 15 ounces), drained and rinsed
1 can pinto beans (about 15 ounces), drained and rinsed
8 ounces fresh broccoli, cut into bite-size florets
8 ounces fresh green beans, trimmed
1 cup fresh sweet peas
1/4 cup freshly grated Parmesan cheese
Red pepper flakes, optional
PREPARATION INSTRUCTIONS:
Prep the slow cooker—Select the Low Temperature Slow Cook Mode on the Premiere Slow Cooker and set the timer for 4 hours and 30 minutes.


Make the stock—Add broth, scallions, garlic, leek, celery, salt, black pepper, and red pepper to slow cooker and stir to combine. Cover and cook on low for 4 hours.


Add the vegetables—Stir in beans, broccoli, green beans, and sweet peas. Cover and keep cooking until vegetables are tender—another 30 minutes or so.


Garnish and serve—Ladle steaming soup into individual bowls and top with freshly grated Parmesan. Sprinkle on a few (or a lot!) of red pepper flakes, if that's how you roll.
TIPS:
Make it a Meal—Boil a cup of short pasta like fusilli, ziti, or macaroni to al dente and stir it into soup just before serving.
Pick Your Favorite Vegetable—Our versatile soup works with all kinds of fresh green veggies, from snap peas and spinach to asparagus and zucchini.
Featured Product
Elite 6-Quart Slow Cooker | Premiere Stainless Steel
With our advanced slow cooker, you can sear meat and veggies in the pot, then go low and slow to finish the job. Take your time while cooking, then clean up quickly with Thermolon™ Volt, a healthy, PFAS-free ceramic nonstick...