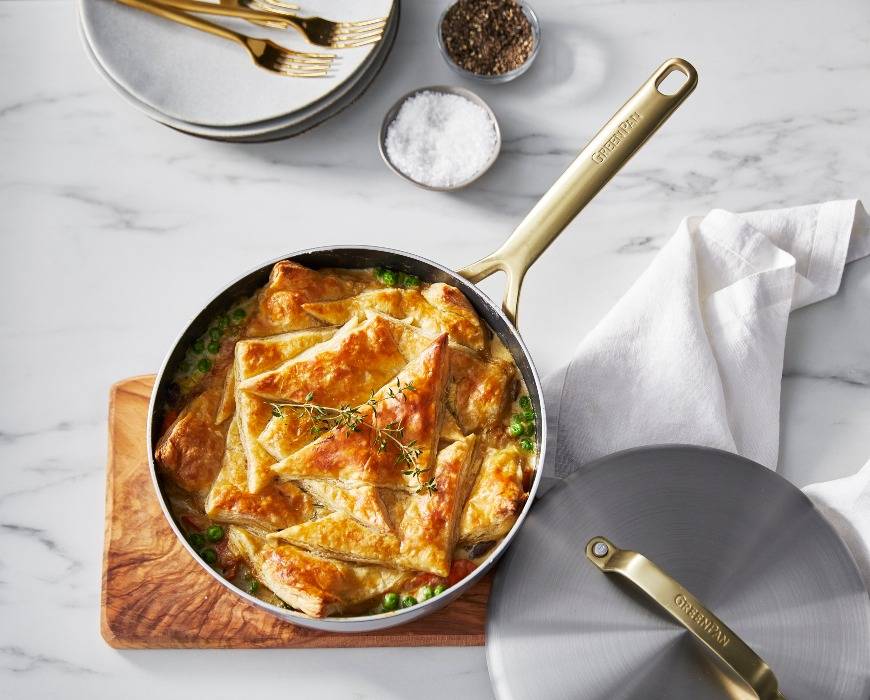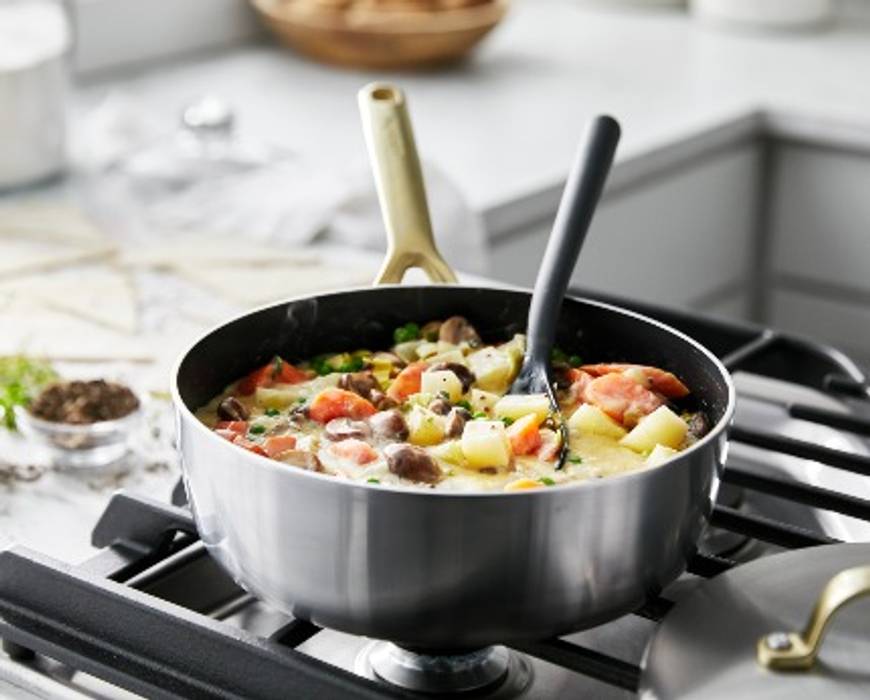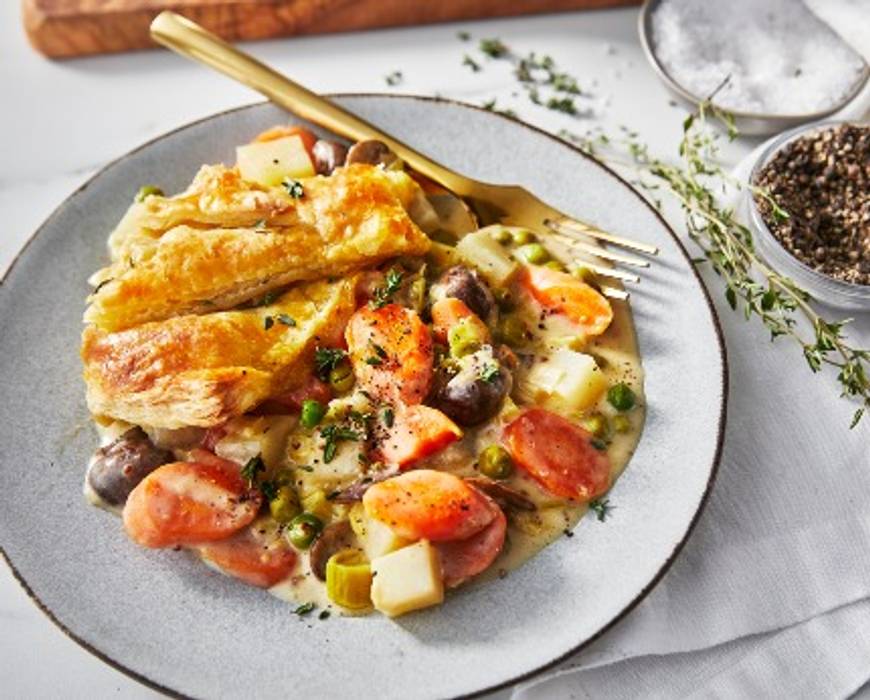 Yields: 6 servings
Time: 40 minutes prep, 30 minutes baking, 1 hour 10 minutes total
INGREDIENTS:
1 package puff pastry, thawed in refrigerator overnight
1 pound Yukon gold potatoes, cut into 1-inch cubes
4 medium carrots, sliced on the bias (diagonally)
1 tablespoon olive oil
3 leeks, finely chopped—white and light green parts only
3 cloves garlic, minced
1 teaspoon vegetable or chicken bouillon
1/2 cup water (saved from boiling carrots and potatoes)
2 tablespoons butter
1/4 cup all-purpose flour
2 cups whole milk
2 teaspoons whole grain or Dijon mustard
1/2 teaspoon sea salt
1/2 teaspoon black pepper
10 medium crimini or white button mushrooms
1 cup fresh spring peas
2 tablespoons fresh lemon juice
2 tablespoons fresh thyme leaves
1 egg, beaten
Fresh thyme for garnish—a few sprigs for top of pie and about 2 tablespoons of leaves
 PREPARATION INSTRUCTIONS:
Prepare to bake—Preheat oven to 425°F.
Cook the root vegetables—Bring potatoes and carrots to a boil in a large pot of lightly salted water. Reduce heat to low and simmer until tender when pierced with a fork—about 10 minutes. Err on the side of undercooking here as vegetables will continue to cook in the oven. Reserve 1/2 cup of boiling liquid, then drain. Dissolve bullion in the boiling liquid and set aside.
Meanwhile, sauté the aromatics—Add 1 tablespoon olive oil to a 3-quart nonstick, oven-safe sauté pan and heat over medium high until oil is shimmering. Add leeks and sauté until just translucent—about 5 minutes. Add in garlic and sauté, stirring constantly, for 1 minute. Reduce heat to medium.
Make the roux—Add carrots and potatoes to sauté pan and stir to combine everything evenly. Push the vegetables to the sides of the pan and melt 2 tablespoons butter in the center. Once butter has melted, whisk in flour. Don't worry about lumps at this point, it'll smooth out later.
Start the sauce—Add the dissolved bullion and milk and stir to combine with roux. Mix in mustard, salt, and pepper and let come to a gentle boil. Remove from heat.
Assemble the pot pie—Add mushrooms, peas, lemon juice, and thyme leaves. Gently stir contents of pan until everything is evenly combined. Taste filling and adjust seasoning, as needed. Set aside to cool.
Prepare the puff pastry—On a floured work surface, roll out puff pastry to 1/8" thick. Cut pastry in a circle about 2 inches larger than your sauté pan. Score pastry by cutting half way through with a sharp knife. Get creative with designs or simply cut a few straight lines—you do you. Place puff pastry on top of pie, letting edges overhang—it'll magically shrink to fit! Brush top of puff pastry evenly with beaten egg.
Bake the pot pie—Place pot pie on center oven rack and turn heat down to 400°F. Bake for 20 minutes, then reduce heat to 350°F. Continue baking until crust is perfectly puffy and golden brown—another 10 to 15 minutes.
Garnish and serve—Add a couple of thyme sprigs to the top of the pot pie, then scoop out individual portions. Sprinkle with additional thyme leaves, if desired. Serve hot.
TIPS:
Crust Shortcut—Go rustic by cutting puff pastry into strips, squares, triangles or other shapes and simply laying them on top of the filling.
Missing the Chicken? Add in a cup (or more!) of shredded rotisserie breasts or thighs—you'll never go back to boiling chicken again.
Featured Product
GP5 Stainless Steel 4-Quart Sauté Pan with Lid | Champagne Handles
Spacious, versatile, and great for everything—this is the one pan your kitchen needs for next-level cooking. The 5-ply stainless steel body is finished with our groundbreaking Infinite8 coating for years of effortless performance.