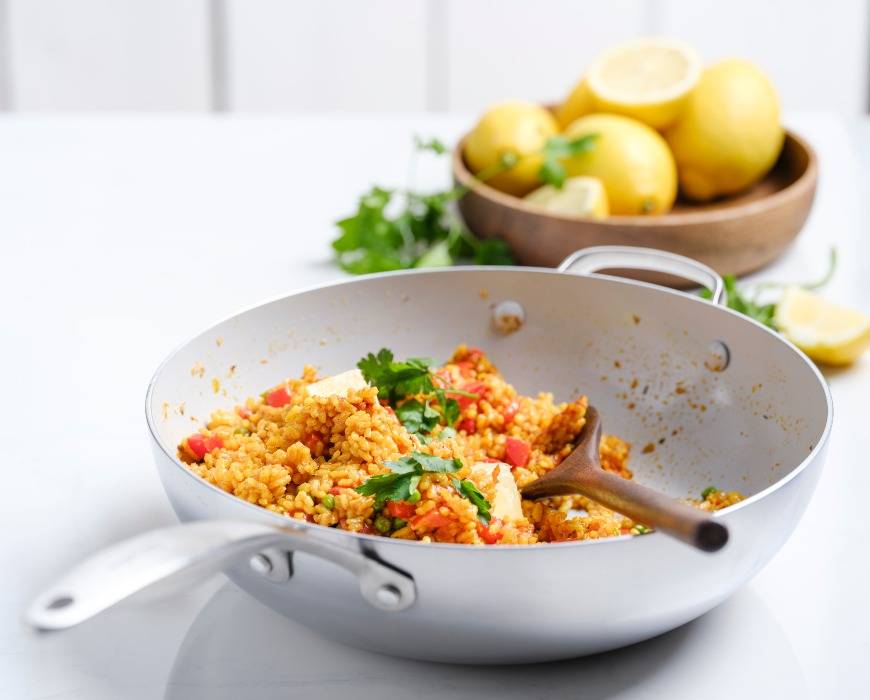 Yields: 4 to 6 servings
Time: 15 minutes prep, 10 minutes cooking, 25 minutes total
INGREDIENTS:
2 tablespoons peanut, canola, or olive oil
1/2 cup finely diced carrots
1/2 cup finely diced white onion
2 cloves garlic, minced
2 eggs, lightly beaten
3 cups cooked jasmine rice
4 tablespoons low-sodium soy sauce
3 tablespoons butter
1/2 teaspoon white pepper
1/2 cup frozen peas
1/2 cup green onions cut in 1/2-inch diagonal slices
1 cup diced grilled chicken, optional 
PREPARATION INSTRUCTIONS:
Sauté the vegetables—Heat oil a wok or large, deep skillet over high heat. Add carrots and onion and sauté, stirring frequently, until they're browned—about 2 to 3 minutes. Reduce heat to medium and continue sautéing, stirring occasionally, until veggies are starting to soften—3 to 5 minutes. Add garlic and sauté, stirring constantly so it doesn't burn, for another minute.
Cook the eggs—Push vegetables to one side of the wok and increase heat to medium high. Pour in eggs, then scrape and mix with a spatula till they're scrambled. Stir vegetables into eggs.
Fry the rice—Add rice, soy sauce, butter, and white pepper. Cook, stirring constantly, for about 4 to 5 minutes (try to break up any rice clumps with spatula).
Finish and serve—Add frozen peas, green onions, and chicken (if using) and stir until till evenly combined. Continue sautéing until peas and chicken are heated through—about 2 to 3 minutes. Scoop rice into individual bowls and serve piping hot.
TIPS:
Plan Ahead—This dish actually works better with day-old rice because it loses moisture in the fridge making for extra crispy results.
Pick Your Favorite Protein—Our fried rice tastes amazing with everything from diced steak and pork to shrimp or tofu. Just be sure it's cooked before adding it in step 4.
Featured Product
Venice Pro Ceramic Nonstick 12" Wok with Lid and Helper Handle
Gently sloped sides and an eye-catching stainless steel exterior make this 12" wok remarkable for a wide range of techniques, from frying to braising. The handy lid is great for steaming and the helper handle makes sure you have total...