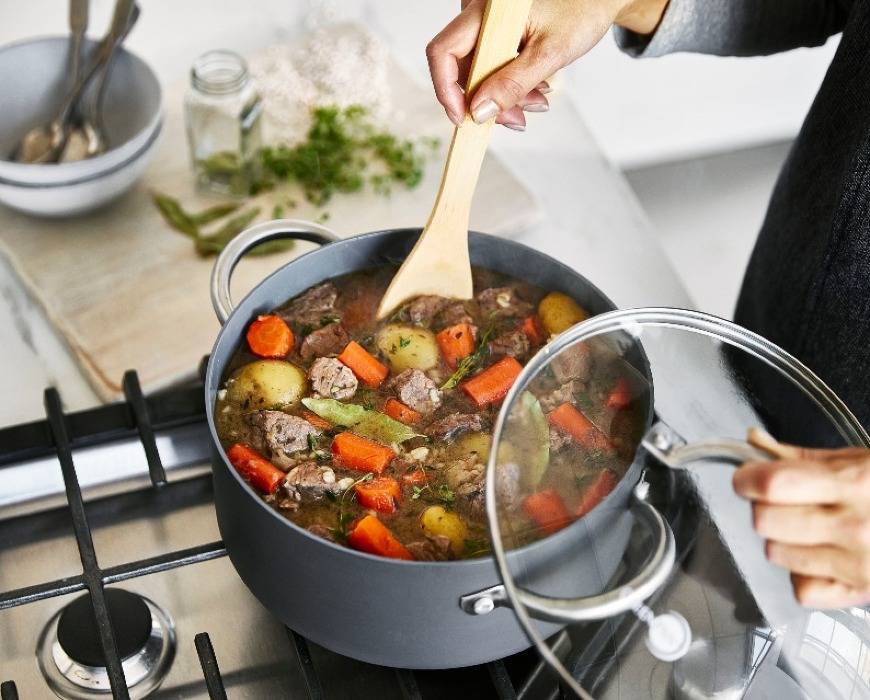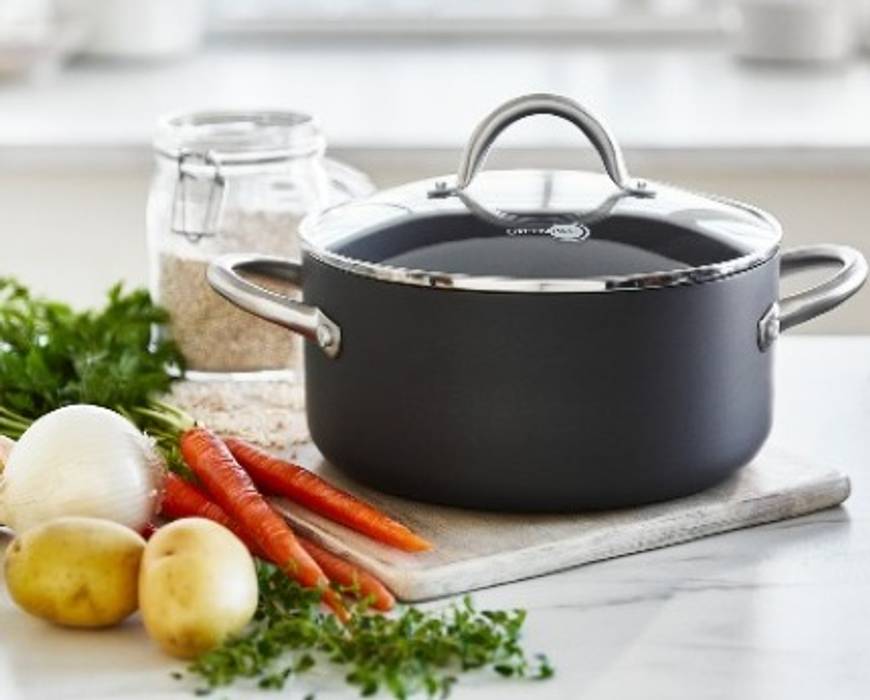 Yields: 6 servings
Time: 30 minutes prep, 2hr 30 minutes cooking, 3hr total
INGREDIENTS:
2 medium onions, chopped
1 tablespoon olive oil
2 tablespoons butter
2 1/2 pounds lamb, chopped into large pieces
Salt and freshly ground black pepper
6 carrots, peeled and cut into 2-inch pieces
2 tablespoons pearl barley
4 cups low-sodium chicken stock
2 bay leaves
2 sprigs thyme
12 Yukon gold potatoes, scrubbed, but not peeled
Finely chopped fresh thyme, for garnish
Fresh thyme sprigs, for garnish
PREPARATION INSTRUCTIONS:
Sauté the onions—Heat oil and butter in a large stockpot over medium high heat. Add onions and sauté until translucent.
Brown the meat—Pat lamb dry and season with salt and pepper. Add lamb to pot and increase heat to high. Cook until nicely browned.
Start the stew—Add carrots and pearl barley and stir to combine. Pour in enough chicken stock to just cover meat and vegetables. Add bay leaves and thyme and season generously with salt and pepper.
Simmer the stew—Reduce heat to low, cover, and simmer for 2 hours. If stew seems too thick, add more chicken stock. Add potatoes, cover, and cook for another 30 minutes or until meat and vegetables are fork tender.
Serve and enjoy—Ladle soup into individual bowls, sprinkle with chopped thyme and top with a few thyme sprigs.
TIPS:
Size Matters - Cut carrots into large pieces and leave Yukon golds whole so they don't turn to mush before the meat is tender.
Love Your Leftovers - We think our classic Irish stew tastes even better the second (or third!) day after it's made. So save some for later, if you can!
Featured Product
Lima Ceramic Nonstick 12-Piece Cookware Set
Get the classics covered with this essential 12-piece set. Each pan is crafted from tough, scratch-resistant, hard anodized aluminum and made without PFAS, PFOA, lead, or cadmium. Best of all: eco-friendly bamboo utensils are coming along to flip, sauté, and serve,...