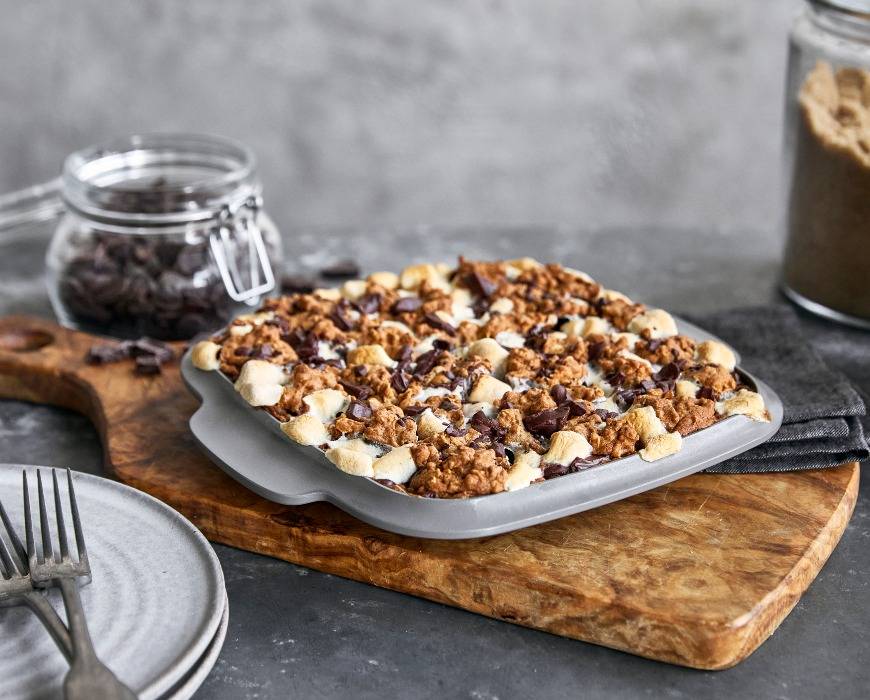 Yields: 12 to 16 servings
Time: 25 minutes prep, 35 minutes cooking, 30 minutes cooling, 1 hour 25 minutes total

INGREDIENTS:
1 2/3 cups all-purpose flour
1 teaspoon baking soda
1/2 teaspoon salt
1 teaspoon cinnamon
1/2 cup unsalted butter, softened
1 cup brown sugar
1/4 cup granulated sugar
2 large eggs, beaten
1 teaspoon vanilla extract
2 1/2 cups rolled oats
8 ounces dark chocolate, chopped, or semi-sweet chocolate chips
6 ounces mini marshmallows
PREPARATION INSTRUCTIONS:
Prepare to bake—Preheat oven to 350°F.
Mix the dry ingredients—In a small bowl, whisk together flour, baking soda, salt, and cinnamon. Set aside.
Mix the dough—In a large mixing bowl, beat the cream and sugar with an electric mixer until fluffy. Add eggs and vanilla and mix until evenly combined. Scrape down sides of bowl and stir in dry ingredients until fully incorporated. Stir in oats until well combined.
Assemble the bars—Press half the dough in the bottom of a nonstick 8" x 8" baking pan. Add most of the chocolate in an even layer and top with most of the marshmallows. Press remaining dough over marshmallows. Sprinkle the top with the remaining chocolate and marshmallows.
Bake the bars—Bake in preheated oven until chocolate is melted, marshmallows are toasted and bars are cooked through, about 35 minutes. Remove bars from oven and cool in pan for about 30 minutes before slicing and serving.
TIPS:
Milk It! Not everyone's a bittersweet chocolate lover, so if milk chocolate is how you roll, go for it. Or try a mix of dark and milk chocolate for a fun flavor contrast.
Know Your Oats—Our cookie bars work great with rolled (sometimes called "old-fashioned") oats or quick oats, but leave the steel cut or instant varieties for your breakfast bowl.
Featured Product
Premiere Ovenware Ceramic Nonstick 8" x 8" Square Baker
Incredible for sides and serving, this baker goes from oven to table with dependable built-in handles. The one-piece design ensures years of performance, so you can do more in the oven.