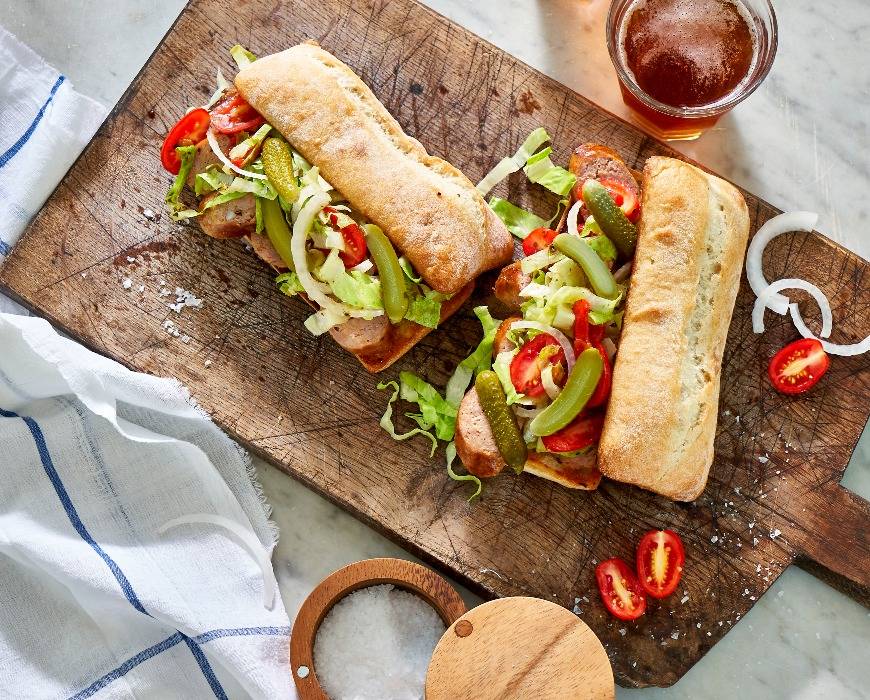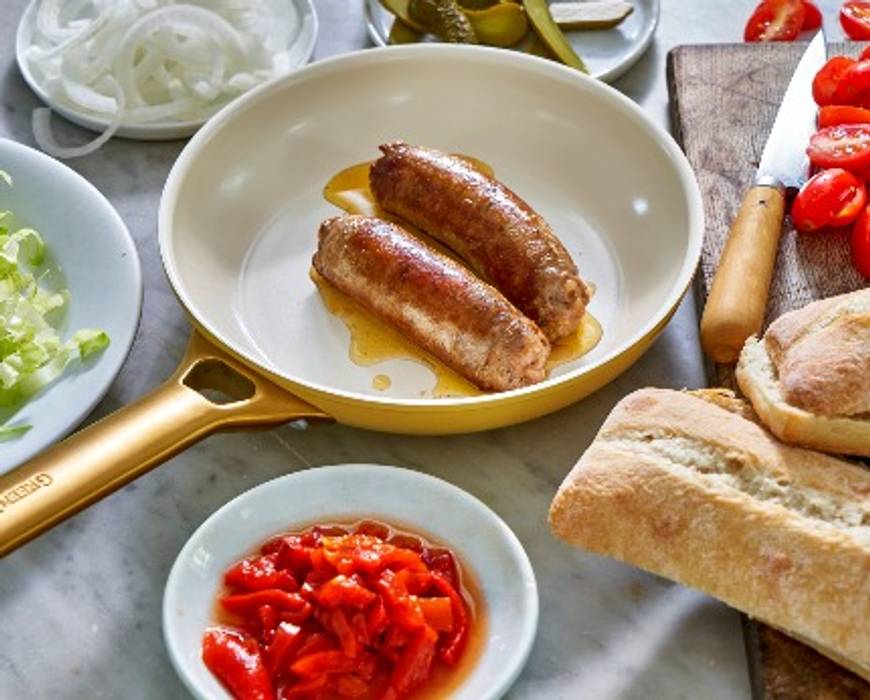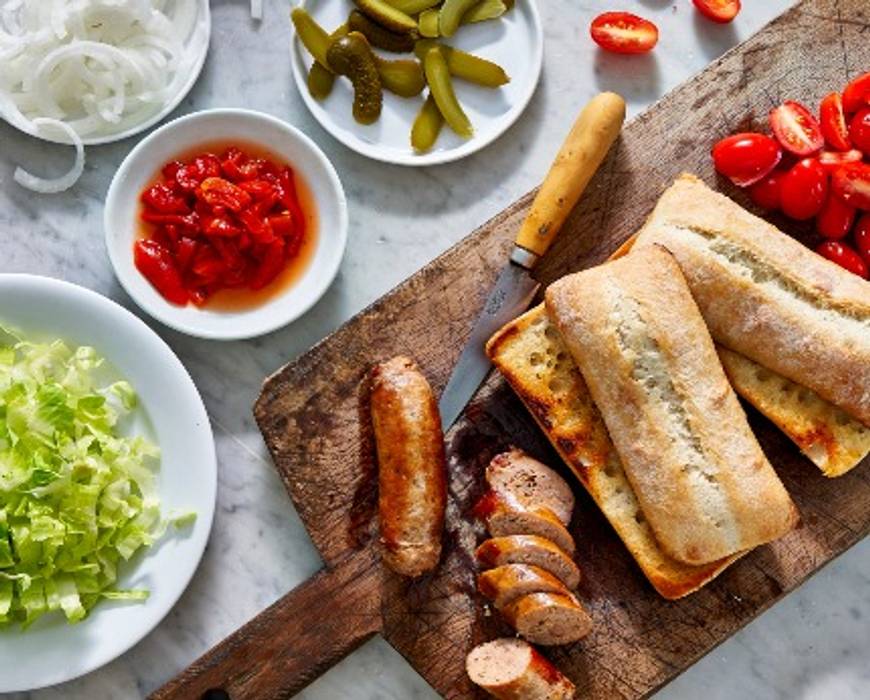 Italian Sausage Sandwiches
Yields: 4 servings
Time: 15 minutes prep, 15 minutes cooking, 30 minutes total
INGREDIENTS: 
For the sandwiches
4 fresh Italian pork sausages or chicken sausages
2 teaspoons vegetable oil
4 ciabatta rolls, cut in in half horizontally
1/2 cup cornichons, cut in half lengthwise
For the salad
1/2 cup thinly sliced organic red onion
10 ounces organic grape or cherry tomatoes, halved
1 cup roasted red peppers, coarsely chopped
2 heads organic Romaine or other lettuce, thinly sliced
Your favorite Italian dressing
Salt and pepper to taste
PREPARATION INSTRUCTIONS:
Prep the pan—In a large skillet over medium-high heat, warm 2 teaspoons oil until hot but not smoking. 
Prep the sausages—Pat sausages dry with a paper towel. Prick each sausage in a few places with a fork.
Cook the sausages—Add sausages to skillet and cook, turning occasionally, until browned and cooked through, 10 to 12 minutes. Transfer to a cutting board and rest for 5 minutes, then cut on the diagonal into 1/4- inch-thick slices. 
Make the salad—In a large bowl, add onion, tomatoes, roasted red peppers, and romaine. Add Italian dressing (about 1/2 cup) and toss to combine. Season to taste with salt and pepper.
Toast the ciabatta—Spoon all but 2 teaspoons fat off the skillet, reserving extra fat. Place skillet over medium heat until hot but not smoking. Place 4 slices of ciabatta in skillet, cut sides down, and cook until lightly browned, 2 to 3 minutes. Add 2 teaspoons reserved fat and repeat with remaining ciabatta.
Assemble the sandwiches—Transfer the ciabatta, cut sides up, to a work surface and spread lightly with Italian dressing. Arrange the sausages on the ciabatta bottoms and top with as much roasted red pepper salad and cornichons as you like. Close with the ciabatta tops.
Serve and enjoy—Transfer the sandwiches to individual plates and serve any remaining salad and cornichons on the side.
TIPS:

Simplify with Sunbasket—Want to create your new favorite sandwich without the shopping trip? We love how Sunbasket delivers all the pre-portioned ingredients, from your choice of pork or chicken sausages and fresh organic produce to ciabatta rolls and their sweet and spicy Italian dressing.
Grilling Sausages? Simmering sausages in beer, chicken stock, or apple juice for about 5 minutes beforehand delivers extra flavor and ensures that sausages are cooked through by the time the casings get brown and crispy.
Featured Product
Reserve Ceramic Nonstick 10-Piece Cookware Set | Sunrise with Gold-Tone Handles
World-class performance meets eye-catching contrast in GreenPan Reserve. But it's more than good looks: the duoforged hard anodized construction makes this set extra tough. This set makes it simple to find your style at home.