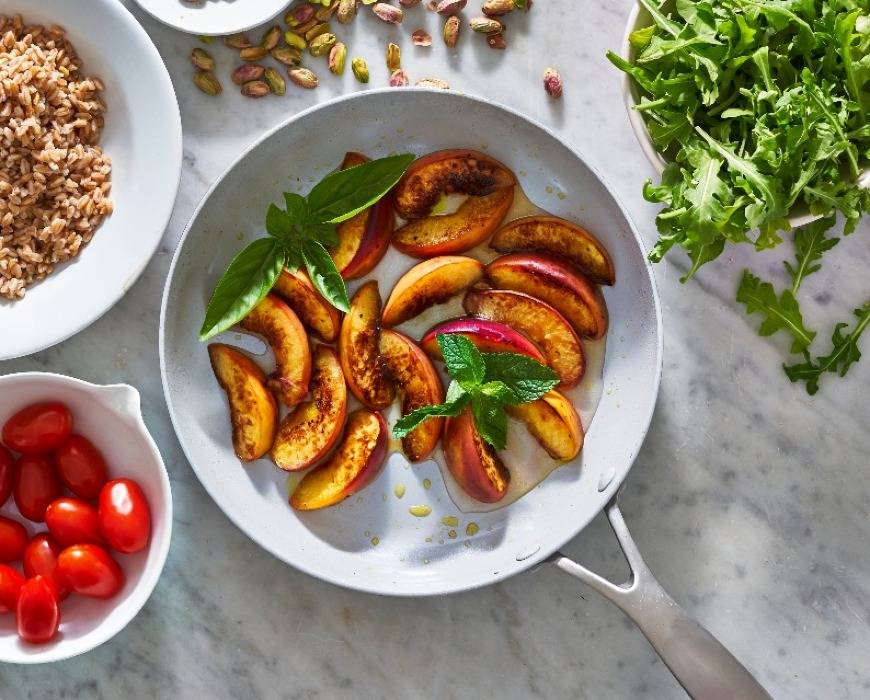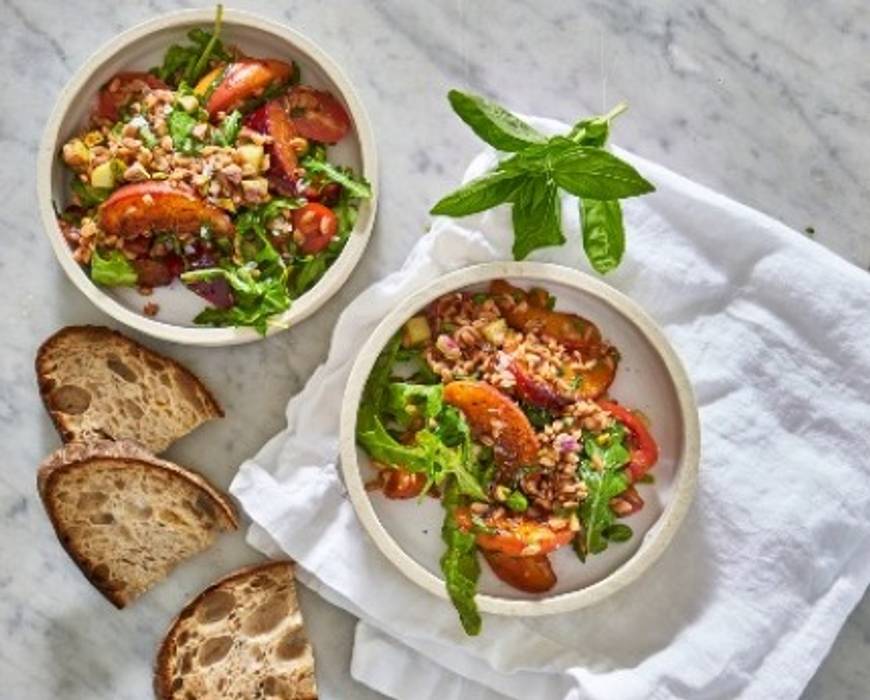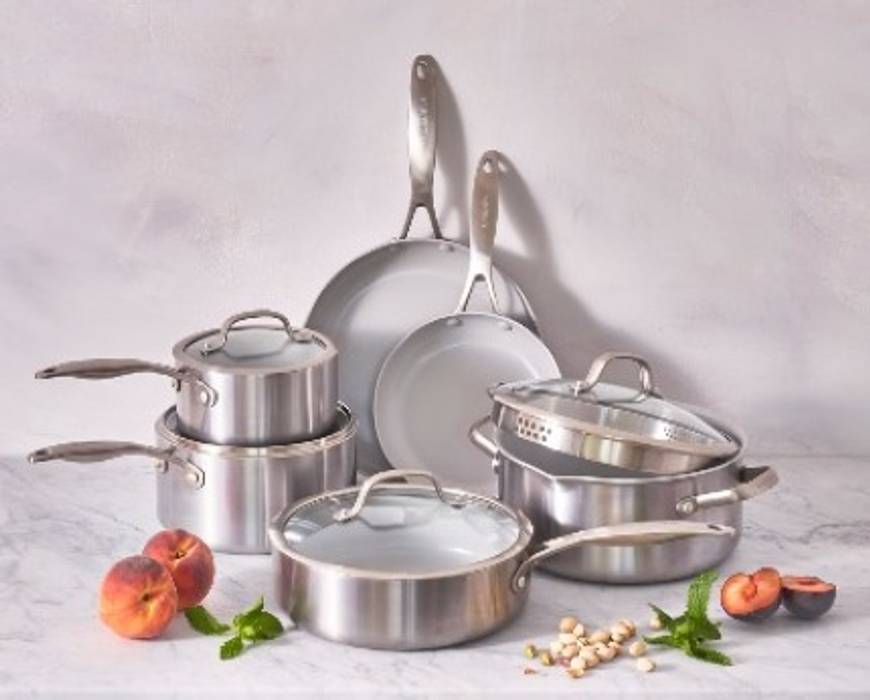 Farro and Stone Fruit Salad
Yields: 4 servings
Time: 20 minutes prep, 25 minutes cooking, 45 minutes total

INGREDIENTS:
For the vinaigrette
2 tablespoons Madhava organic balsamic vinegar
1 tablespoon honey
½ teaspoon red chili flakes
1 teaspoon kosher salt
¼ cup Madhava organic extra virgin olive oil

For the salad
½ cup semi-pearled farro
1 teaspoon kosher salt, divided
2 firm peaches, pitted, cut into ½" wedges
2 firm plums, pitted, cut into ½" wedges
2 teaspoons Madhava organic extra virgin olive oil
½ teaspoon freshly cracked black pepper
2 teaspoons Madhava organic white wine vinegar
1 cup cherry tomatoes, halved
½ an English cucumber, cut into 1/4" dice
¼ cup toasted pistachios, roughly chopped
2 tablespoons chopped mint
2 tablespoons chiffonade basil
2 cups arugula

PREPARATION INSTRUCTIONS:
Bring the farro, ½ teaspoon kosher salt, and enough water cover the farro by one inch to a boil in a medium GreenPan saucepan. Once the water has come to a boil, reduce the heat to medium low and cover, simmering until farro is tender but still chewy, 20–25 minutes.  Drain off any excess water left after cooking and let the farro cool to room temperature.


In a small mixing bowl, whisk together the vinegar, honey, chili flakes and salt. Place a towel under the bowl to keep it in place, and slowly drizzle in the oil with one hand while whisking very quickly with the other.  Once all the oil is combined, and the dressing has come together, taste and adjust with salt as needed.   


In a medium mixing bowl, toss the peaches, plums, olive oil, black pepper and remaining ½ teaspoon of salt until the stone fruit is evenly coated. Place a large GreenPan skillet or grill pan on the stovetop over medium high heat.  Once the pan has come to temperature, place the stone fruit in, with one of the cut sides down.  (Test the pan first by placing one piece of fruit in.  If you don't hear a loud sizzle, remove the piece and let the pan heat up longer before cooking.)  Cook the fruit for 1 to 2 minutes, or until you get good caramelization or grill marks.  Flip the fruit to the other cut side and cook for another 1 to 2 minutes.  Pour the white wine vinegar in the hot pan and swirl quickly to release any brown bits from the bottom, then transfer the cooked fruit back to the bowl they were tossed in.  Allow the fruit to cool to room temperature.


In a large mixing bowl combine the cooked farro, peaches, plums, cherry tomatoes, cucumber, pistachios, mint, basil, and half the vinaigrette, gently stirring to evenly distribute. Taste and adjust the salad with salt or a bit more olive oil as desired.  To serve, mix in the arugula at the last moment to avoid it wilting.  Drizzle a bit more dressing over the top if desired or store the remaining dressing in a sealed container in the refrigerator for up to a week.   

TIPS:
When cooking summer stone fruit such as peaches, plums, apricots, and nectarines, make sure to pick firm ones that aren't quite ripe yet.  This will ensure that they're the perfect texture once cooked, rather than falling apart and being overly sweet.
Vinaigrettes are the star of any good salad, but they need to work in tandem with all the other ingredients.  Every ingredient you have won't taste the same each time, so if you find you have particularly tart peaches or acidic tomatoes, add more olive oil to your dressing to balance the flavors!     
This salad would be delicious with a bit of cheese dotted over the top as well!  A bit of burrata, goat cheese or feta would all be wonderful additions. 
Featured Product
Venice Pro Ceramic Nonstick 11" Frypan
Crafted from ultra-tough, multilayer stainless steel, this 11" pan is ideal for a wide variety of tasks—from sautés to bakes and fluffy scrambled eggs to fall-apart tender salmon. Finished with our healthy ceramic nonstick coating, cleanup is effortless.