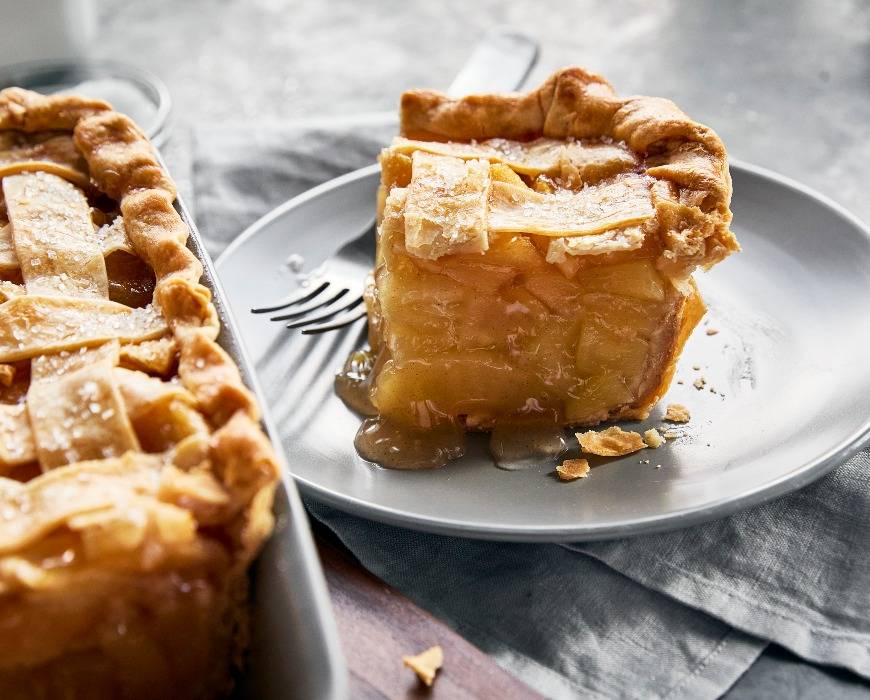 Yields: 12 servings
Time: 20 minutes prep, 35 minutes cooking, 55 minutes total
INGREDIENTS:
All-purpose flour, for work surface
Enough dough for 4 pie crusts—homemade or the refrigerated, pre-rolled kind (two 14-oz. boxes)
12 medium peaches, peeled, pitted, and sliced (or 2 1/2 pounds frozen peaches)
1/3 cup brown sugar
2 teaspoons pumpkin pie spice or cinnamon
1/4 cup granulated tapioca or cornstarch
1 large egg, beaten
Coarse sugar, for sprinkling
PREPARATION INSTRUCTIONS:
Prepare to bake—Take pie dough out of refrigerator and preheat oven to 400°F.
Mix the filling—In a large bowl, stir together peaches, brown sugar, cinnamon, and tapioca. Set aside.
Prep the pie crust—Lightly dust a work surface with flour and roll half the dough into an 11" x 15" rectangle. (If using pre-rolled crusts, stack two of them and roll into rectangle.) Transfer crust to 9" x 13" pan. Roll remaining dough into a 10" x 14" rectangle and cut into 1" strips, lengthwise.
Assemble the pie—Transfer filling to pie crust, spreading to create an even layer. Use remaining pie dough to create a lattice pattern on top. Crimp the edges of pie crust. Brush crust with beaten egg and sprinkle with coarse sugar.
Bake the pie—Bake in preheated oven until crust is beautifully browned and fruit is bubbling, about 35 to 40 minutes. Allow pie to cool for about 45 minutes (if you can wait that long) before slicing and serving.
TIPS:
Spice it Up—Add depth of flavor to almost any dessert by subbing in a baker's spice blend (we like pumpkin or apple) in place of the cinnamon in a recipe.
Pick Your Favorite Fruit—Our slab pie tastes also tastes delicious with raspberries, blackberries, and blueberries. Or mix and match for fun flavor combinations.
Featured Product
Premiere Ovenware Ceramic Nonstick 13" x 9" Rectangular Baker
Our kitchen team has fallen in love with this pan. They've been making classic casseroles, family-sized lasagna, slow roasted meats, and more. And those built-in handles won't break off the way ceramic ones can.