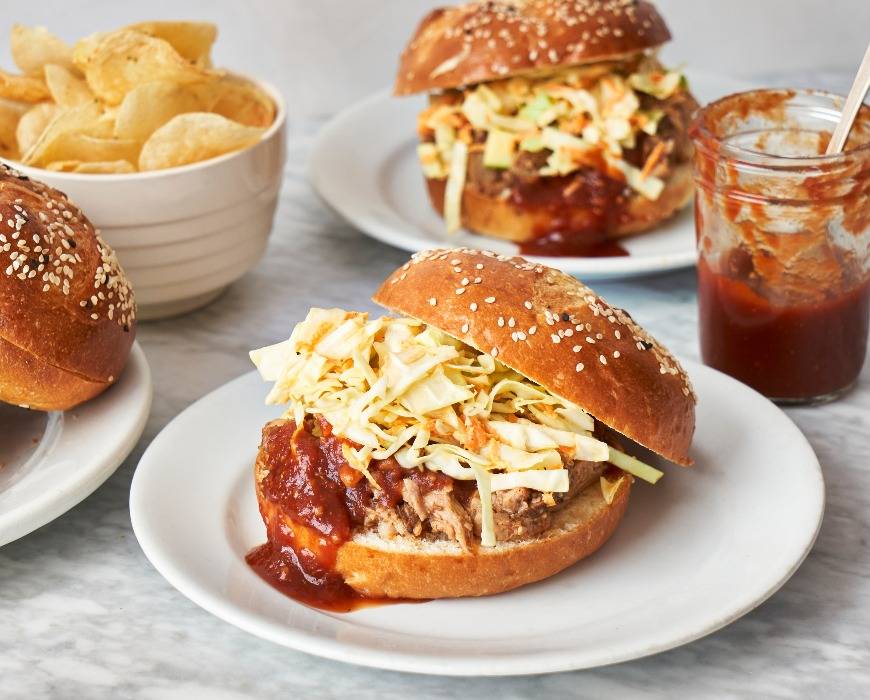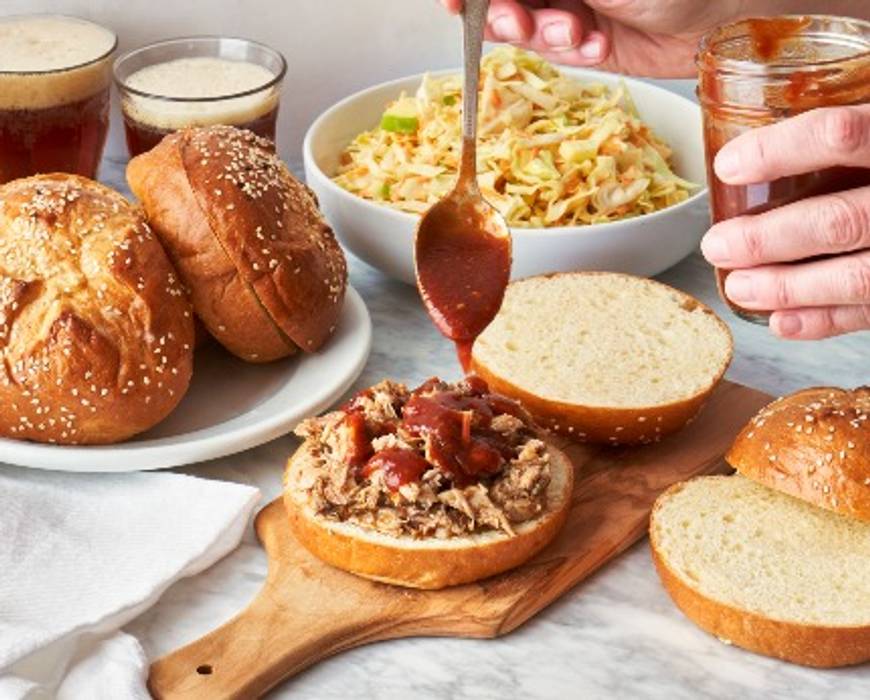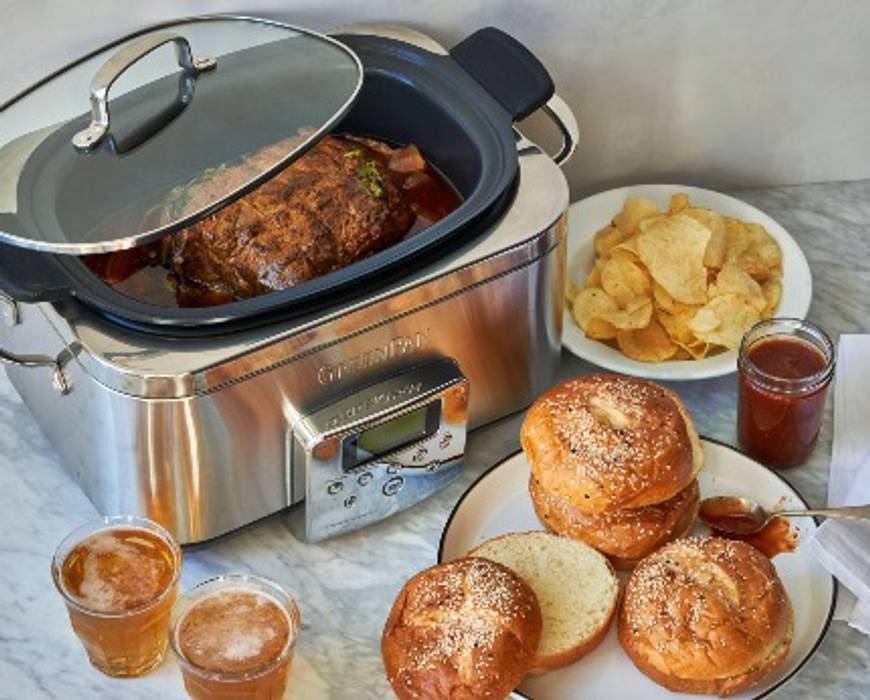 Slow Cooker Pulled Pork Sandwiches with Homemade Coleslaw
Yields: 6 servings
Time: 30 minutes prep, 8 hours 20 minutes cooking, 8 hours 50 minutes total
INGREDIENTS:
For the pulled pork
3 tablespoons brown sugar, divided
2 teaspoons paprika
1 teaspoon mustard powder
1/2 teaspoon ground cumin
2 teaspoons salt
1/2 teaspoon freshly ground pepper
1 pork shoulder (3 to 4 pounds), excess fat trimmed
2 teaspoons canola oil
1/2 cup apple cider vinegar
3 tablespoons tomato paste
For the coleslaw
1 head green cabbage, cut into thin strips (or a pre-packaged coleslaw mix)
1 large carrot, grated
1 granny smith apple, finely chopped
2 tablespoons apple cider vinegar
1/4 cup mayonnaise
2 teaspoons sugar
1 teaspoon freshly ground black pepper
1/2 teaspoon salt
For serving
Your favorite barbecue sauce
6 brioche buns or ciabatta rolls
PREPARATION INSTRUCTIONS:
Make the rub—In a small bowl, mix together 1 tablespoon brown sugar, paprika, mustard powder, cumin, 2 teaspoons salt, and 1/2 teaspoon freshly ground pepper. Pat the dry rub over the entire pork shoulder. 
Sear the pork—Heat vegetable oil in a large skillet over medium-high heat. When oil is shimmering, add pork and sear, turning as needed, until evenly browned on all sides—this will take several minutes per side. Use caution when turning to avoid being splashed by hot oil. Transfer pork to a plate. 
Add the cooking liquid—Add 3/4 cup water to skillet with drippings and whisk to combine. Pour liquid into slow cooker and add vinegar, tomato paste, and the remaining 2 tablespoons brown sugar along with 2 cups of water. Whisk to combine everything evenly.
Cook the pork—Add pork to slow cooker. Cover and cook on low till pork is amazingly tender—about 8 hours. Transfer pork to a cutting board.
Meanwhile, make the coleslaw—While pork is cooking, place shredded cabbage in a salad spinner or colander (you may have to work in batches). Rinse cabbage well under cold water. Spin or let drain for about 5 minutes to remove excess water. In a large bowl, mix together carrot, apple, vinegar, mayonnaise, pepper, and salt. Add cabbage and toss until evenly combined. Cover and stash in the refrigerator for at least 1 hour before serving—the longer the better.
Reduce the liquid—Strain liquid from slow cooker into a saucepan. Bring to a boil over medium-high heat and cook, stirring occasionally, until reduced by half—about 10 minutes. Season with salt to taste.
Shred the pork—Use a pair of large forks to pull the meat apart or roughly chop with a large knife. Transfer to a large bowl, add 1 cup of the reduced cooking liquid and mix to combine. Add more salt and a splash of vinegar, if needed. 
Assemble and serve—Divide pork between buns, drizzle with barbecue sauce, and top with coleslaw. Add the top bun and dig in—the wait is over!
TIPS:
Shredding Shortcut—Cut pork into 3 or 4 pieces. Place a piece or two in the bowl of a stand mixer fitted with the paddle attachment. Mix on the lowest speed for about 1 minute—caution: don't walk away or it'll quickly turn into a clump of meat. 
Dry Wit—We like sandwich slaw on the drier side (less messy!), but if you want to up the creaminess factor, just double the amount of vinegar, mayo, sugar, pepper, and salt. 
Featured Product
Premiere 6-Quart Slow Cooker | Stainless Steel
With our advanced slow cooker, you can sear meat and veggies in the pot, then go low and slow to finish the job. Take your time while cooking, then clean up quickly with Thermolon™ Volt, a healthy, PFAS-free ceramic nonstick...