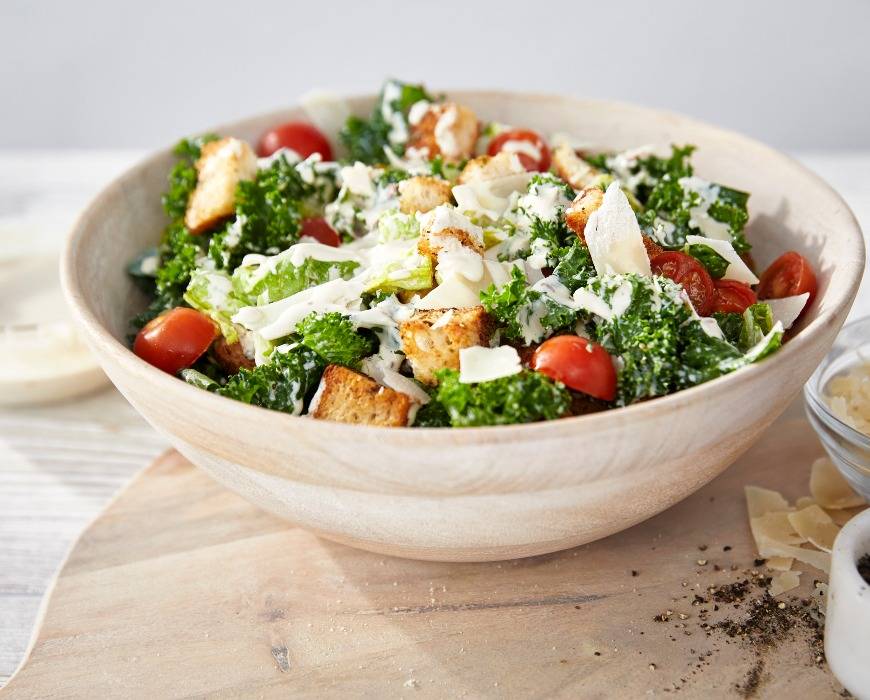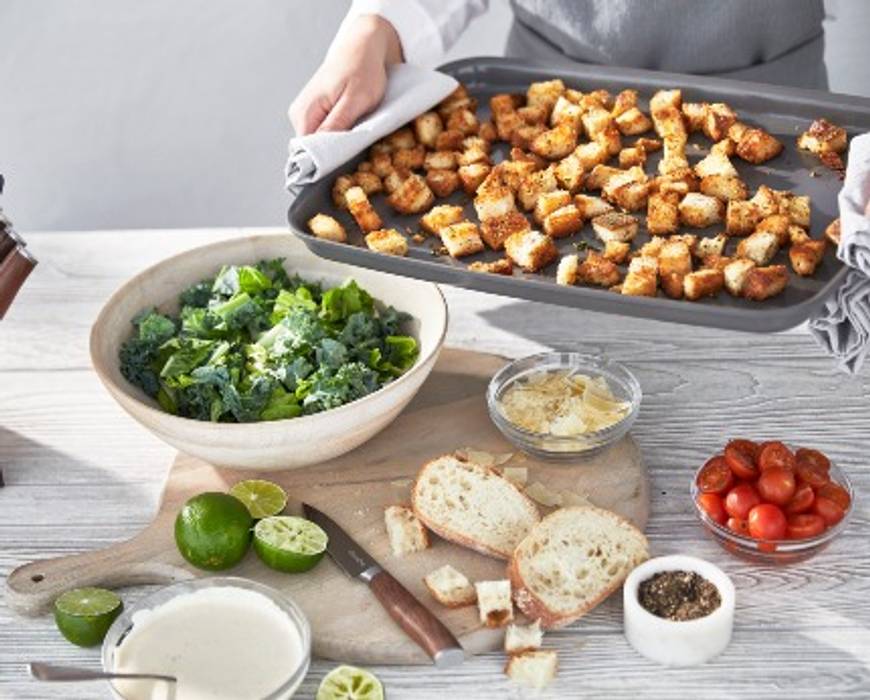 Kale Caesar Salad with Homemade Croutons
Yields: 6 to 8 servings
Time: 30 minutes total
INGREDIENTS:
For the homemade croutons:
1 loaf artisan bread, cut into 1-inch cubes
2 tablespoons olive oil
3 tablespoons butter, melted
3/4 teaspoon salt
1/2 teaspoon freshly ground black pepper
1 teaspoon garlic powder
2 teaspoons finely chopped rosemary
For the salad:
4 cups chopped fresh kale
4 cups chopped Romaine
2 cups homemade croutons
3/4 cup freshly grated Parmesan cheese
1 cup halved cherry tomatoes, optional
For the dressing:
1/2 cup plain Greek yogurt
1/2 cup freshly grated Parmesan cheese
Juice of 2 limes (3 to 4 tablespoons)
1 tablespoon olive oil
1 to 2 teaspoons anchovy paste, more or less to taste
2 teaspoons Worcestershire sauce
2 cloves garlic, pressed or minced
1 teaspoon Dijon mustard
2 to 4 tablespoons milk
Salt and pepper to taste
PREPARATION INSTRUCTIONS:
Prepare to bake—Preheat oven to 350°F.


 Make the croutons—Add bread to a large bowl and drizzle with olive oil and melted butter. Toss by hand until the bread is evenly coated (more or less—it won't be perfect). Add in salt, black pepper, garlic powder, and chopped rosemary and toss until spices are distributed throughout.


 Bake the croutons—Spread bread cubes evenly on a large, non-stick baking sheet. Transfer to preheated oven and bake for 7 minutes. Flip croutons and continue baking until beautifully browned and crispy—another 7 to 9 minutes. Let croutons cool completely.


 Meanwhile, make the dressing—In a small bowl, add yogurt, Parmesan, lime juice, olive oil, anchovy paste, Worcestershire sauce, garlic, and Dijon mustard. Whisk like you mean it until you have a smooth mixture and everything's evenly incorporated. Whisk in milk a tablespoon at a time till dressing gets to the consistency you like. Season with salt and pepper to taste.


 Assemble the salad—In a large bowl, add kale, Romaine, Parmesan cheese, tomatoes, croutons, and dressing. Toss till everything's evenly combined. Divide between individual bowls and enjoy!


TIPS:
 A Cut Above—GreenPan cutlery makes quick work of salad prep, from cutting away tough kale stems and halving cherry tomatoes to slicing bread into cubes for croutons.
Why Grate Your Own Parmesan? 1. Tastes better. Need more reasons? 2. Fresher, with no fillers. 3. Keeps longer (blocks can last for months in the fridge). 4. Costs less. 5. See number 1 again!
Featured Product
Premiere Titanium Cutlery 12-Piece Knife Block Set with Walnut Handles
Crafted from recycled steel and eco-friendly walnut handles to minimize its environmental impact, each blade of this set is cryogenically treated to remove residual stresses, hand sharpened and coated with titanium for long-lasting performance.