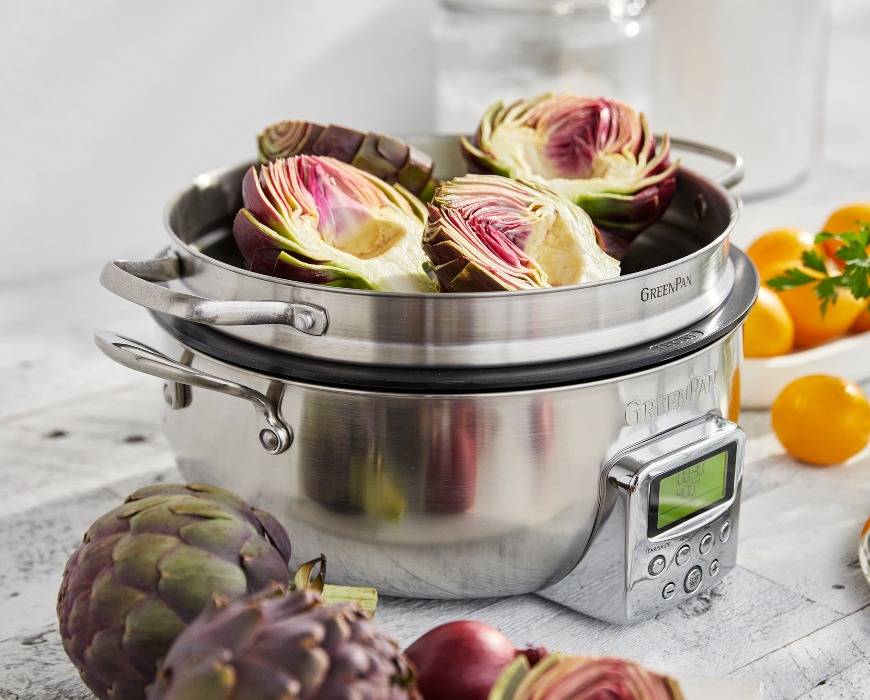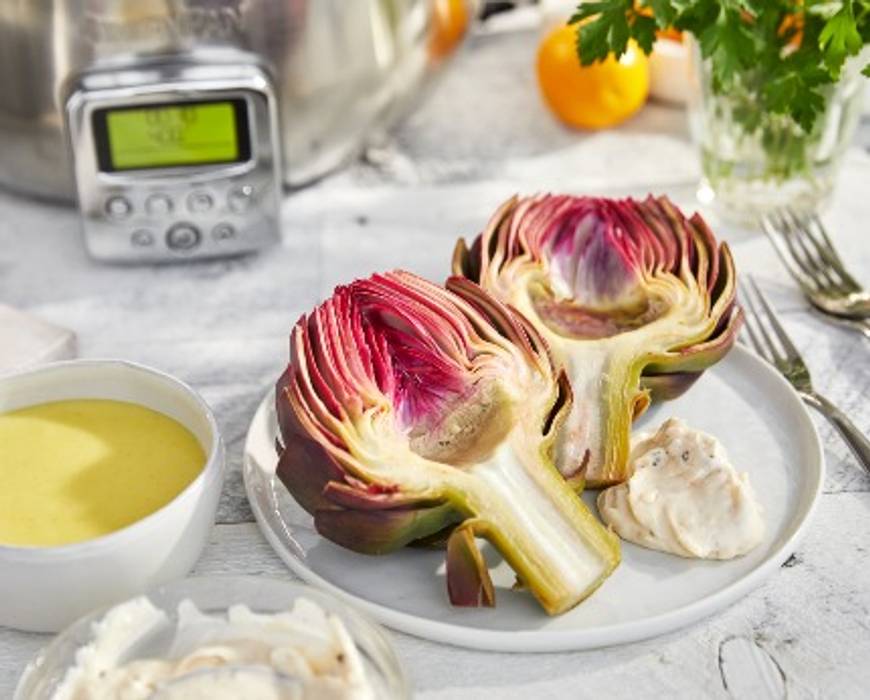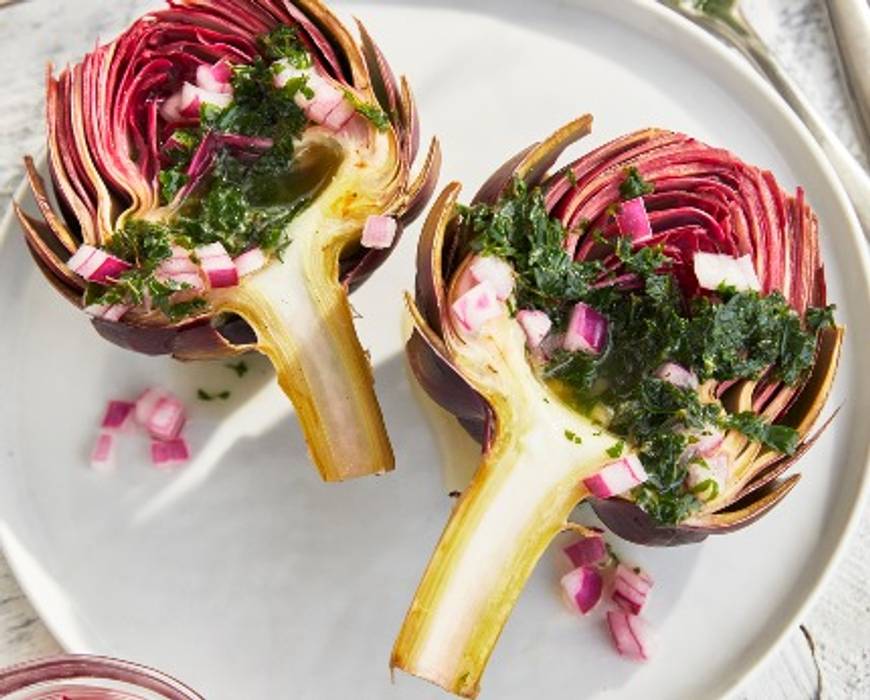 Steamed Artichokes with Herb Butter Sauce
Yields: 3 servings
Time: 15 minutes prep, 25 minutes cooking, 40 minutes total
INGREDIENTS:
For the artichokes:
3 medium artichokes
1 lemon, halved crosswise
1 tablespoon coarse salt
For the sauce:
1/2 cup (1 stick) melted butter
1 tablespoon fresh lemon juice
2 teaspoons chopped fresh thyme
2 teaspoons chopped fresh parsley
Salt and freshly ground pepper to taste
PREPARATION INSTRUCTIONS:
Prepare to cook—Select the Steam mode on the Essential Smart Skillet and set the timer to 35 Place steamer insert in skillet and add water till it almost reaches the bottom of insert. Add the juice of one lemon, along with 1 tablespoon salt. Cover and allow water to come to a boil and create steam.
Meanwhile, prep the artichokes—Remove tough outer leaves and cut off the top 1/3 of artichokes with a sharp knife. Cut off any spiky tips with kitchen shears. Slice artichokes in half lengthwise. Run the squeezed lemon halves over all the cut surfaces to prevent discoloration.
Steam the artichokes—Remove cover from the Essential Smart Skillet, away from you to avoid being hit with escaping steam. Check to see if water level is still almost reaching basket. If not, add more water and return lid. Once water is steaming, set timer for 25 minutes. Place artichokes in steamer insert, cut side up. Cover and steam.
Meanwhile, make the sauce—In a small bowl, whisk together the melted butter, lemon juice, thyme, and parsley. Season with salt and pepper to taste and set aside.
Check artichokes for doneness—If inner leaves pull away easily and heart is tender when pierced with a knife, you're good to go. If not, add more water if needed, and continue steaming for another 5 to 10 minutes.
Serve and enjoy—Use tongs to transfer artichokes to individual plates. Serve warm with herb butter sauce for dipping.
TIPS:
Dip it Good—Steamed artichokes taste great with a wide array of dipping sauces, from simple melted butter or balsamic vinaigrette to hollandaise, tzatziki, or garlic aioli.
Did You Know? Artichokes are actually flower bulbs—their spiky purple or pink blooms look like something dreamed up by Dr. Seuss or Tim Burton. Beautifully bizarre.
Featured Product
Elite 6-Quart Essential Smart Skillet | Premiere Stainless Steel
Whether you're searing a steak, perfecting a complex stew, or simply making rice, this family-sized 6-quart skillet gives you room for any meal. The high sides eliminate splatter and make it easy to toss your ingredients without worry.