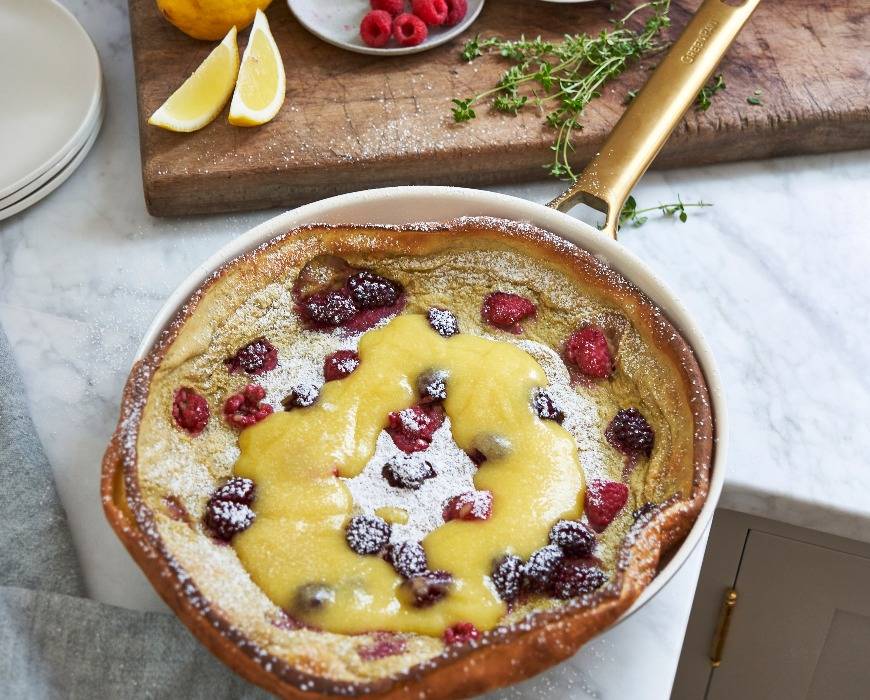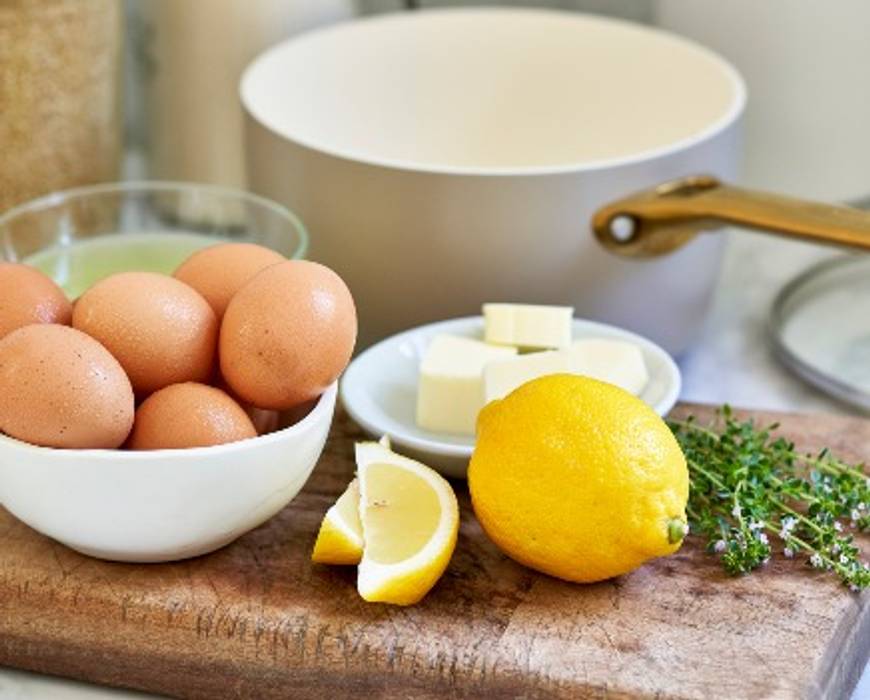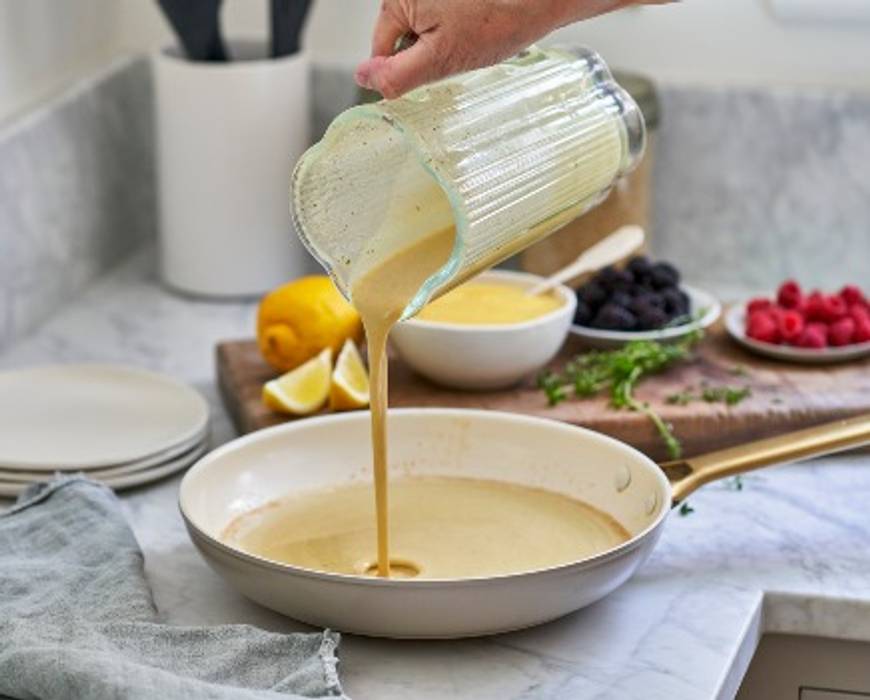 Lemon and Blackberry Dutch Baby
Yields: 4 servings
Time: 15 minutes prep, 40 minutes cooking, 30 minutes to 3 hours for curd to cool
INGREDIENTS:
For the lemon curd:
1 cup lemon juice, freshly squeezed, from about 4 large lemons

2/3 cups granulated sugar

1/4 cup honey

3 large Vital Farms Pasture-Raised Eggs

8 tablespoons Vital Farms Salted Butter, cut into 8 pieces

1/4 teaspoon kosher salt

For the Dutch baby:
3 tablespoons granulated sugar

1 tablespoon lemon zest

1 teaspoon fresh thyme, destemmed, finely chopped

3 tablespoons Vital Farms Salted Butter, divided

1/2 cup all-purpose flour

1/2 cup whole milk, room temperature

3 large Vital Farms Pasture-Raised Eggs, room temperature

1/2 teaspoon kosher salt

1/4 teaspoon vanilla extract

1 cup fresh blackberries

Confectioners' sugar, for serving
PREPARATION INSTRUCTIONS:
1. For the lemon curd, stir to combine the lemon juice, sugar and honey in a medium GreenPan saucepan and place on the stovetop over medium heat. Cook for 2 to 3 minutes, stirring occasionally, or until warm enough for the sugar and honey to dissolve.


2. In a medium heat proof mixing bowl, whisk the Vital Farm Pasture-Raised Eggs until smooth. While whisking constantly, slowly pour about half of the warm lemon mixture into the eggs to gently raise their temperature (this tempering will make them less likely to curdle at the next step). While again whisking constantly, pour the egg mixture back into the saucepan and place back on the stovetop over medium-low heat.


3. Continuing to whisk or stir regularly to ensure the curd thickens evenly, and cook for 7 to 10 minutes, or until the curd is thick enough to coat the back of a spoon. Remove the pan from the heat and stir in the Vital Farms Salted Butter and salt until the butter is fully incorporated. 4. Pour the curd into a heat proof bowl (if you notice any small pieces of cooked eggs, pass the curd through a fine mesh strainer). Place a piece of plastic wrap directly on the surface of the curd and transfer it to the refrigerator to cool. For a looser curd, allow it to cool for 20-30 minutes. For a firmer curd, allow it to cool for 2-3 hours.


5. For the Dutch baby, combine the sugar, lemon zest and thyme in a small bowl and use your fingers to rub them together until aromatic, about one minute, then set aside.


6. Preheat the oven to 425ºF. Put 2 tablespoons of the Vital Farms Salted Butter in a 10" GreenPan frypan and place it in the oven. Melt the remaining tablespoon of butter and set aside to cool slightly.


7. In the carafe of a blender combine the reserved sugar and melted tablespoon of butter with the flour, milk, Vital Farms Pasture-Raised Eggs, salt and vanilla and blend until quite smooth. (You can also mix the batter by hand, taking care to ensure there are no lumps of flour or eggs.)


8. Once the frypan is hot and the butter is melted (but not browned or burnt), carefully remove it from the oven and pour in the batter. In one even layer, quickly place the blackberries in the batter and return the frypan to the oven. Bake for 20 minutes, then reduce the temperature to 325ºF and cook another 5 minutes more for a softer texture, or 10 minutes if you prefer a crispier result.


9. Serve the Dutch baby warm immediately, topped with lemon curd and a light dusting of confectioners' sugar.
TIPS:
This recipe will leave you with extra lemon curd, which is the point! It can be stored in an airtight container in the refrigerator for 2-3 weeks and is delicious on everything from toast to ice cream!
Blueberries and raspberries would also be a delicious combination with the lemon and thyme. Try replacing them all together or mixing them up for a mixed berry version.
It's key to have a nice hot pan to get the proper rise on the Dutch baby. So, take the time to ensure its fully heated in the oven before pouring in the batter, just keep an eye on that butter! (And do your best to avoid the temptation of opening the oven while it's baking…)
Featured Product
Reserve Ceramic Nonstick 10-Piece Cookware Set | Taupe with Gold-Tone Handles
World-class performance meets eye-catching contrast in GreenPan Reserve. But it's more than good looks: the duoforged hard anodized construction makes this set extra tough. This set makes it simple to find your style at home.