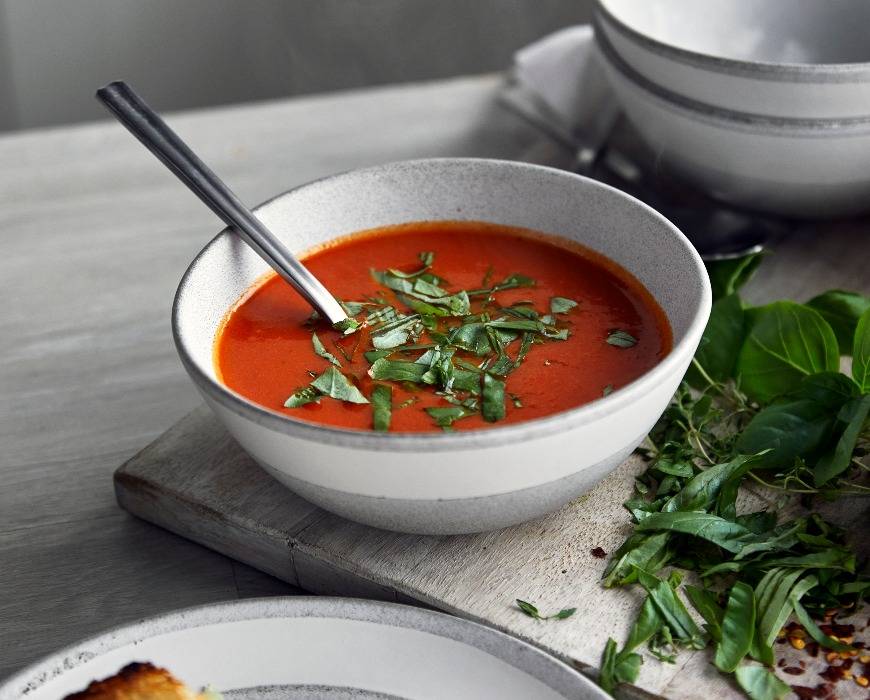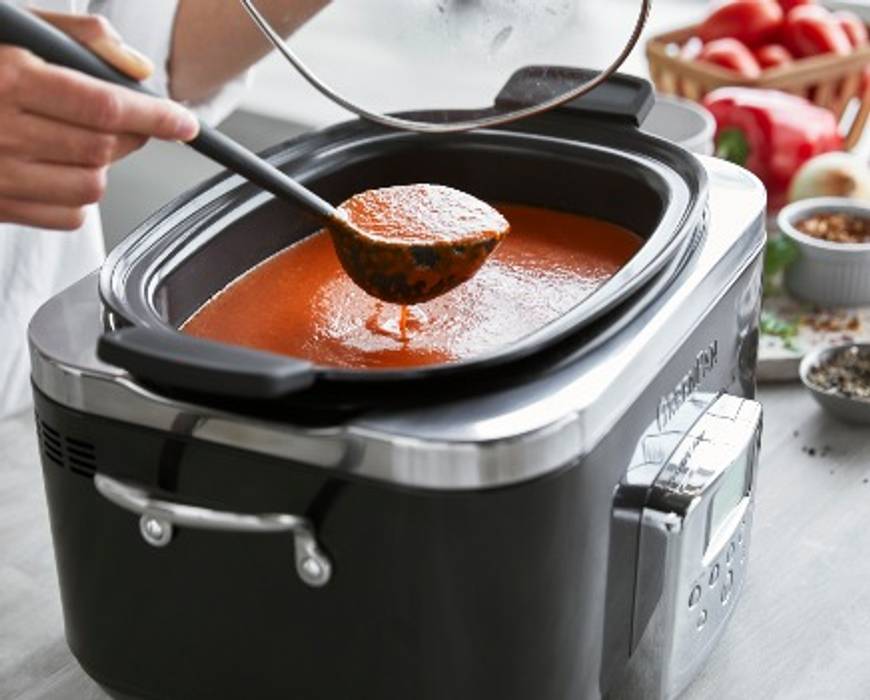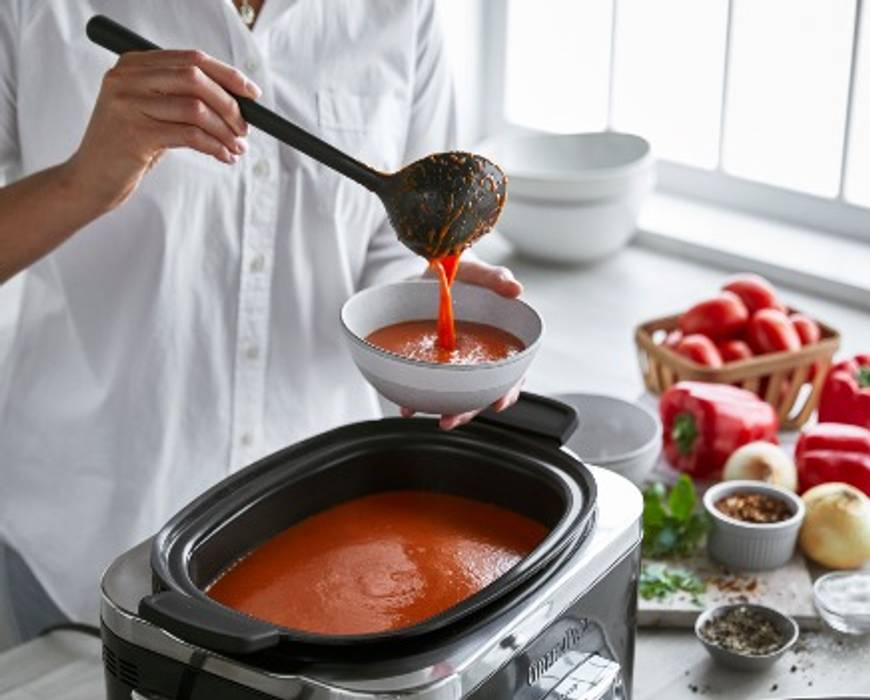 Roasted Tomato and Pepper Soup
Yields: 6 to 8 servings
Time: 15 minutes prep, 2 hours 30 minutes cooking
INGREDIENTS:
2 pounds plum or roma tomatoes, halved
1 red bell pepper, deseeded and cut in 1" strips
1 medium yellow onion, peeled and cut in 1" dice
4 cloves garlic, peeled and lightly crushed
1/2 cup extra virgin olive oil
1/2 teaspoon kosher salt, more to taste
1/4 teaspoon freshly ground black pepper, more to taste
1 tablespoon tomato paste
3 sprigs fresh thyme, destemmed and roughly chopped 
1 tablespoon honey
2 teaspoons red wine vinegar
1/2 teaspoon crushed red pepper flakes
2 cups low sodium vegetable stock, more as needed
1/2 cup half and half 
1/2 cup fresh basil leaves, hand torn into 1/2" pieces 
PREPARATION INSTRUCTIONS:
Select the Brown/sauté mode on the Slow Cooker, set the temperature to 350°F and the timer to 20 minutes. Place the tomatoes, red pepper, onion, garlic, olive oil, salt and pepper in the slow cooker and stir to combine. Cook for 12 to 14 minutes, stirring occasionally, or until the tomatoes and peppers are very soft and everything is nicely seared and golden brown.   


Stir in the tomato paste and cook another 3 to 4 minutes, stirring regularly, until very aromatic and slightly darker red in color. Stir in the thyme, honey, vinegar, red pepper flakes and vegetable stock until everything is evenly combined.  


Select the High Temperature Slow Cook Mode on the Slow cooker and set the timer for 2 hours. Cover and cook the soup until the tomatoes are falling apart and the peppers are soft enough to blend easily, about 2 hours.  


Transfer the soup to a blender, add in half of the basil and puree until very smooth. (Depending on the size of the blender the soup may need to be pureed in batches.) Return the soup back to the slow cooker and stir in the half and half – if needed, stir in a bit more stock to thin the soup to a pourable consistency. Taste and adjust as desired with salt, pepper and vinegar. Serve warm with the remaining basil for garnish.  
TIPS:
In a hurry? Make this soup with two 28 ounce cans of low sodium diced tomatoes, one 15 ounce can of fire roasted tomatoes and half a jar of roasted red peppers (drained)! 
To make this recipe vegan, substitute the half and half with unsweetened almond milk, coconut milk, or let 1/2 cup of a rustic white bread soften in the broth before blending.   
Featured Product
Elite 6-Quart Slow Cooker | Black
With our advanced slow cooker, you can sear meat and veggies in the pot, then go low and slow to finish the job. Take your time while cooking, then clean up quickly with Thermolon™ Volt, a healthy, PFAS-free ceramic nonstick...