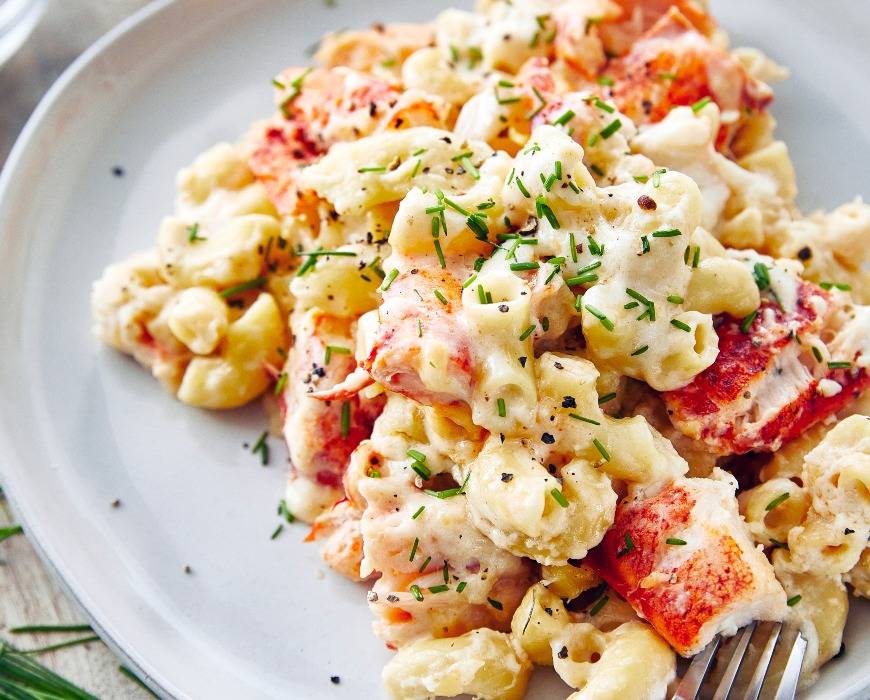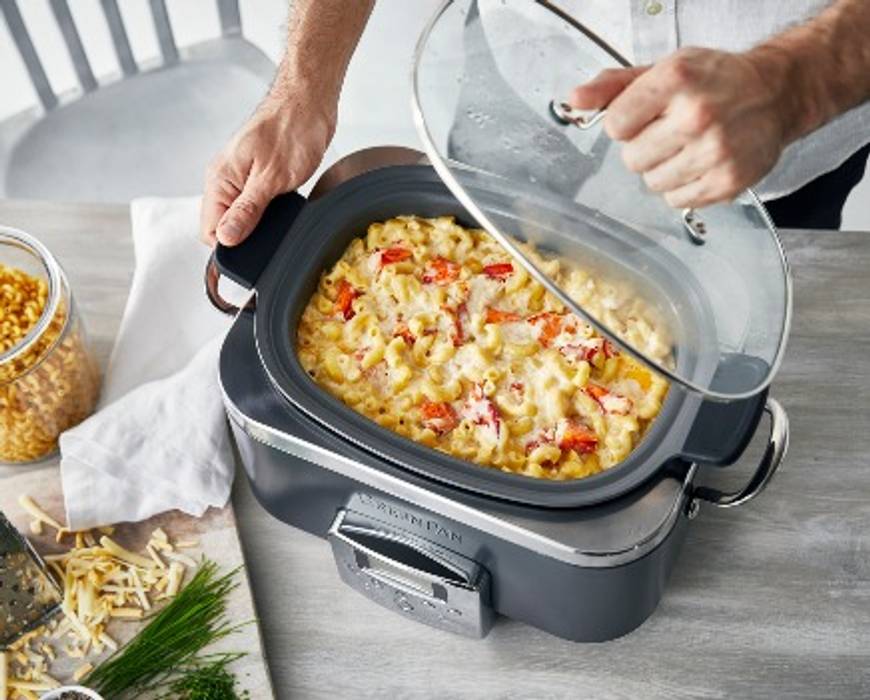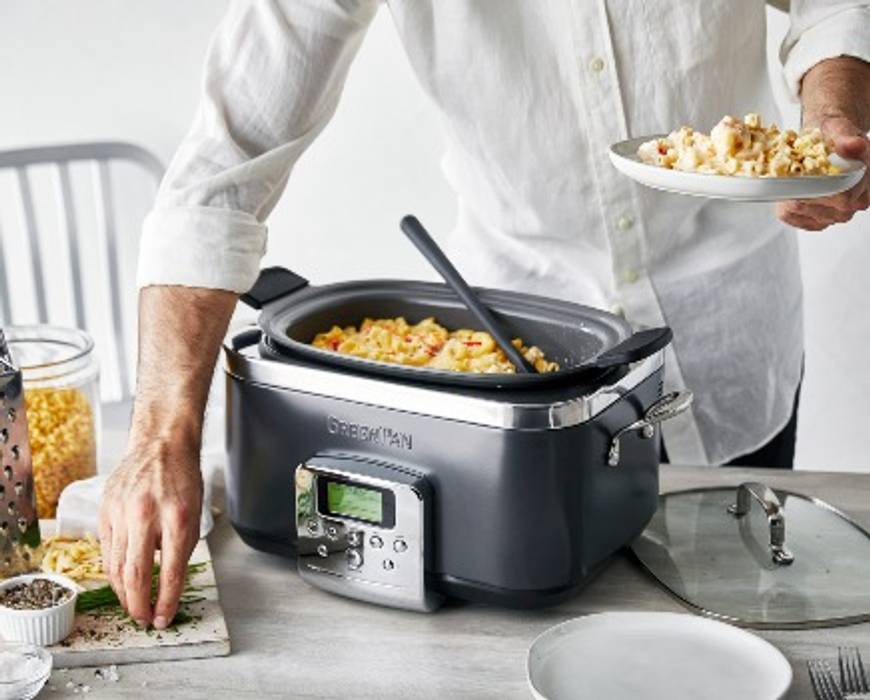 Yields: 6 to 8 servings
Time: 15 minutes prep, 3 hours cooking
INGREDIENTS:
5 tablespoons unsalted butter 
5 tablespoons all-purpose flour
3 cups whole milk, more as needed 
3/4 cup sour cream
1 teaspoon Dijon mustard
1 teaspoon onion powder
1/2 teaspoon paprika
3 1/2 cups shredded sharp white cheddar cheese
1 1/2 cups shredded gouda cheese
1 1/2 cups shredded gruyere cheese
4 ounces cream cheese, cut in cubes
Kosher salt, to taste 
Freshly ground black pepper, to taste
1 pound uncooked elbow macaroni
2-3 cups cooked lobster meat 
3 tablespoons fresh chives, thinly sliced, for garnish 
PREPARATION INSTRUCTIONS:
Select the Brown/sauté mode on the Slow Cooker, set the temperature to 300°F and the timer to 10 minutes. Add the butter to the slow cooker and allow it to melt. Once melted whisk in the flour to create a paste (roux) and cook, whisking regularly, for 2 minutes. Pour in one cup of the milk and whisk until smooth. Repeat with the remaining milk in two more additions.   


Select the Low Temperature Slow Cook Mode on the Slow cooker and set the timer for 3 hours. Add the sour cream, mustard, onion powder, paprika and all four cheeses and stir to combine. Season with salt and pepper as desired, then stir in the macaroni.  


Cover and cook for 2 hours and 30 minutes, or until the cheese is warmed through and melted and the macaroni is cooked. If needed, stir in a bit more milk to reach the desired consistency. Add the cooked lobster meat to the slow cooker and stir to evenly combine. Cook for another 30 minutes, or until the lobster is just warmed through. Taste and adjust as desired with salt and pepper. Serve warm immediately, garnished with chives, if desired.
TIPS:
This recipe is also delicious with 2 cups of crispy bacon stirred in at the end instead of the lobster! If using bacon, try using smoked paprika to add even more smokey flavor! 
If you can't find already cleaned lobster meat, purchase 3 lobster tails instead. Simply use scissors to cut the shells from the meat, and roughly chop the meat into bite sized pieces. Cook gently in a small pot of butter or water, then add to the mac and cheese to finish!
Featured Product
Elite 6-Quart Slow Cooker | Graphite
With our advanced slow cooker, you can sear meat and veggies in the pot, then go low and slow to finish the job. Take your time while cooking, then clean up quickly with Thermolon™ Volt, a healthy, PFAS-free ceramic nonstick...