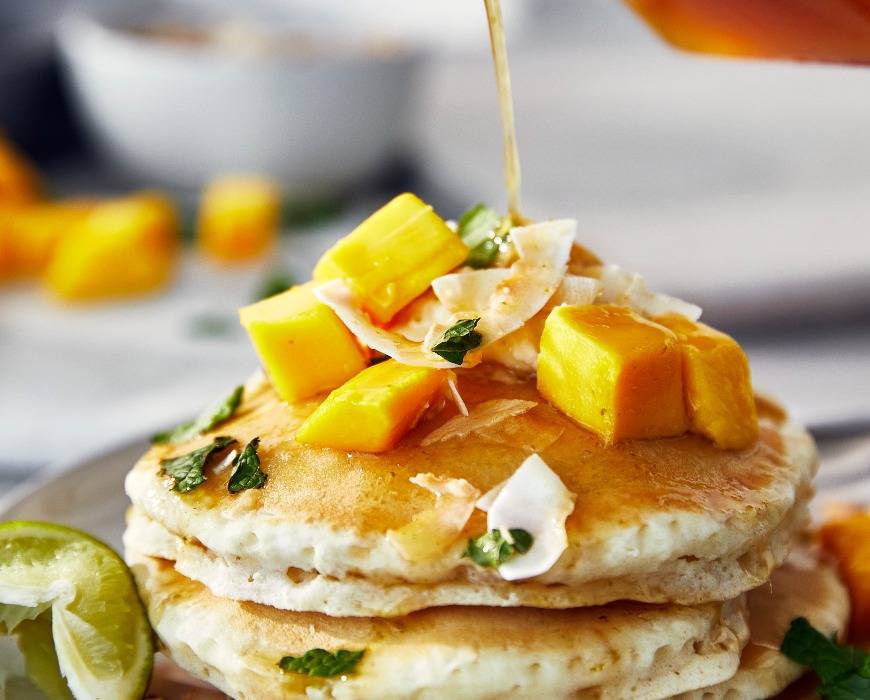 Coconut and Mango Pancakes
Yields: ~12 pancakes
Time: 10 minutes prep, 30 minutes resting, 20 minutes cooking, 1 hour total
INGREDIENTS:
For the pancakes:
2 cups all-purpose flour
1/4 cup granulated sugar
2 teaspoons baking powder
1/2 teaspoon baking soda
1/2 teaspoon salt
2 large eggs, room temperature
2 cups buttermilk, room temperature
1/4 cup butter, melted and cooled slightly

For the mango syrup:
2 mangoes, skin and pit removed, then cut into small pieces
1 cup granulated sugar
3/4 cup water
1 teaspoon vanilla extract

For topping:
1 to 2 mangoes, skin and pit removed, then cut into cubes
Toasted coconut
Chopped fresh mint
Lime wedges
PREPARATION INSTRUCTIONS:
Mix the dry ingredients—In a large bowl, whisk together flour, sugar, baking powder, baking soda, and salt. Set aside.


Mix the wet ingredients—In a medium bowl, beat together eggs and buttermilk, then whisk in melted butter.


Mix the batter—Pour wet ingredients over dry ingredients and whisk until batter just comes together. Batter will be lumpy—resist the urge to over-mix. Cover bowl with towel and let rest for 15 to 30 minutes (or longer, if you can wait).


Meanwhile, make the syrup—Add chopped mango, sugar, and water to a medium non-stick saucepan over medium-high heat. Bring mixture to a boil, then reduce heat to low and simmer until mango flesh breaks down—about 10 minutes.


Strain the syrup—Transfer mango mixture to a fine-mesh strainer placed over a small bowl—don't wash saucepan, you'll need it in the next step. Press down on mango to release as much delicious mango syrup as possible.


Reduce the syrup—Pour syrup back into saucepan over medium-low heat. Cook, stirring occasionally, for about 5 minutes or till syrup reduces slightly (it'll get thicker as it cools). Transfer to syrup dispenser of your choice—everything from Pyrex® measuring cups to gravy boats work.


 Prep the pan—Place a large skillet over medium-high heat. Add a bit of butter or neutral oil and swirl pan to distribute. When a drop of water dances in the pan, you're good to go.


 Make the pancakes—Scoop about 1/4 batter onto skillet or griddle per pancake, fitting as many as you can without letting them touch. When edges appear set and bubbles cover the surface of pancakes, flip and cook for an additional minute or so. Repeat with the rest of batter, adding additional butter or oil to pan as desired.


 Garnish and serve—Place a short (or tall) stack of pancakes on individual plates. Top with mango pieces, sprinkle with toasted coconut and chopped mint, then drizzle with warm mango syrup. Add a wedge of lime, if desired, for squeezing over mangoes.
TIPS:
How to Cut a Mango—Hold mango, stem side down, in one hand and cut from top of mango down one side of the large oval pit. Repeat with other side. Make crosswise cuts on each side (but don't go through the peel). Then invert each mango half and cut or peel away the segments.
Love Your Leftovers—Don't toss that mango pulp! Stir it into anything from yogurt and ice cream to lemonade and iced tea.
Featured Product
GP5 Stainless Steel 10" and 12" Frypan Set | Mirror Handles
These two versatile sizes deliver everything from braised chicken thighs to simple morning eggs. The 5-ply stainless steel bodies and the Infinite8 ceramic nonstick coating (our best ever) deliver remarkable performance.