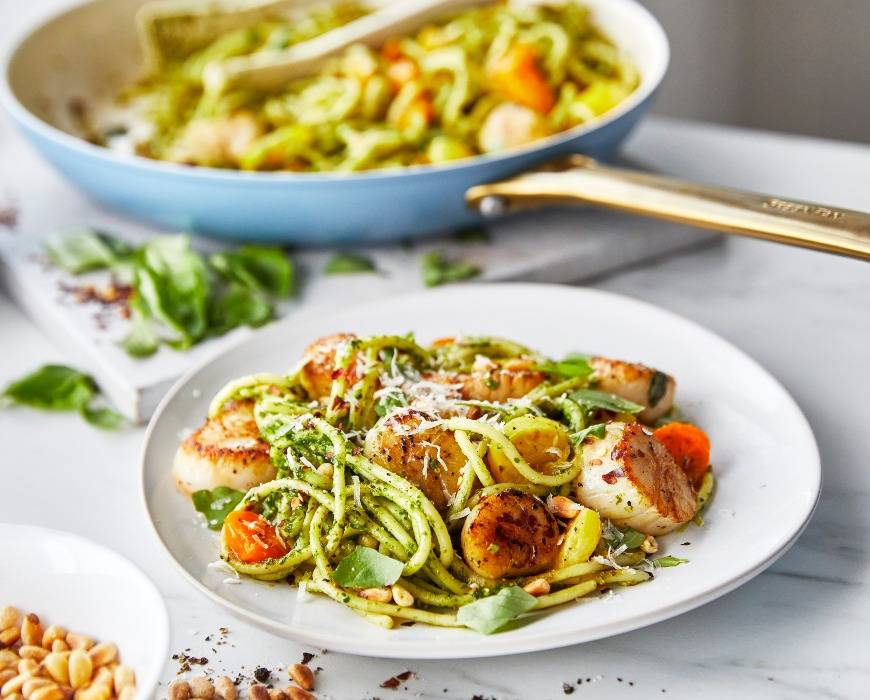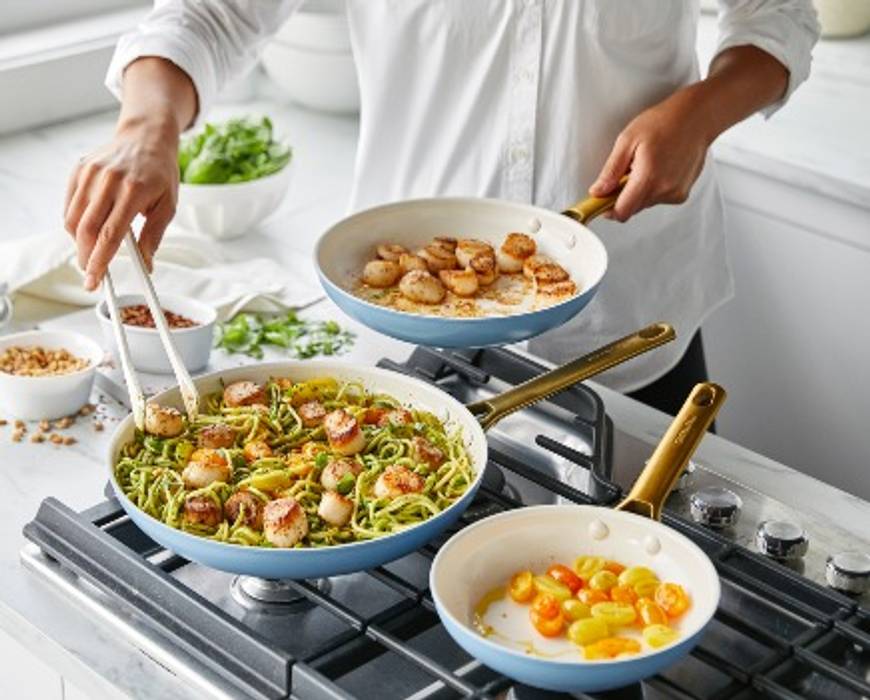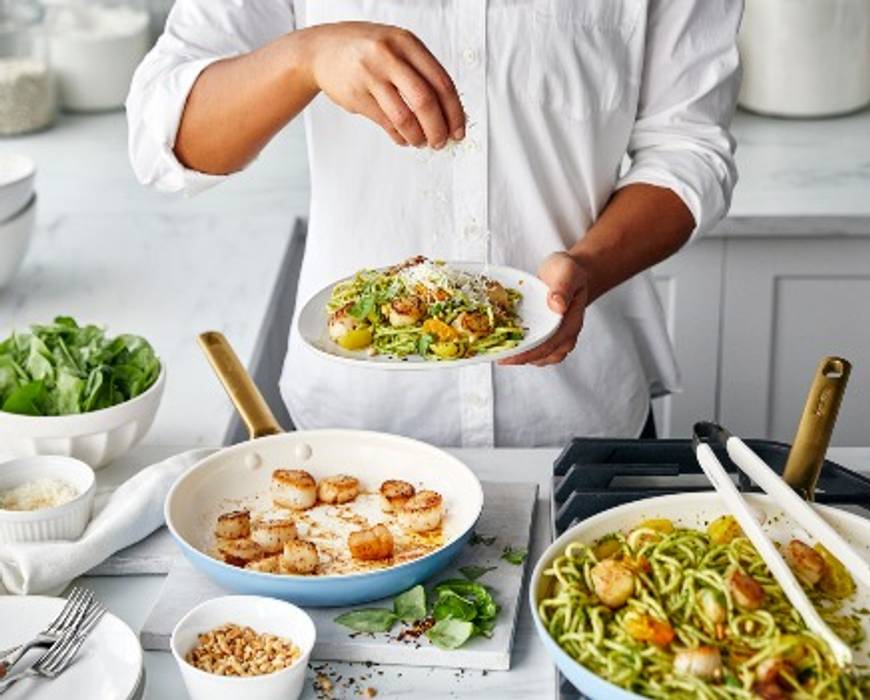 Spaghetti with Pesto, Scallops and Tomatoes
Yields: 4 servings
Time: 15 minutes prep, 15 minutes cooking, 30 minutes total
INGREDIENTS:
1 1/2 pounds jumbo sea scallops
Salt and freshly ground black pepper to taste
12 ounces spaghetti
1/4 cup pine nuts
3 tablespoons olive oil, divided
1 pint cherry tomatoes, halved
1/2 cup pesto, homemade or store bought
Freshly grated Parmesan for serving
Fresh basil leaves for serving, torn into smaller pieces
Crushed red pepper flakes for serving, optional
PREPARATION INSTRUCTIONS:
Prep the scallops—Remove side muscle, if needed. Rinse scallops and pat dry. Rest for 15 minutes on paper towels. When dry, sprinkle with salt and pepper on both sides


Boil the pasta—Bring a large pot of well-salted water to boil over high heat. Add spaghetti and boil until almost al dente—1 to 2 minutes less than package directions. Reserve 1 cup pasta water, then drain and set aside.


Meanwhile, toast the pine nuts—Place pine nuts in a small nonstick skillet over medium heat and toast until light brown. Keep an eye on them, as they can burn quickly. Remove from pan and set aside.


Cook the tomatoes—Carefully wipe out the pan used for pine nuts, if needed, then add 1 tablespoon of the olive oil and set over medium heat. Place tomatoes in skillet and toss to coat in oil. Cook just until tomatoes begin to soften and release juices—about 3 minutes. Leave in pan and set aside.


Sear the scallops—Heat the other 2 tablespoons oil in a large nonstick skillet over high heat until very hot but not smoking. Add scallops in a single layer, making sure not to crowd them—work in batches, if needed. Sear undisturbed for 1 1/2 to 2 minutes or until scallops are lightly browned on the underside. Flip scallops with tongs and cook for another 1 1/2 minutes. You're aiming for a beautifully golden crust on both sides while the center is still translucent.


Assemble the pasta—Add cooked pasta and pesto to another large nonstick skillet over medium heat. Toss to coat, pouring in the reserved pasta water a little at a time until pesto coats spaghetti evenly—you probably won't need to use it all. Add scallops to skillet along with tomatoes. Sprinkle with toasted pine nuts.


Garnish and serve—Divide pasta between individual bowls or plates. Sprinkle with freshly grated Parmesan, top with torn basil leaves, and add a few crushed red pepper flakes, if desired.
TIPS:
Avoid Rubbery Scallops—Never risk ruining scallops by thawing in the microwave! And remove them from the skillet as soon as centers are translucent.
Slicing Shortcut—Halve cherry tomatoes in record time by sandwiching them between two plate bottoms and cutting through horizontally with a sharp serrated knife.
Featured Product
Reserve Ceramic Nonstick 8", 10" and 12" Frypan Set | Sky Blue with Gold-Tone Handles
Featuring a deep, captivating finish, this frypan trio is more than good looks: the duoforged hard anodized construction makes it extra tough and scratch-resistant. The meal possibilities are endless—flavorful frittatas, seared salmon, and so much more.