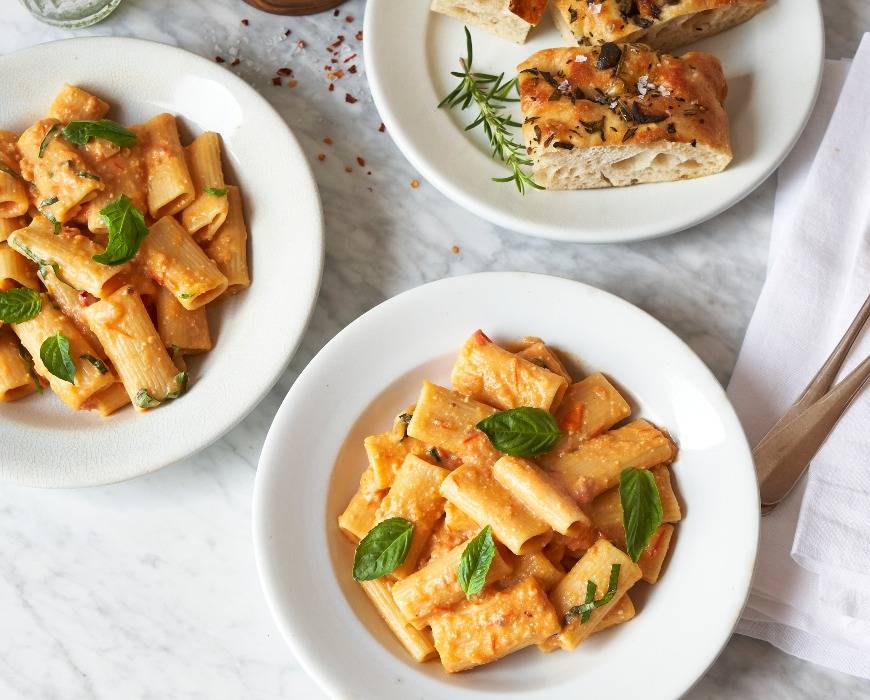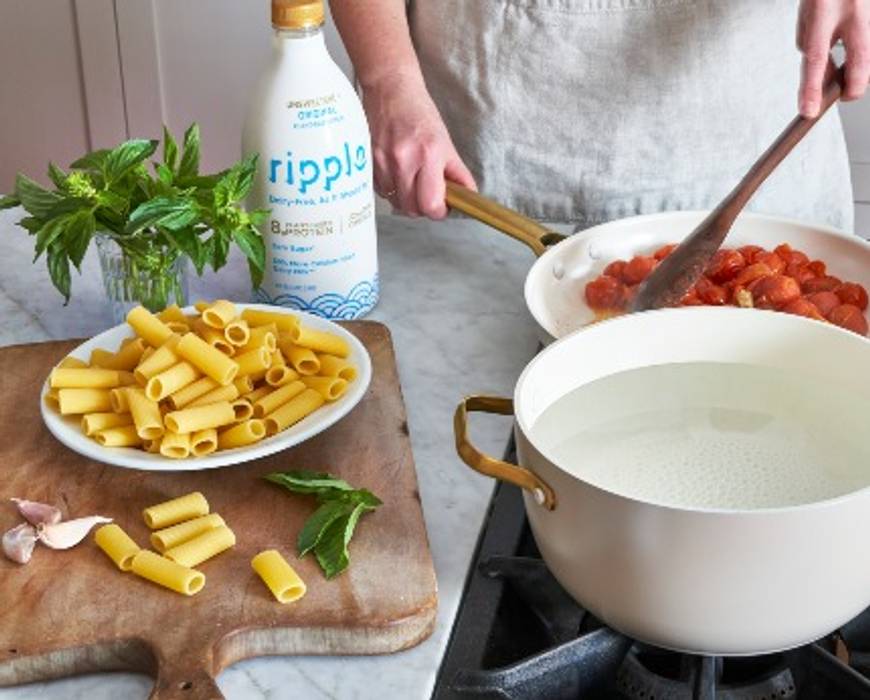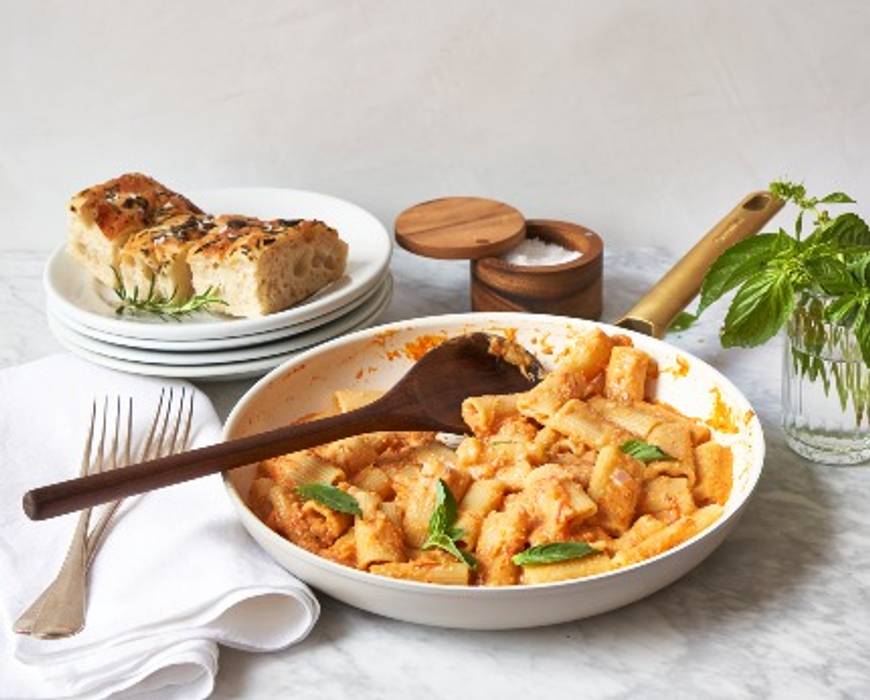 Mezzi Rigatoni with Creamy Roasted Tomato Vodka Sauce
Yields: 4 servings
Time: 15 minutes prep, 1 hour cooking, 1 hour 15 minutes total
INGREDIENTS:
For the roasted tomatoes
2 pounds cherry tomatoes
1 tablespoon olive oil
1/2 teaspoon salt
3 to 4 garlic cloves, unpeeled
For the sauce
2 tablespoons olive oil
1 shallot, minced
1/4 teaspoon red pepper flakes
1/2 cup vodka
1/2 cup raw cashew pieces
3/4 to 1 cup Ripple Unsweetened Original Plant-Based Milk
For the pasta
12 ounces dry rigatoni
Water
Salt
For the garnish
1 to 2 tablespoons finely chopped basil leaves
PREPARATION INSTRUCTIONS:
Prepare to roast—Preheat oven to 375°F.
Roast the tomatoes—Place tomatoes on a rimmed baking sheet. Drizzle with olive oil and sprinkle with salt. Toss to coat tomatoes evenly and add garlic to baking sheet. Roast in preheated oven until tomato skins burst and start to brown—about 30 to 40 minutes. Remove from oven and set aside to cool for 10 minutes.
Purée the tomatoes—Remove skin from garlic and add to blender along with roasted tomatoes and juices. Purée until smooth. Set aside.
Sauté the shallots—Heat 2 tablespoons olive oil in a large skillet over medium heat. When oil is shimmering, add shallots and sauté, stirring frequently, until tender—about 3 to 4 minutes. Stir in red pepper flakes and continue cooking for another minute or so.
Start the sauce—Remove skillet from heat and whisk in tomato purée along with vodka. Bring to a simmer over medium-high heat. Reduce heat to low and simmer for 15 to 20 minutes.
Meanwhile, boil the pasta—Bring a large pot of well-salted water to a boil. When sauce has been simmering for 15 minutes or so, cook mezzi rigatoni to al dente according to package directions—about 10 minutes. Drain and set aside.
Make the cashew cream—While pasta boils, grind the cashews into a fine powder with a spice grinder. Add ground cashews to blender (no need to clean out tomato purée—it's all going to the same place!) along with 3/4 cup Ripple Unsweetened Original Plant-Based Milk and about 1/2 teaspoon salt. Blend until creamy and smooth—you may still have nut bits, but that's ok.
Finish the sauce—Whisk cashew cream into tomato sauce and simmer a few minutes till it's thick and creamy. If you need to thin it out a bit, add more Ripple Unsweetened Original Plant-Based Milk. Taste and add more salt, if needed.
Finish and serve—Stir mezzi rigatoni into sauce until evenly coated. Divide among individual pasta bowls and sprinkle with chopped basil. Serve piping hot.
TIPS:
Pick Your Favorite Pasta—Our creamy sauce works great with all kinds of pasta: penne, shells, bow-tie, macaroni, or noodles. Add a healthy spin with whole wheat pasta or go gluten-free.
Why We Love Ripple Foods—Their deliciously dairy-free milk packs 8 grams of protein per serving and has 50% more calcium than regular milk. With a variety of flavors (including unsweetened options!), it's great for cooking, baking, pouring over cereal, or just enjoying by the glass.
Featured Product
Reserve Ceramic Nonstick 10-Piece Cookware Set | Taupe with Gold-Tone Handles
World-class performance meets eye-catching contrast in GreenPan Reserve. But it's more than good looks: the duoforged hard anodized construction makes this set extra tough. This set makes it simple to find your style at home.