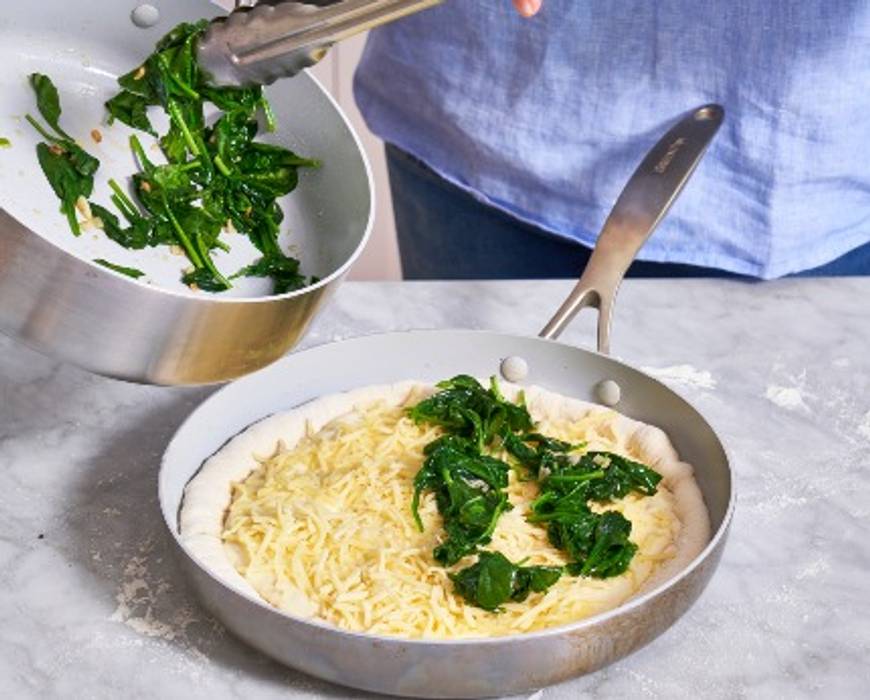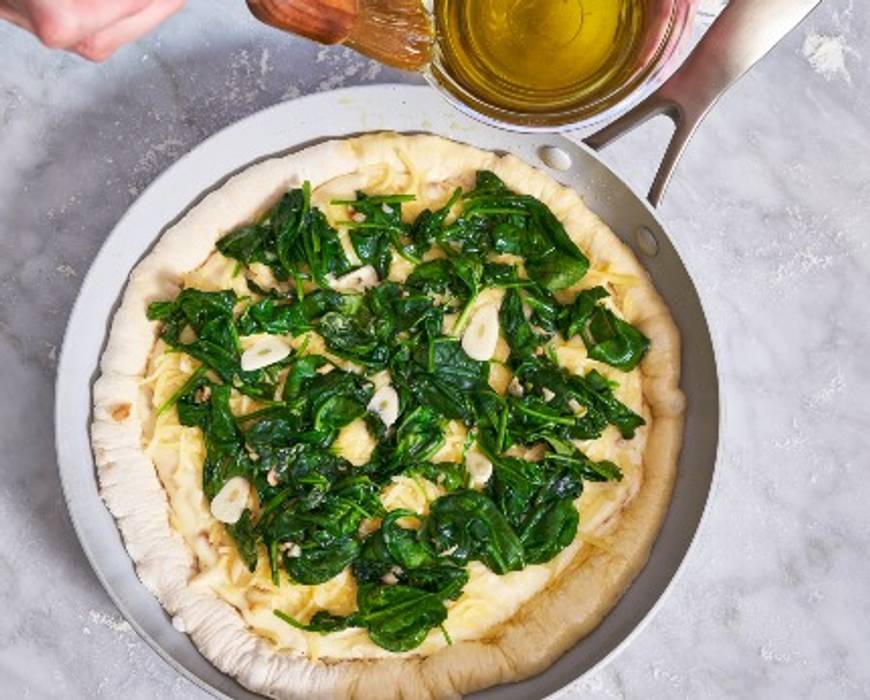 Roasted Garlic & Spinach Skillet Pizza
Yields: 3 to 4 servings
Time: 15 minutes prep, 45 minutes cooking, 1 hour total
INGREDIENTS:
For the roasted garlic
1 head garlic
1 tablespoon olive oil
Salt and freshly ground black pepper to taste
For the sauce
2 tablespoons butter
2 medium garlic cloves, minced (about 2 teaspoons)
1 teaspoon all-purpose flour
1 cup heavy whipping cream
1 cup Rumiano Organic Grated Parmesan Cheese
1/2 teaspoon black pepper
For the spinach
1 tablespoon olive oil
10 ounces fresh spinach
2 medium garlic cloves, minced (about 2 teaspoons)
Salt and freshly ground black pepper to taste
For the pizza
2 to 3 tablespoons olive oil
1 pound pizza dough, homemade or store bought
1 1/2 cups Rumiano Organic Shredded Mozzarella Cheese
Crushed red pepper flakes, optional
PREPARATION INSTRUCTIONS:
Prepare to cook—Preheat oven to 400°F.
Roast the garlic—Remove the papery outer layer of garlic bulb and cut about 1/4 inch off the top to expose cloves. Place garlic bulb on a sheet of aluminum foil, cut side up. Drizzle with olive oil and generously season with salt and pepper. Wrap bulb tightly in aluminum foil, place in a baking pan, and roast in preheated oven until cloves are beautifully browned and tender—about 30 to 40 minutes. Remove from oven and set aside to cool, then remove cloves and slice thin.
Meanwhile, make the sauce—Place a saucepan over medium-low heat and add butter. After it melts, stir in garlic and sauté for about 1 minute. Stir in 1 teaspoon of flour until evenly incorporated. Reduce heat to low, then add whipping cream, Parmesan cheese, and black pepper. Cook, stirring frequently, until sauce thickens—a few minutes. Remove from heat and set aside.
Prep the skillet—Place a 12" nonstick, oven-safe skillet in oven and preheat to 450°F.
Shape the dough—Turn dough out onto a lightly floured surface and roll or stretch to a 13-inch circle.
Wilt the spinach—Heat oil in a skillet over medium-high heat until shimmering. Add fresh spinach along with minced garlic and salt and pepper to taste. Cook, stirring frequently, until spinach is slightly wilted—about 2 minutes. Don't overdo it here because spinach will continue to cook in the oven.
Assemble the pizza—Carefully remove skillet from oven and drizzle with about 2 tablespoons olive oil. Carefully transfer dough to the skillet, pressing gently into the edges of pan. Spread sauce evenly over crust—save any extra for dipping pizza crusts. Sprinkle mozzarella cheese evenly over the top, then add wilted spinach. Top with roasted garlic slices. Brush any exposed crust with olive oil.
Bake the pizza—Carefully transfer skillet back to preheated oven. Bake until crust is beautifully golden and cheese is melted and bubbly, about 10 to 15 minutes.
Garnish and serve—Remove skillet from oven and transfer pizza to cutting board. Sprinkle with fresh red pepper flakes, if using. Let pizza rest for about 2 minutes before slicing, then serve warm.
TIPS:
Love Roasted Garlic? Use a muffin tin instead of foil and make a dozen bulbs of mass deliciousness at once. Place roasted cloves in a glass container, submerge in olive oil, and stash in the fridge for up to 2 weeks.
Why We Love Rumiano Cheese—First and foremost, it melts beautifully and delivers incredible flavor. Bonus points for being organic and non-gmo—made with milk from grass-fed cows and with vegetarian-friendly enzymes instead of rennet. All from a family company that's been making incredible cheeses since 1919.
Featured Product
Venice Pro Ceramic Nonstick 12" Frypan
Designed to stay shiny for years, this 12" frypan is a stunning and spacious addition to any kitchen. Finished with our signature healthy ceramic nonstick coating, it's safe for all cooking surfaces (ovens, too).