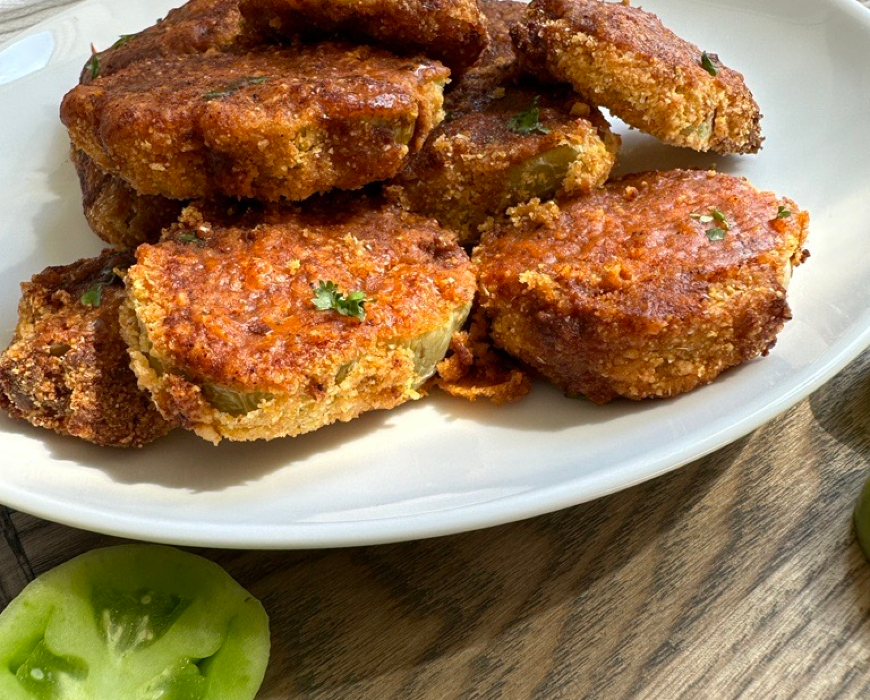 Nashville Hot Air Fried Green Tomatoes
Yields: 2 to 4 servings
Time: 15 minutes prep, 15 minutes cooking 
INGREDIENTS:
For the tomatoes:  
3 medium green tomatoes, cut in ½" slices 

1/2 cup all purpose flour

1 teaspoon baking powder 

1 teaspoon kosher salt, divided

1 cup whole buttermilk

1 tablespoon hot sauce of your choice 

3/4 cup yellow cornmeal, fine to medium grind

3/4 cup panko breadcrumbs

1 1/2 teaspoons smoked paprika

Avocado oil, for spraying before frying (or other high heat neutral flavored oil of choice)

Fresh parsley leaves, finely chopped, for garnish
For the Nashville hot sauce:  
4 tablespoons unsalted butter

1 tablespoon light brown sugar, optional 

2 teaspoons cayenne pepper

1 teaspoon smoked paprika 

1 teaspoon ancho chili powder

1 teaspoon garlic powder

1/4 teaspoon kosher salt

 

1/4 cup water 
PREPARATION INSTRUCTIONS:
In a small mixing bowl or baking dish, stir to combine the flour, baking powder and 1/2 teaspoon of salt. In a second mixing bowl or baking dish, whisk to combine the buttermilk and hot sauce. Finally, in a third stir to combine the cornmeal, breadcrumbs, paprika and remaining salt.  
Pat the tomato slices dry with paper towels. Working in batches bread the tomatoes slices by first fully coating them in the flour mixture, ensuring you shake of any excess. Next dip and coat them in the buttermilk, again allowing any excess to drip off. Lastly, transfer the tomatoes to the cornmeal mixture, tossing and pressing them lightly to fully coat all sides and adhere the breading nicely. As each tomato slice is finished being breaded, transfer them to the Air Fry Basket, evenly spacing them to allow plenty of air to circulate around when cooking.  Place the Air Fry Basket in the Baking Pan and lightly spray the tops, bottoms, and sides of the tomatoes with avocado oil.  
Select the Air Fry mode on the Premiere Countertop Air Fry Oven with the temperature set at 400F, and with the Air Fry Basket and Baking Pan set in the second position. Cook for 10 minutes until the tomatoes are crisp and deeply golden brown.  
While the tomatoes are cooking, in a medium GreenPan saucepan on the stovetop over medium heat, whisk to combine the butter, brown sugar (if using), cayenne pepper, paprika, ancho powder, garlic powder and salt until the butter is fully melted and the spices are lightly toasted and very fragrant. Remove from the heat and whisk in the butter until the sauces is evenly combined and the sugar has fully melted. (Occasionally the sauce will separate a bit, simply whisk again to recombine.)

 
Brush the sauce over the tops of the finished tomatoes and serve warm immediately, garnished with a bit of parsley if desired. For extra spicy tomatoes, coat both sides with the sauce or simply serve extra sauce on the side for dipping or drizzling.  
TIPS:
If spicy food isn't your favorite thing, these are delicious air fried green tomatoes even without it!  Omit the hot sauce from the buttermilk, and the entire hot sauce. Then cook per the recipe and serve with your choice of sauce! We're partial to a Greek yogurt sauce full of fresh herbs like mint, basil and dill, with a bit of lemon juice.   
To get that classic fried green tomato crunch, it's very important to not over crowd the air fry basket. If you have particularly large tomatoes, cook them in batches if needed to ensure there is plenty of air flow around them when in the oven!  
Featured Product
Premiere Convection Air Fry Oven Featuring PFAS-Free Nonstick
Our best air fry oven features the most presets and functions we've ever created—this is one of the most versatile tools in any kitchen. It's a powerful air fryer, consummate baker, and a handy broiler all in one. This is...