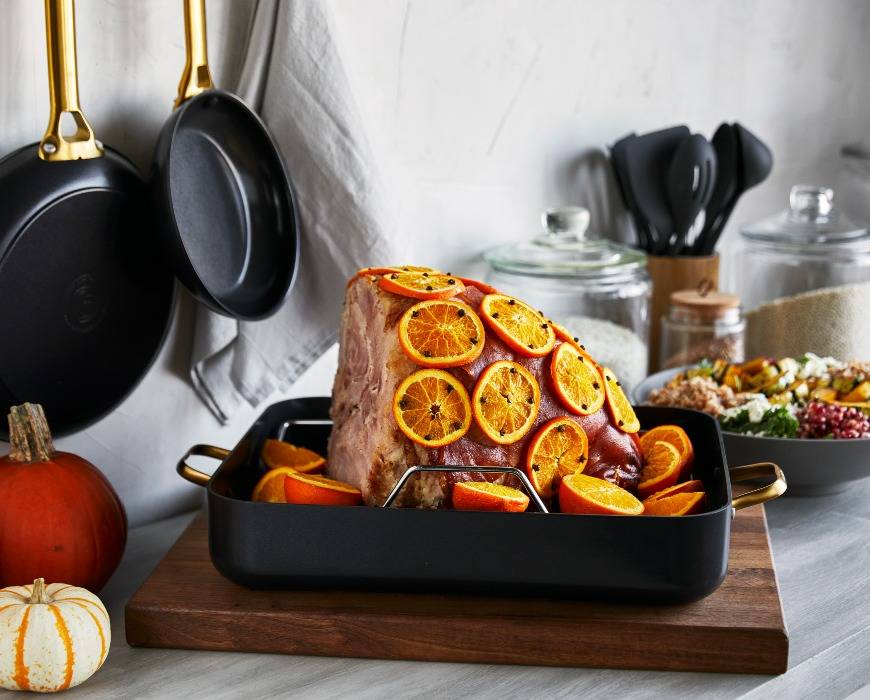 Yields: 6 to 8 servings
Time: 15 minutes prep, 2 hours 30 minutes cooking, 3 hours total
INGREDIENTS:
8 to 10 pound bone-in ham
1/3 cup brown sugar
2 tablespoons Dijon or brown mustard
1 tablespoon maple syrup
Zest of 1 orange
2 oranges, thinly sliced into rounds
Whole cloves
6 to 8 oranges, some halved and some quartered
PREPARATION INSTRUCTIONS:
Prepare to cook—Preheat the oven to 325°F.
Make the glaze—In a small bowl, stir together the brown sugar, mustard, maple syrup, and orange zest until everything's combined and the mixture resembles a thick paste. Set aside.
Score the ham—Create a diamond pattern of score lines across the ham by slicing shallow (about 1/4-inch deep), diagonal cuts in one direction and then the other.
Start glazing the ham—Put half the glaze on the ham and massage it all over with your hands. Make sure that glaze gets into the cut areas of the ham. Getting glaze beneath the skin really enhances the flavor.
Add the orange slices—Use whole cloves to tack oranges slices all over the ham. Feel free to overlap the slices, if you like.
Finish glazing the ham—Add the rest of the glaze to the ham and give it another good rubdown.
Prep the pan—Transfer ham to roasting pan and add cut oranges all around the bottom of the pan. Cover the prepared roasting pan with aluminum foil.
Bake the ham—Place roaster in preheated oven and bake ham for 1 hour and 15 minutes. Remove foil and continue baking, basting with pan drippings every 15 minutes for another 45 minutes. Increase oven heat to 375°F and continue baking (and basting) until oranges are caramelized and a thermometer inserted into the center of the ham reads 145°F.
Rest the ham—Let ham rest in roaster (tented with foil, if desired) for 15 to 20 minutes.
Serve and enjoy—Carve ham into thick or thin slices and serve warm.
TIPS:
A Bone to Pick—Ham on the bone delivers better flavor and texture than its boneless cousins. Plus, the bone helps retain moisture while slow cooking.
Love Your Leftovers—Don't toss that packed-with-flavor ham bone! Use it to make soup, stew, stock, or braised greens.
Featured Product
Reserve Ceramic Nonstick Roaster with Rack
World-class tech meets eye-catching style in GreenPan Reserve. This hard anodized roaster is designed for effortless oven cooking—flavor-packed roasts, crispy veggies, and family-sized lasagnas are just the beginning.