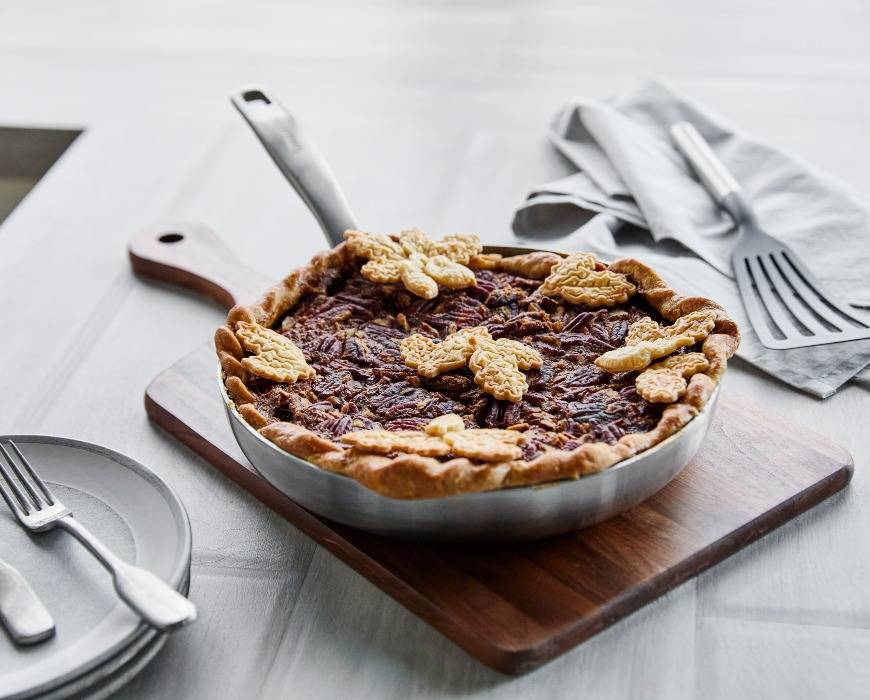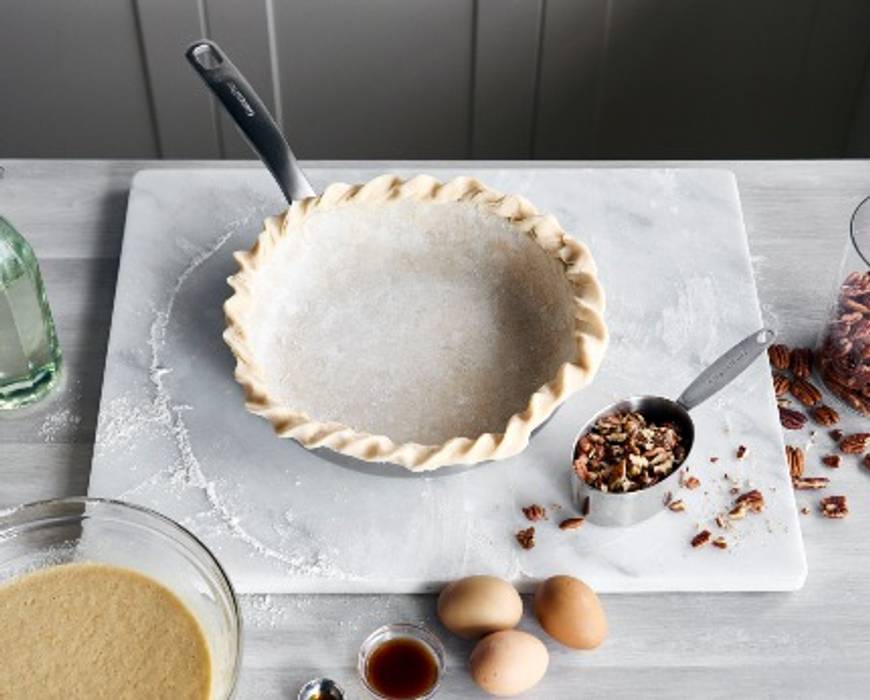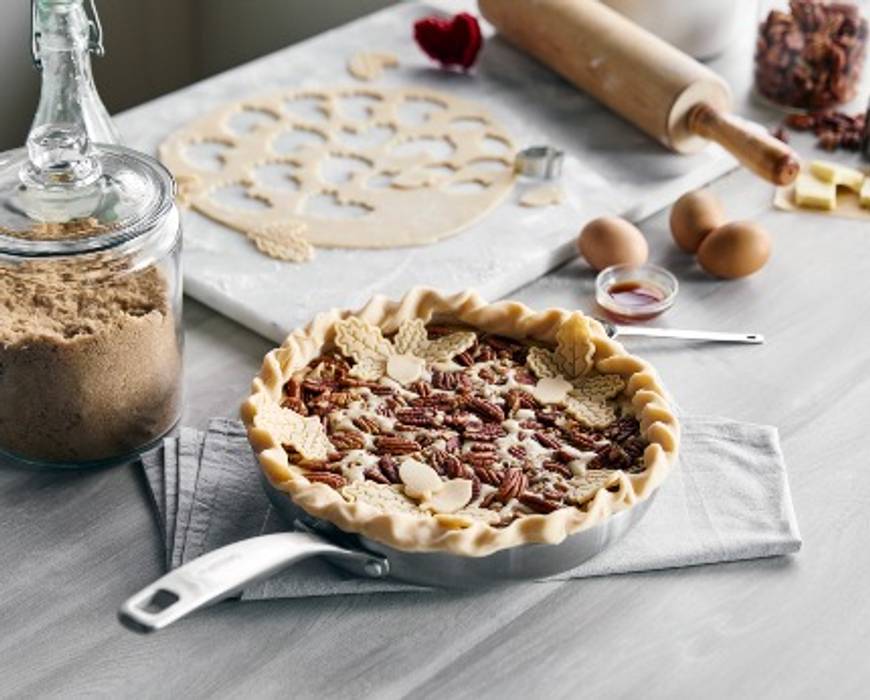 Pecan Pie with Autumn Leaves Crust
Yields: 8 to 10 servings
Time: 25 min prep, 50 min cooking, 105 min total 


INGREDIENTS:

For the pie:
2 9-inch pie crusts, homemade or the refrigerated pre-rolled kind
3 large eggs, room temperature
1 cup granulated sugar
1 cup corn syrup (dark or light, depending on your preference)
2 tablespoons butter, melted
2 teaspoons vanilla extract
1/2 teaspoon salt
1 1/2 cups pecans

For the egg wash:
1 large egg
1 tablespoon water or milk

PREPARATION INSTRUCTIONS:
Prepare the crust—Preheat oven to 350°F. Line a medium skillet (10" or 11") with one 11- or 12-inch round of dough (rolled to about 1/4" thickness). Fold under excess dough and crimp edges.
Mix the filling—Beat eggs in a medium bowl. Add sugar, corn syrup, butter, vanilla, and salt and stir to combine evenly. Fold in pecans. Pour mixture into pie crust.
Bake the pie—Transfer skillet to preheated oven and bake for 50 to 60 minutes or until edges are set and center is slightly jiggly. Place on a wire cooling rack for at least 2 hours before serving.
Meanwhile, make the decorative leaves—Roll out remaining dough to 1/8" thickness and cut out leaf shapes with decorative piecrust cutters or a sharp paring knife. Transfer to a baking sheet lined with parchment paper.
Bake the leaves—In a small bowl, beat together the egg and milk or water. Brush lightly over tops of leaf cut outs. Bake until golden brown, about 10 minutes. Set aside to cool.
Assemble and serve—Place leaf cut outs on top of cooled pie. Slice, serve, and let the compliments begin.


TIPS:
Stay Cool – Pecan pie will continue to set after baking, so avoid runny filling by allowing it to come to room temperature before slicing.
Booze It Up – Put a spirited spin on our pecan pie by stirring in 1 tablespoon of Bourbon with the filling ingredients. Or add a tablespoon or two to homemade whipped cream.
Featured Product
Chatham Stainless 9.5" Frypan
Designed for daily life, this 9.5" pan will become your new go-to for a quick snack, main course proteins, and so much more. This metal utensil safe pan features a diamond-enhanced ceramic nonstick coating that delivers ultra-fast performance and effortless...